Losing your laptop is more than losing just a device because laptops, nowadays, contain sensitive information and data which is important to us. It can potentially be very dangerous if your sensitive information is used by someone for malicious purposes. There are services which provide us with laptop monitoring so that the laptop can be recovered or permanently locked if it has been stolen or you have forgotten it somewhere. These services work as insurance for your laptop.
Let's go through the list of services which provide laptop tracking services. You can choose the one which best fits your case and scenario.
PreyProject
This is the multi-platform software which is supported on Mac, Windows, Linux, Ubuntu and android. its geo-location helps you in locating your device. Firstly you need to download the software
Download PreyProject from here
After downloading open the program you have to make a Prey account then login into your account, register your device/laptop to that account for remote access. User can login into their account and then mark laptop as missing and find it via control panel. It also has ability to lock your hard disk of laptop so no one can have access to your personal data.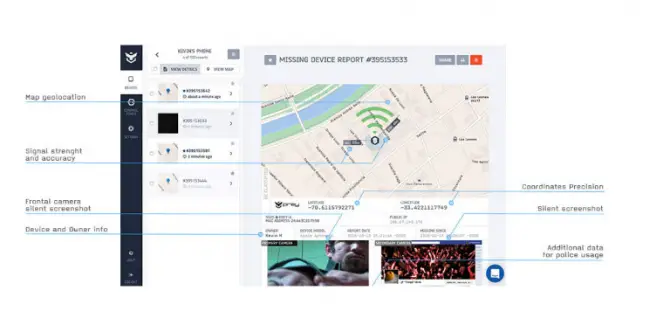 It has Basic, Personal, Home and business versions which are ranging from $5 to $15 per month subscriptions.
Norton Anti-Theft
Norton Anti-theft easily and quickly locates your laptop and blocks it so no chance of leakage of information will remain. You can browse from anywhere in case if your laptop has stolen. It tracks your laptop's position and ho owns it and then remotely locks it.
It has one more interesting and good feature which is it tales snap shot of anyone who is in front of your device and the send/saves it to your Norton Anti-Theft website so that you may tracks your thief.
It also shows customize messages to person who is having your device so that you may contact him.
Subscribe Norton Anti-theft from here
EXO5
This is a laptop Locator tool. You have to get register yourself for the usage. Its annual fee is $499. It isn't much if you get back your stolen laptop.
It can track your laptop efficiencly. It has Wi-Fi triangulation technology and Google Maps UI. It has Remotekill option for the data encryption. This facility allows user to lock their hard disk so no one can has access to your information or data. This lock is reversible when you get your laptop back.
LockItTight
LockItTight precisely let you track your lost/stolen laptops or mobiles.
Subscribe LockItTight from here
It has a client application for laptop and Web based UI .User can log into their account through browser. It has UI of Google Maps. It has free, standard and premium versions. You can go for any of them what you find best for your needs.
LockItTight sends report in the encrypted text of registered devices which is send to central server and then through Google map's assist it'll make easy to locate the exact location of laptop.
PC Phone Home
This is very easy and simple to use. It can track your missing laptops.
Download PC Phone Home from here
When you download it, and open it to set the environment. It'll ask you the email address on which you want to get emails about the location of your device. Whenever you open the program, if it is connected to internet, you'll get the email at your entered email address about the location of your laptop.
My Laptop Tracker
This is basically for only Windows OS but developer also provides MyMacTracker for mac users. This can effectively locate and tracks your devices. Now no one don't need to worry about their stolen devices as this software can bring back all their stolen laptops.
Download My Laptop Tracker from here
It tracks laptop through their IP addresses and Web Portal includes data retrieval options. This software also have Block option for hardware to prevent the access of any other person from your hard disk.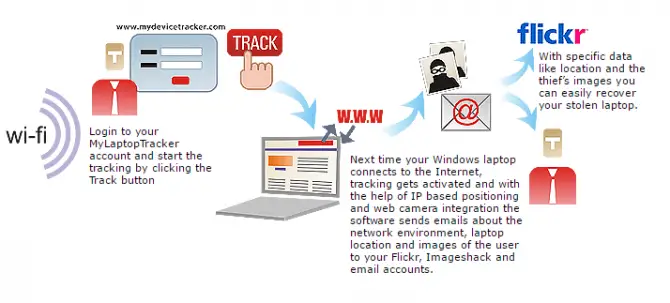 The team of My Laptop tracker says
"In case you find any anti-theft software that performs better than My Device Tracker, please send us bill details of that software. We'll refund the complete amount you paid for My Device Tracker."
So according to their statements, this program is very powerful and has ability to easily track your devices.
So these all are best Anti-Theft Tracking tools for your devices. I hope this article will provide you to clear understanding that for which tool you should go for your system's tracking. Do you use any tracking software for your laptop?