We need to stop certain programs, sometimes they stop responding or if they are harmful to our system, we need to end them. The most common method of stopping such programs is by opening Task Manager. However, Task Manager has one fundamental flaw, namely, it only closes one program at a time. At times, many programs need to be closed simultaneously due to their impact on the system.
In cases where more than one process is causing bad effects on the System, these must be stopped simultaneously, as if they were closed one by one, an adverse effect would be caused by another process related to it. That is why we need to stop them simultaneously.
We know that Windows Task Manager is not capable of performing this function, therefore, we must use a third party application. The following is a list of the best tools for killing multiple Windows processes simultaneously.
Multi-Process Killer
Multi-Process Killer is a very nifty light weight freeware program. Its task is to kill multiple running processes at the same time.
When you launch it after installing, a window will appear that shows you all the current processes which are running on your Machine.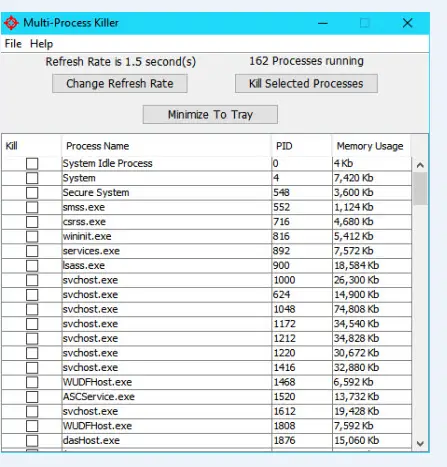 After selecting the processes you wish to terminate, click on "Kill Selected Processes". You will then be prompted for confirmation via a confirmation window. The selected processes will be stopped if you click "Yes".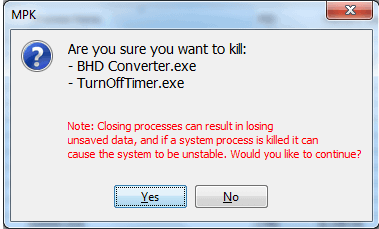 Hence, this allows you to stop multiple processes simultaneously.
Download Multi-Process Killer
KillProcess
The KillProcess tool is a little different, as it provides you with two functions, one is a simple Task Manager that can stop one process at a time. However, you may select them simultaneously, and then confirmation windows will appear for each selected process.
In order to create multiple processes at the same time, you must first make a list of all the processes you wish to add to the list. You may accomplish this by going to "File" and then right-clicking on each process you wish to include. To complete the process, click on the button below.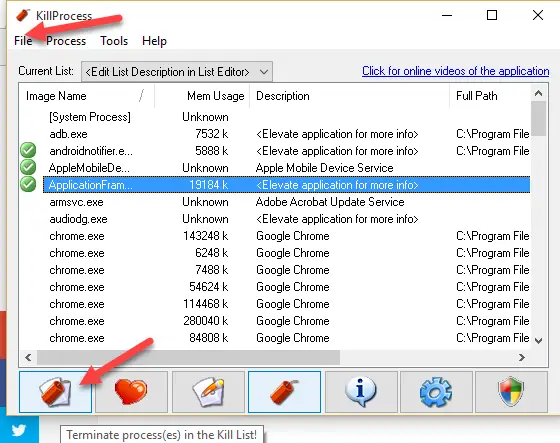 Additionally, it checks if any process in the list is active and, as soon as it detects it, it will terminate it as soon as it runs, rather than letting it sit idle in the tray.
Download KillProcess from here
Ultimate Process Killer
Another small, portable, and free tool. This does not require Java Runtime. After installing it, it will display a window which contains a list of all the processes running in your computer.
If you choose "Kill Selected Process", then you will only be able to kill one process at a time, just like Windows Task Manager, and if you select "Kill Checked Process", then you will be able to kill multiple processes that you have checked.
When you select and press the key for Kill, you will not be asked for confirmation. Whenever you select any Process for termination, be cautious.
Download Ultimate Process Killer from here
Auto Kill Any Process
Download Auto Kill Any Process from here
As like Kill process, it will allow you to make the list of process and the list is known as HitList. Create the list first.
And then select the Processes one by one and add them to list which you created.
And after adding the Processes in list, select on Kill Now. All Processes will be deleted.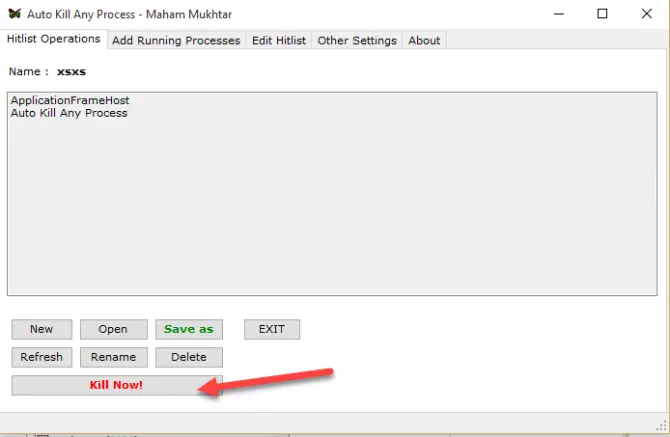 MiTec Task Manager Deluxe
Download MiTec Task Manager Deluxe from here
This is another simple tool. Select a single Process or multiple Processes to terminate them and press the key for terminate. And it'll stop the selected Processes.
Its freeware tool and its both version 32-bit and 64-bit are available.
Taskkill Command Line Utility for terminating processes
You can also stops the multiple Processes through command line. Open the Command Line window.
And type
Taskkill /T /F /IM Firefox.exe /IM Iexplorer.exe /IM Chrome.exe
And this will lead to delete all the Processors which are running on your System.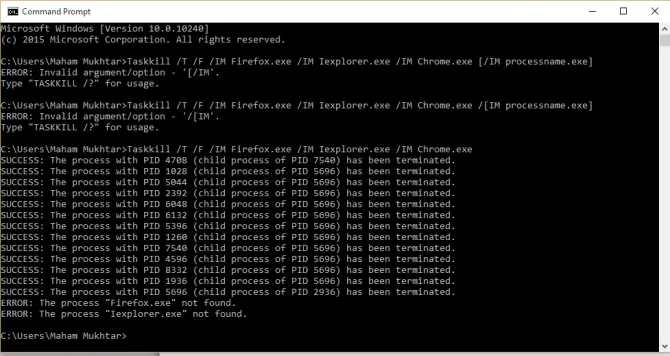 These all are tool that may help a lot in terminating or closing multiple Processes which are currently running into your System. Use any one of them and finish more than one Process at the same time.