You can download Chrome browser on your computer by downloading a 2 MB installer file, which will download the actual Chrome setup when it is run on your computer.
Interestingly, an internet connection is mandatory for this installer file to initiate the Chrome browser installation. This is because the small installer file needs to pull the entirety of the Chrome setup file from the web. However, if you find yourself preparing a computer that lacks internet access, it would necessitate using an offline Chrome installer instead. It's a different process that involves downloading the complete setup file on a computer with an Internet connection, then moving it to your offline machine.
TIP: If you are looking for an alternative to Chrome, you may try out the Firefox browser.
Download Chrome offline installer for latest stable version
Download: Google Chrome web installer
Download: Google Chrome offline installer
Download: Google Chrome MSI Installer [Enterprise Edition]
Download: Google Chrome offline installer for macOS
Download: Google Chrome Offline Installer for Linux
Download: Google Chrome for Android
Download: Google Chrome for iOS
Download: Google Chrome Portable
Download Google Chrome Automatic Installer
Chrome can also be downloaded and installed automatically (silent installation). For this, you can use automatic installation services. My personal favorite is ninite.com. For automatic download and installation of Chrome, download the executable below, and it will automatically download the Chrome offline installer and install it for you. It's useful for automatic unattended installations.
Download Ninite Chrome installer
Just download and run. It will do everything else automatically.
Download Chrome without a browser
For users operating on Windows 10 or Windows 11 systems, it's possible to download the most recent Chrome offline installer version without using a web browser. You can accomplish this by executing the following command in PowerShell. Scholars or researchers using alternative operating systems, such as macOS or Linux, rest assured that similar methods exist and are equally as feasible.
iwr -outf chrome-latest.exe https://www.google.com/chrome/browser/?platform=win32
This will download the 64-bit version of Google Chrome. For 32-bit, use the following link:
For macOS and Linux, you can use the wget command to download Chrome in command-line mode.
Download Chrome Beta offline installers
Chrome Beta is designed for public testing.
While some newer features may not function as predicted, the browser maintains overall stability.
It offers an arena for testing new features.
This version allows risk-averse testing, with trials carried out on a small scale.
Minor amendments are incorporated weekly, whereas substantial modifications occur bi-monthly.
For further information on Chrome Beta testing, visit this link.
Google Chrome Beta for Windows 64-bit
Google Chrome Beta for Windows 32-bit
Google Chrome Beta for Android
Google Chrome Dev offline installers
With Chrome Dev, users can promptly observe forthcoming updates in Chrome. The Dev version is updated immediately as coders finish their work. At times, new features may come with bugs, which need to be resolved before they are forwarded to the Beta version.
Google Chrome Dev for Windows 64-bit
Google Chrome Dev for Windows 32-bit
Download Googe Chrome Canary/Nightly Build offline installers
Chrome Canary, or nightly build, is a futuristic version of Chrome with innovative features. Eventually, these features will be integrated into the stable Chrome version.
Features are initially added to the Canary build, after which they move on to the Dev builds, which are slightly more stable than Canary.
One salient feature of Canary is that it can be installed concurrently with a stable version, allowing users to experience future implementations first-hand.
Google Chrome Canary for Windows 64-bit
Google Chrome Canary for Windows 32-bit
Google Chrome Canary for macOS
Google Chrome Canary for Linux
Google Chrome Canary for Android
Canary, Beta and Dev channels are only partially translated in languages except for English. The text of features will only be translated into languages until they come to the Stable version. If you want to test new upcoming features and changes in Chrome, you should go for Dev or Canary build. And the users who want crash-less and error-less browser, they should go for stable versions.
Check for the installed version of Chrome
If you seek to identify which version of Chrome you're currently using, navigate to Help → About Google Chrome . This will prompt a window displaying the specific version of Chrome installed on your device. For visual aid, refer to the steps shared in the following screenshot: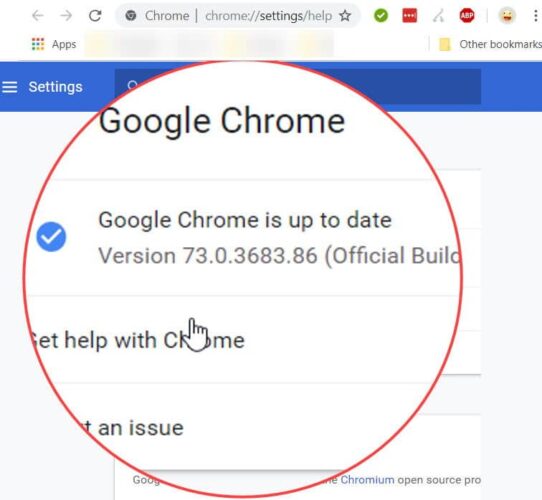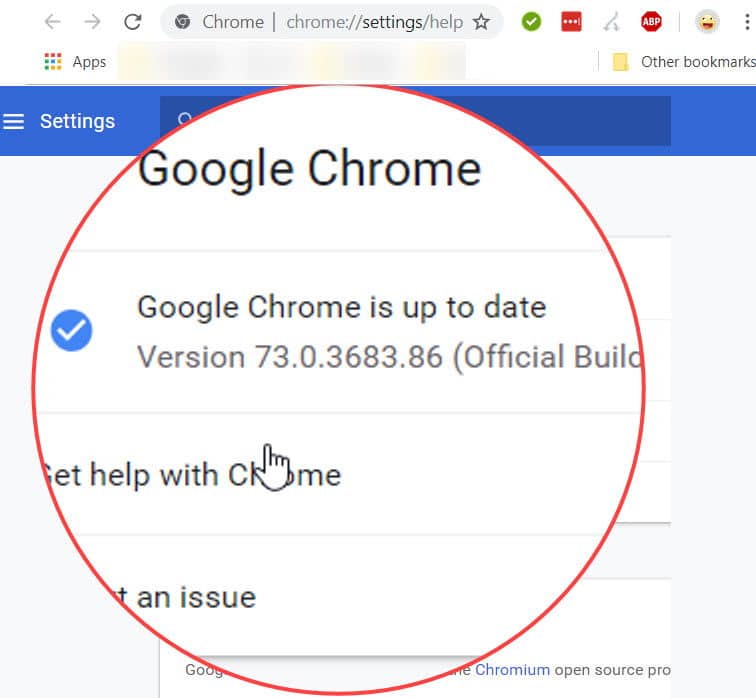 For those utilizing Windows 10, the version of Chrome installed on your device can be identified via the 'Apps and Features' function. Refer to the subsequent step-by-step guide for detailed instructions:
To access 'Apps and Features' on a Windows machine, take advantage of the keyboard shortcut Windows key + X, followed by F. Alternatively, you may access it manually by clicking on the 'Start' button, selecting 'Settings', and then navigating to 'Apps and Features'.
Search for Chrome
Click on the Google Chrome listing and it should display the complete version number.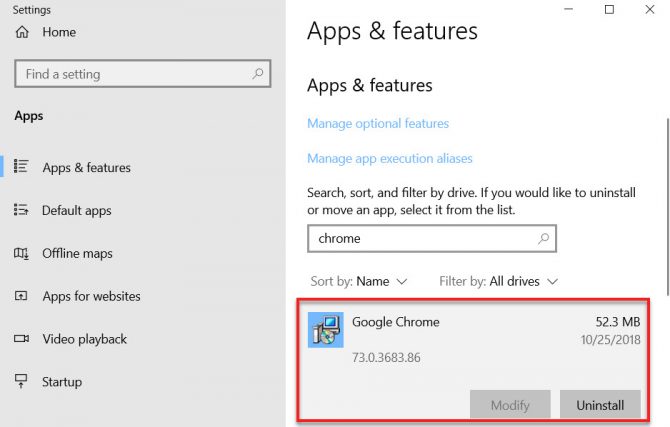 Update Google Chrome to the latest version
Using Google Update
To ascertain new updates on your browser, heed the subsequent steps. Please note that you may need to refresh or restart the browser post-update. The steps are delineated in detail in the following screenshot:
Open Google Chrome
Click on the vertical three dots at the top right of the window. This will open the Chrome menu.
Under the menu, go to Help –> About Google Chrome. This will trigger Google Update and will check for new updates automatically.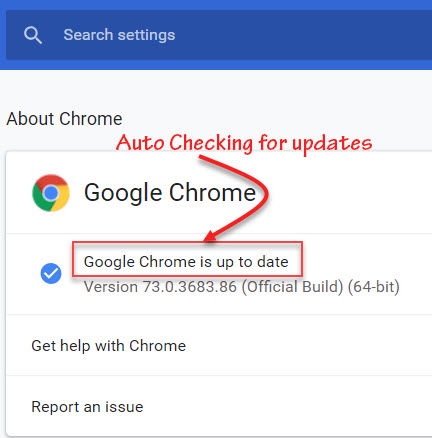 You can open the same help window by opening the following in the address bar:
Chrome's Help SectionBy following this link – chrome://settings/help – you will be redirected to Chrome's built-in Help section, where you can find solutions to common issues or learn more about utilizing your browser effectively. 
Using Installer
Alternatively, to avail all the latest security updates and new features, the recent version of Google Chrome can be downloaded and installed from the link provided, which in turn, automatically updates your browser to the latest version.
http://www.google.com/chrome/?standalone=1
We do hope that this discussion simplifies the process of downloading Chrome for you. Given the information provided, have you been able to determine which Chrome build suits your requirements best?
This segment discusses the version history of Google Chrome, an important aspect for users to apprehend as it provides insight into the evolution and improvement of the browser over time, known as Google Chrome Releases Version History.
| Chrome Version | Release Date | Features |
| --- | --- | --- |
| Chrome 117 | 12-Sep-23 | New Material You designs, intimation of potentially malicious web store extensions. |
| Chrome 116 | 15-Aug-23 | Security update cadence changed to weekly from biweekly, One-Time permissions, 26 security patches |
| Chrome 115 | 12-Jul-23 | Includes Topics API (Privacy Sandbox), reading mode, improved Memory Saver UI, HTTP automatic conversion to HTTPS |
| Chrome 114 | 30-May-23 | Improves the Google Password Manager, introduces Popover API for developers, and adds auto-verification of CAPTCHAs. |
| Chrome 113 | 26-Apr-23 | Makes notes in the sidebar, deletes the last 15-minute browsing history on Android, adds a bookmark or translate button in the toolbar on Android, enable or disables all extensions, and WebGPU enabled by default. |
| Chrome 112 | 4-Apr-23 | Removal of Chrome app support, improved UI (experimental), CSS Nesting, WebAssembly Tail Call |
| Chrome 111 | 6-Mar-23 | Automatic lazy-loading, sharing selected regions of the screen, and several improvements for Chromebooks |
| Chrome 110 | 7-Feb-23 | Improved Password Manager and Google Translate controls, Cookies Having Independent Partitioned State, opt-out support for Secure Payment Confirmation |
| Chrome 109 | 10-Jan-23 | Conditional focus on screen sharing, Material You theming support |
| Chrome 108 | 29-Nov-22 | Evergy saver mode, COLRv1 fonts, resize virtual keyboards (Android) |
| Chrome 107 | 25-Oct-22 | HEVC hardware decoding, screen-sharing improvements, and User-Agent reduction (Phase 5) |
| Chrome 106 | 28-Sep-22 | Selective text translation, integrated RSS reader, and advanced search improvements to Omnibox. |
| Chrome 105 | 30-Aug-22 | Improvements for web applications in terms of customizations |
| Chrome 104 | 2-Aug-22 | Automatic lazy-loading, share selected regions of the screen, and several improvements for Chromebooks |
| Chrome 103 | 21-Jun-22 | Pre-fetch page data for faster loading, local fonts for web apps, and block notifications automatically. |
| Chrome 102 | 24-May-22 | Extensions Starter Kit, New Keyboard Shortcuts, And Continued Searches |
| Chrome 101 | 26-Apr-22 | Improved downloads UI, save group tabs, and password manager |
| Chrome 100 | 29-Mar-22 | Multi-screen API, audio controls |
| Chrome 99 | 1-Mar-22 | Handwriting Recognition, Date Picker, And Security Improvements |
| Chrome 98 | 1-Feb-22 | Built-in screenshot tool, smoother emojis with COLRv1, Emojis to screenshots on Android |
| Chrome 97 | 4-Jan-22 | Delete data saved by websites, zoom settings, better web application layouts, HDR enabled |
| Chrome 96 | 15-Nov-21 | Faster navigation, dark mode per site, flags for testing v100 |
| Chrome 95 | 19-Oct-21 | Save grouped tabs, secure payments |
| Chrome 94 | 21-Sep-21 | HTTPS-only mode, sharing hub |
| Chrome 90 | 15-Apr-21 | AV1 codecs support, window naming feature |
| | | Download Google Chrome Offline Installers [Stable, Beta, Canary] |
Google Chrome features introduced in each version