ACDSee is a tool with a variety of features that help the user in organizing, editing and sharing your photos. Its tools are efficient that organize and edit your photos in a proper way. The two main products of ACDSee are ACDSee Pro 10 and ACDSee 20 which helps you to manage and edit your photos and aid you in the RAW editing of photographs.
The interface of ACDSee products is very simple and easy to use, that's a reason for user attraction towards ACDsee. Download Offline Installer of ACDSee main products and enjoy their installation by staying offline.
ACDSee 20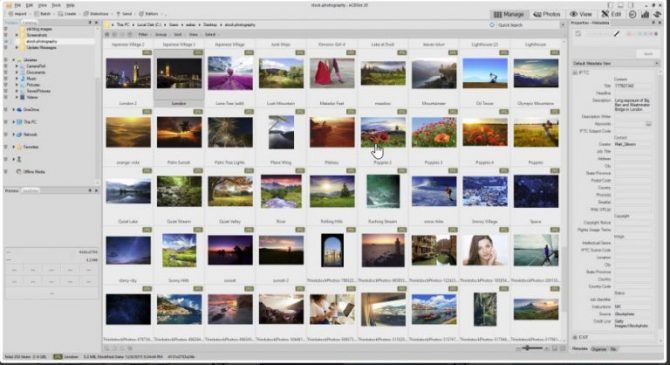 View, edit, and organize your photos with ACDSee 20, it has the advanced and professional tool that fully helps you out and try to make your photo more enhanced by applying many adjustments and effects. It is very easy to use due to its simple interface even for beginners. After editing your photos, share it with your friends and family to show your work with others.
Features Review
ACDSee 20 has OneDrive integration that helps you to edit and manage your OneDrive photos without even exporting them out to any of your devices. So this will help you to edit your photos at anywhere.
All your Photos and folders will be placed in a properly manageable tree, same as of your OS. This will create no confusion for you while using ACDSee 20.
Arrange your photos in your own way, by applying different labels, keywords, and tags, or create different categories.
Crop, resize, remove red-eye, flip or rotate your photos with ACDSee 20.
Apply different borders, vignette or text to your photos and make them more attractive and creative.
With its Blur tool, blur different part of photos and expose main part of your photo. Blur tool has different styles for blurring your photos.
What's new in ACDSee 20
More filters are added to view your photos and sort them out by applying suitable and required filter. This adds more flexibility to the tool.
Start editing foreground or background of photos by just right-click, and switch between foreground or background of your photo. Undo your adjustment by right clicking the photo.
In Edit mode, Fill option is added, which quickly fills your photo background with a solid color.
The new Noise Reduction tool will try to remove old, and rough view of your photo.
The Dashboard is added that provides you complete statistics of your editing with the tool.
ACDSee 20 Direct Download Links
Download it from below link and enjoy 30 days free trial. If you want to use it further then you have to buy its license, which costs $6.90 per month and $69 per year.
Download Offline Installer of ACDSee 20 for 64-bit Windows from here
Download Offline Installer of ACDSee 20 for 32-bit Windows from here
ACDSee Pro 10
ACDSee Pro 10 is known as total photography control. It provides you all features you need for management of your photos and editing of your photos. It can deal with RAW photo editing to produce high-quality pictures. Because in RAW photography, no data is lost which creates high quality photos and editing. ACDSee Pro 10 helps you to do destructive adjustments to your photos to make them better and enhanced.
ACDSee Pro 10 has more advanced feature comparatively to ACDSee 20, review its features for better understanding.
Features Review
ACDSee Pro 10 has a Develop mode, which lets you make parametric adjustment which means the changes you made aren't permanent you can alter them. Develop mode is designed to do RAW editing of your photos. It also deals with JPEG and other image formats.
Adjust the pixels of your photos with a variety of tools and color schemes.
With ACDSee Actions, apply as many edits and adjustments as you want. While Batch Edit only provides fewer adjustments.
Take screen shots of your photos at any point of your work, that helps you to see the difference between your current edit and previous edit.
It has Photoshop plugin support that makes your photos more attractive by applying different effects of Photoshop and even you can apply your own created effects.
You can get access to to your Computer's photos directly, no importing is needed or import from a separate library.
You can search for your photos through many parameters such as metadata, label, tags, color labels and GPS location.
Correct barrel and pincushion distortion in your photos with Lens correction.
Adjust areas of your photos that are too light or that are too dark with its intelligent tool.
What's new
The new range of brushes is added to brush on your photos and give them exposure, saturation, contrasts, sharpen and much more.
New effects are added to give you non-destructive parametric editing for your photos.
Clear your photos from dust, smoke, vapor, or other particles while saving it to give a better and clear effect.
Make your Skin in photos better without applying foundation, blush on or concealed by its Skin Tune tools.
Many bugs are fixed and more stability is added to make the ACDSee Pro 10 better tool in performance.
ACDSee Pro 10 Direct Download Links
Try it for free for 30 days. And if you want to use it further, then buy its license, which costs $6.90 per month or $69 per year.
Download Offline Installer of ACDSee Pro  10 for 64-bit Windows from here
Download Offline Installer of ACDSee Pro 10 for 32-bit Windows from here
Choose ACDSee 20 or ACDSee Pro 10 according to your need, if you want more advanced tools for your photo editing and managing then go for ACDSee Pro 10. And if you want to keep it simple and useful then go for ACDSee 20. Thank you.
Must Read Articles: