Avast has released its 2014 line of products a few days back and now the latest offline installers are available for download. The latest version of Avast Free Antivirus 2014 includes support for Windows 8.1.
Avast Free Antivirus 2014 is one of the most popular free antivirus along with AVG Free 2014 and Avira Antivir Free 2014. The latest version of Avast includes the new DeepScreen technology which makes enables Avast to make intelligent decisions about new/unknown files. DeepScreen is a replacement for AutoSandbox and will work a lot better.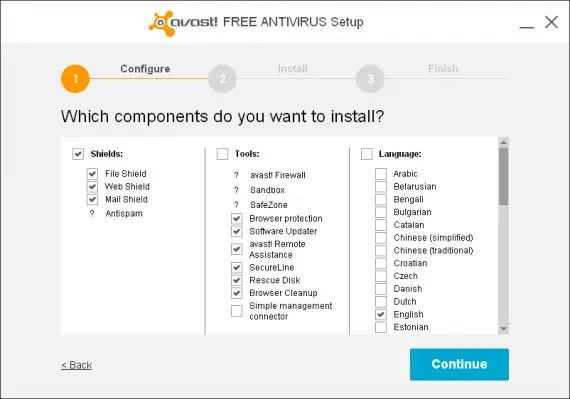 Avast Free antivirus 2014 includes a new mode "Hardened Mode" which will be helpful in locking down the system completely in case of any virus attack of a hacking attempt. This mode is also suitable for novice who don't know what they are doing on the system. It will block even those executables which are passed by DeepScreen.
Features and installation
The direct download links for all Avast products can be found at the end of this article. The installer of Avast Antivirus Free 2014 is quite simple. There are two modes of installation: Regular and Custom. You should always choose the custom installation because this mode will let you know what components are being installed.
You may be able to install the antivirus shields like File Shield, Web Shield, Mail Shield and tools like Browser protection, software updater, remote assistance, secureLine, rescue disk, browser cleanup, gadgets etc. You will also be able to select the languages in which you want to install Avast.
The antispam, firewall, sandbox, SafeZone and SecureLine are premium features that will not be installed in Avast Free edition.
After installation, you will need to register your Avast product. This needs to be done even if you are using the free edition of Avast. Otherwise it will expire in 30 days. Registration is free and will create a new account on Avast website.
Changelog and enhancements:
Here are some of the features and improvements in Avast 2014. After this, we will head to the offline installer links.
New DeepScreen technology allows avast! to make more intelligent decisions about new/unknown files
New Hardened mode for stricter lockdown scenarios
Improved cloud scanning features and crowdsourced analysis of suspicious items
Continuously streaming update (CSU) technology for up-to-minute detections
Improved cleaning of malware
All-new web browser plugins featuring comprehensive security ratings, protection against malware, phishing and typosquatting sites and Do-Not-Track (DNT) functionality for improved anonymity on the Internet
All-new SafeZone for more secure online shopping and banking
Rescue disk – allow users to create a bootable CD or flash disk with Avast on it
A new, streamlined user interface for simplified navigation and more user comfort
Control and manage all protected devices directly from the Avast console (through integrated the avast! Account)
Dramatic reduction in product size and memory footprint
Faster scanning thanks to optimized scanning engine
Completely rewritten setup/updater that makes the installation and upgrade process faster, easier and more reliable
Firewall has been redesigned from scratch to allow for better compatibility with latest Windows, better performance and full support for IPv6
Network protection component tuning & compatibility (WFP technology on Win8+)
Various improvement in the Software Updater and Browser Cleanup tool
Full Windows 8.1 compatibility
Improved general AV performance and stability, including security fixes
Standalone installer download
Here are the direct download links to Avast 2014 offline installers which can be installed standalone without an Internet connection but it is always recommended to update your security product regularly.
The latest version update of Avast products is 2014.9.0.2008. Technically speaking, This is Avast version 9 while the 2013 edition was version 8.
Download Avast Free Antivirus 2014
Download Avast Pro Antivirus 2014
Download Avast Internet Security 2014
Download Avast Premiere Antivirus 2014
Must Read Articles: