AVG 2019 security products are available for users to download. It's always wise to upgrade to the latest technology to make sure you are safe from the latest threats. You will find direct download links to all of AVG 2019 products offline installers in this article.
You can easily install any of the required products by staying offline with these offline installers. And can give the same installer to your friends and colleagues to save valuable internet bandwidth.
Let's see the features of each of AVG 2019 products, and then you can download offline installer for any product to start protecting your devices from attacks.
AVG Antivirus Free 2019
AVG Antivirus Free 2019 is for basic security needs of your PC including basic attacks, viruses, and malware. If you own a personal system or machine, then this will provide you security against any suspicious activity on your system.
The free antivirus now gives you real-time security updates and catches malicious downloads before they reach your system. Its overall performance has increased and AVG Antivirus Free 2019 gets a new and refreshing interface.
AVG Antivirus Free 2019 is supported on Windows and Mac Operating systems.
Download Links
AVG Antivirus Free 2019 (Online + Offline installer)
AVG Internet Security 2019
AVG Internet Security 2019 provides you with full security while using the Internet. Web spying and ransomware have become so common, hackers and attackers can easily enter your system and can access your private and sensitive data. To keep you protected, AVG Internet Security 2019 gives you maximum security with its advanced Artificial Intelligence and real-time analysis strength. Now you can send email securely, and browse reliably with the presence of AVG Internet Security 2019. It offers you real-time link and downloading scanning, and protection against unsecured Wi-Fi spots. With its Firewall protection, any unknowns or attacker won't enter into your system without any notice or permission.
Download Links
AVG Internet Security 2019 (Online + Offline installers)
AVG PC TuneUp 2019
AVG PC TuneUp 2019 is a tuning software that fixes, boosts and cleans up all of your devices. It allows the old PCs to live longer and faster at the speed of new PCs. If your system has become slow, then its "Program-On-Demand" technology will put draining programs into smart Sleep mode, this feature will reduce the battery consumption, and overall performance of your device will remain stable.
Its another feature that is "Software Updater", updates the popular software on your system to put patches on all the bugs and issues in that particular program.
AVG PC Tuneup's Cleaner helps in cleaning all the leftovers and old files from your devices so you can have more space for other useful data.
Download Links
AVG Ultimate 2019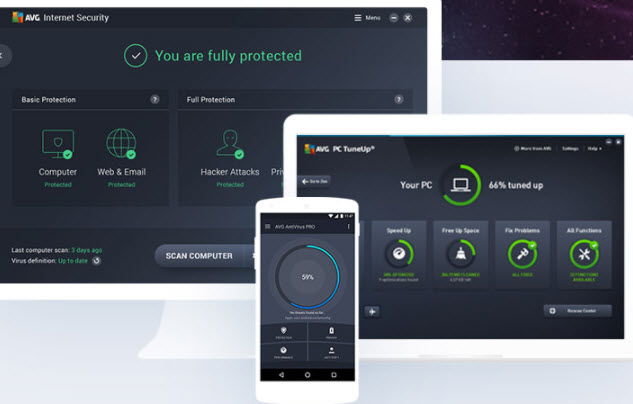 AVG Ultimate 2019 is all in one pack that gives you AVG Antivirus, AVG Internet Security and TuneUp products for all your devices. It's better to have Ultimate 2019 so you can easily get all protection in one suite for all your devices to keep them secure and protected.
The main features of AVG Ultimate 2019 are Antivirus Protector, Ransomware Protection, Anti-theft, App Lock, Payment Protection, Data Safe, Email Protection, Software Updater, Hacker Protection, and a few more.
Download Links
AVG Ultimate 2019 (Online + Offline installers)
Other AVG 2019 updates
Here are some other updates for AVG 2019 that contains Firewall update, Database update, Core Module, Link Scanner, and Virus Definitions. You can download the offline installer of all products from the links below.
Download Links
All other AVG 2019 products can be downloaded from here.
Choose your AVG 2019 product from its wide range of security products in order to keep your devices secure and safe from any kind of viruses, attacks, and ransomware.
What security product are you using on your system right now?