Cisco Packet Tracer 7.2.1 by Cisco Systems is available for download and installation. If you have already installed the software, you may need to download and install the new version in order to update. The latest version is not a major update but a bug fix update fixing only one bug in the earlier version.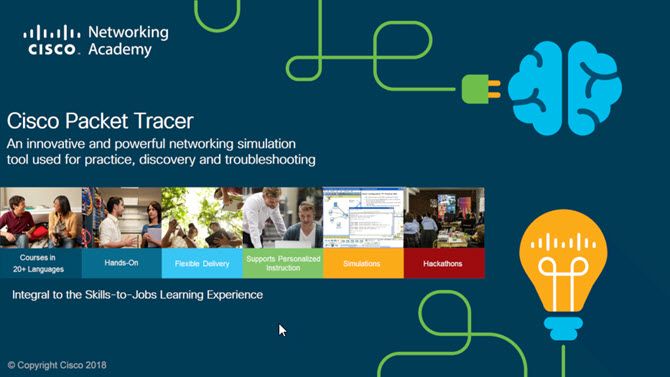 Cisco Packet Tracer is a simulation software which can simulate a Cisco network without having a physical network. Cisco Packet Tracer can also run as a hybrid network combining physical networks and the simulated networks. All this is achieved by using a drag and drop visual interface. This capability makes the software unique and highly useful across institutions and individuals worldwide who want to learn and practice their networking skills before touching the production networks.
The benefits of using Cisco Packet Tracer
A few benefits of using Cisco Packet Tracer include the following:
Free for everyone. Earlier, it was only free for Cisco Network Academy students.
Practice complete Cisco Packet Tracer labs from the Networking Academy in their skills and career building program for learning (CCENT, CCNA and CCNP Switch exams).
Equally useful program for learning for institutions and individuals.
Users can run simulations on all devices compatible with Cisco Packet Tracer including Windows, Linux and Android mobile device (Cisco Packet Tracer Mobile)
You can run and practice Cisco IOS Operating System without having a physical router and network.
Let's first discuss what's new in Packet Tracer 7.2.1 and then move on to the Cisco Packet Tracer free download section. Although Cisco Packet Tracer is free to download and use, Cisco Networking Academy makes it compulsory to have a Cisco account in order to download and even use the software.
What's new in Packet Tracer 7.2.1?
Just like Cisco Packet Tracer 7.1.1, the version 7.2.1 is a maintenance release and does not contain any major updates. The complete build no. of this release is 7.2.1.0218. Only one major bug was fixed in this release. The bug in previous versions of Packet Tracer was that if the user had logged into Packet Tracer software, the user was required to log in again after every system restart.
Apart from this, all the features of version 7.2 remain the same. Cisco has removed Packet Tracer 7.2 from their website and it is not available for download anymore. So you should download this latest version for future installations. Here were the major features of version 7.2 major release:
Packet Tracer 7.2 workspace improvements:
New themes
Align workspace objects
Ability to deploy the device to a specific rack
Accessibility update
Ability to name a rack
Protocol and software improvements :
PPPoE support
802.1x (useful for CCNP certification exam)
Answer tree filter
Real TCP server
Real WebSocket
Real-time activity grading
Additional IOS security features
Protocol improvements
New devices in Packet Tracer 7.2
ASA 5506-X firewall (FirePOWER features not supported)
Meraki security appliance
Meraki server (for Meraki security appliance centralized configuration, emulating Cisco Meraki dashboard)
Home router with advanced wireless capabilities (2.4G, 5G, beamforming, wireless bridge, …)
Getting started with Cisco Packet Tracer 7.2.1
The installation process of this version of Cisco Packet Tracer is quite simple and straight forward. Let's go through the process visually:
Download Packet Tracer 7.2.1 from the below-given links and run the installer. After installation, if you have a browser open, you will be asked to close the browser with the following message:
For Packet Tracer Skill-Based Assessment (PTSBA) to use this version of Packet Tracer, please close all web browsers or restart your computer.
After that, you will be shown another notice that you are running Packet Tracer for the first time so your files will be saved in the default folder.
And then you will get a login screen. You can either login with your Cisco Network Academy log in ID and password or run the software as a guest. For running the software as a guest, press the "Guest Login" button at the bottom right side of the window. One caveat of guest login is that you will have to wait for a few seconds and then click on "Confirm Guest" button to start using the software.
And then you can start using the software as per your choice.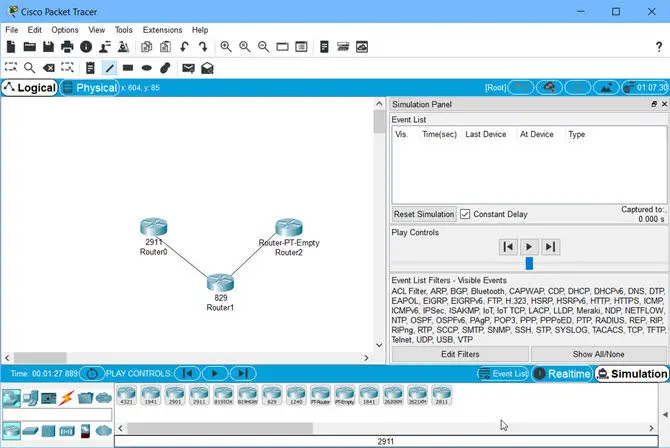 Download Cisco Packet Tracer 7.2.1
The latest version of Cisco Packet Tracer download links are given below. There is no need to login to any website to download these setup files.

Download Cisco Packet Tracer 7.2.1 for Windows 64-bit (198.7 MiB, 90 hits)

Download Cisco Packet Tracer 7.2.1 for Windows 32-bit (184.4 MiB, 83 hits)

Download Cisco Packet Tracer 7.2.1 for Linux 64-bit (297.2 MiB, 152 hits)
Download Cisco Packet Tracer Mobile for Android
Download Cisco Packet Tracer Mobile for Apple iOS (iPhone and iPad)
Unfortunately, Cisco Packet Tracer for Mac is not available as of yet. You will need to have iPhone or iPad if you want to test this software in the Apple ecosystem.
As far as the system requirements are concerned, CPT does not require a very powerful configuration. You can run it on a Windows (32-bit and 64-bit) or Linux (64-bit only) machines with at least Pentium 4, 500 MB of free RAM and 350 MB of hard drive space.
If I have missed anything, please share your thoughts and feedback in the comments below.
Must Read Articles: