Firefox 62 Offline Installer For All Operating Systems
Firefox 62 is available for download and installation. The new version of Firefox comes with some new features including a revamped bookmark manager and some security options to make the browser more secure. You can download Firefox 62 from the direct download links given in this article. The new browser is available for Windows, Linux, Mac, iOS and Android.
Let's first look at the new features and then we'll head to the download links.
Firefox 62 new features
New bookmark manager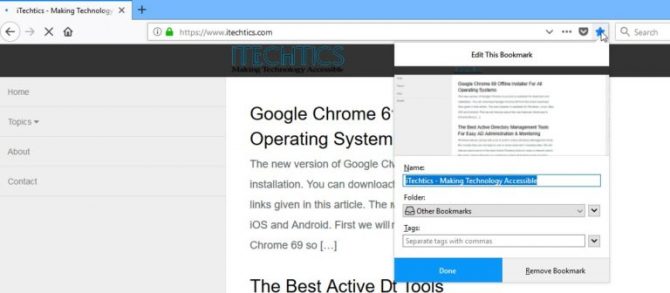 After the demise of XMarks, users have shifted to browser bookmark managers. This should have urged Mozilla to revamp their bookmark manager. They have revamped the bookmark dialog UI to make it more adaptable to the user.
Now you can easily delete site specific cookies, cache and data. This is especially useful for developers and Quality Assurance professionals who have to test specific settings on a specific website.
Now they can easily delete site specific data instead of clearing the complete browser cache.
New tab personalization
Like Google Chrome 69, Firefox 62 also comes with new tab personalization options. Now you can configure Firefox new tab page to show 4 columns for top sites, highlights and Pocket suggestions.
You can do these changes under Home tab in Firefox options.
More security options
When you disconnect your sync account in Firefox 62, it will automatically ask you to delete local data related to your profile. This is a great safety option if you will not use the browser again.
You can also enable or disable tracking protection from the button in Firefox menu.
Firefox 62 

offline installers direct download links
Download Firefox 62 offline installer for Windows 64-bit [38.4 MB]
Download Firefox 62 offline installer for Windows 32-bit [35.5 MB]
Download Firefox 62 offline installer for Linux (Tar) 32-bit/64-bit [51.1 MB]
Download Firefox 62 offline installer for Mac (dmg) [54.3 MB]
Download Firefox 62 in all languages
Download Firefox 62 APK for Android
Download Firefox Portable in all languages
Firefox 52.9 ESR direct download links
Download Firefox 52.9 ESR offline installer for Windows 64-bit [45 MB]
Download Firefox 52.9 ESR offline installer for Windows 32-bit [43 MB]
Download Firefox 52.9 ESR offline installer for Linux (Tar) 32-bit/64-bit [55 MB]
Download Firefox 52.9 ESR offline installer for Mac (dmg) [78 MB]
Firefox 60.0.2 ESR direct download links
Download Firefox 60.0.2 ESR offline installer for Windows 64-bit [37.3 MB]
Download Firefox 60.0.2 ESR offline installer for Windows 32-bit [34.6 MB]
Download Firefox 60.0.2 ESR offline installer for Linux (Tar) 32-bit/64-bit [50.7 MB]
Download Firefox 60.0.2 ESR offline installer for Mac (dmg) [53.2 MB]
Must Read Articles: