Download KB4457138 Cumulative Update For Windows 10 Version 1703 September 2018
Microsoft has released KB4457138 cumulative update for Windows 10 Creators Update Version 1703. After installing this update, the complete build number of Windows will become 10.0.15063.1324. It is recommended to always keep your system up to date. Please note that Windows 10 Version 1703 will reach end of service on 9th October 2018. After that, it will be important to upgrade to Windows 10 Version 1803 or you will stop getting updates from Microsoft.
KB4457138
Here is the KB4457138 change log:
Security updates to Internet Explorer, Microsoft Edge, Microsoft scripting engine, Windows graphics, Windows media, Windows Shell, Windows cryptography, Windows virtualization and kernel, Windows datacenter networking, Windows hyper-V, Windows Linux, Windows kernel, Microsoft JET Database Engine, Windows MSXML, and Windows Server.
Fixes an issue with Program Compatibility Assistant (PCA) which starts using excessive CPU time and resources.
It also fixes the dreaded task scheduler zero-day vulnerability. This is a severe vulnerability in which the attacker could get administrative access to the system and can view, change and delete system data as well as create new user with administrative privileges.
If you are running Hyper-V on Windows 10 Version 1703, this update is of utmost importance as it fixes a vulnerability that a guest OS could run arbitrary code on the host system itself.
You must restart your computer to finish installing this update even if Windows is not asking you to restart. This is because Windows will not update its build number until it's restarted.
If you have configured your system to not download and install the next major build of Windows 10 Version 1809, then you must revisit the settings again to make sure that the settings are intact and have not been reverted by this update.
How to get KB4457138 update for Windows 10 Version 1703
Download KB4457138 cumulative update for Windows 10 Version 1703 64-bit [1232 MB]
Download KB4457138 cumulative update for Windows 10 Version 1703 32-bit [698 MB]
Before installing KB4457138 update
Before installing any Windows Update, it is always recommended to create a restore point for your safety.
Create a restore point
This should be the default case before installing any update or software on your system. At the very least, if the system get bricked after installing an update, you will be able to revert back to the working point.
On the System Protection tab, enable System Restore and create a restore point manually.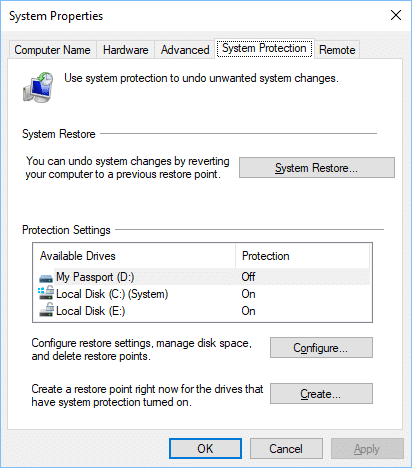 Must Read Articles: