Download Cumulative Update KB4462933 for Windows 10 v1803 October 2018
Microsoft releases yet another cumulative update for Windows 10 Version 1803 in October 2018. Most of the change log of KB4462933 consists of bug fixes encountered in the previous Windows 10 October 2018 update releases. After installing this update, the build no. of Windows 10 will become 17134.376.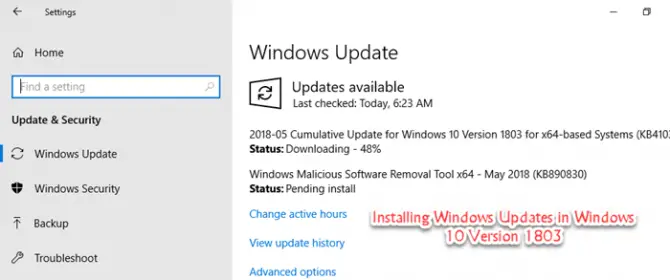 It is recommended that you should always keep your system up to date and try to upgrade your Windows to the latest Windows 10 Version 1809 instead.
It seems to be a big update to the version 1803 because it includes quite a lot of fixes but don't include any new features or even security fixes. Let's first go through the change log and then we'll share the direct download links to KB4462933 from the Microsoft update catalog.
Bugfixes and Improvements
Some of the improvements and fixes in the latest updates are
 AccountName in the Event Log entry for the Microsoft Windows Kerberos Key Distribution Center source and Event ID 7 sometimes appears corrupted. This issue has been fixed
The updated time zone information issues have been resolved.
An issue that sometimes prevents documents and extension strips  from appearing in the Microsoft Edge DevTools debugger. and DevTools has been fixed.
 When a blue-tooth was accidentally removed, OS stopped working. This issue has been addressed.
While using client authentication certificates with the TLS protocol applications encountered some leaks.  When the FreeCredentialsHandle function was called before the DeleteSecurityContext call in the application code this issue was observed . However this update has fixed this issue.
 TCP connections opened for an application running on Windows Container sometimes failed.When the container used  Network Address Translation (NAT) Network provided by Windows Network Address Translation (WinNAT) it caused the error. A SYN timeout occurs after reaching the maximum SYN Retransmit count. This issue is no longer in this version
 Some PDFs while using Microsoft Edge gave the issue of printing . it has been fixed
When the user attempted to print PDF files from SharePoint Online  the error, "Couldn't open PDF" occured. This has been resolved.
This update resolves the issue in which users cannot enter East Asian text when they were asked  to create password hints during the upgrade process. Moreover another issue was that a multi-monitor issue  render an application incorrectly that is in full-screen mode after changing the display mode. In addition to that with  window-related Graphics Device Interface (GDI) objects related leaks occurred during window destruction. All of these issues are no longer there.
You can check out the complete change log of this update here.
How to install the Update ?
To install this update, go to Settings -> Update & Security -> Windows Update and select Check for updates.
How to Find Windows 10 Build Number?
In  order to find the OS build number click windows +R and then type winver.

The following window will appear which contains the OS Build Number
Direct Download Links
Download KB4462933  for Windows 10 v1803 32 bit (437.9 MB)
Download KB4462933  for Windows 10 v1803 64 bit (782.3 MB)
Download KB4462933 for ARM-64 based Systems (822.7 MB)
Download KB4462933 for Windows Server 2016 v1803 for x64-based Systems (782.3 MB)
Before installing Windows update
Before installing any Windows Update, it is always recommended to create a restore point for your safety.
Create a restore point
This should be the default case before installing any update or software on your system. At the very least, if the system get bricked after installing an update, you will be able to revert back to the working point.
On the System Protection tab, enable System Restore and create a restore point manually.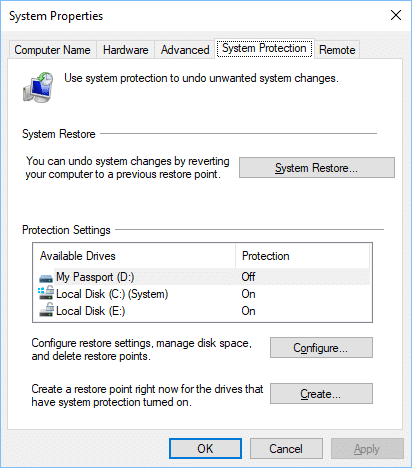 It is recommendable to update your Windows to the latest version to get the performance and security related enhancements. Each new version has something new in it with further improvements. Keep a backup of all your data and update your windows.
Must Read Articles: