AMD has recently released a new driver for their AMD Radeon series graphics drivers. You can now download and install AMD Radeon Adrenalin Edition 21.9.2 graphics driver and enhance your gaming experience immediately using the links given below.
Windows 11 has been released by Microsoft and if you have a compatible AMD processor, you can download and install the latest drivers for your GPU using the links given in this article.
We recommend that you review the following information before downloading and installing this GPU driver, so that you can make an informed decision about whether to install it or not.
Release summary
Release Date: 21 September 2021
Driver size: 456 MB
Supported operating systems: Windows 11, Windows 10 (64 bits only)
What's new in AMD Radeon Adrenalin 21.9.2 GPU Driver
The most significant new feature in AMD Radeon Adrenalin 21.9.2 is its compatibility with Windows 11. With the new operating system just around the corner, and not to forget the users on Windows Insiders already using Windows 11, this compatibility feature might have been anticipated by the consumers.
AMD has also provided support for the following new games:
New World
World War Z: Aftermath
Diablo II: Resurrected
Moreover, the following issues have been fixed that were experienced in the older version(s):
The missing "CPU Additional Metrics" section under the Performance tab in the Radeon software has been restored.
The occasional occurrence of a compatibility error while loading saved tuning profiles has been fixed.
The issue of the missing water along the shores of Hitman 3 has been addressed.
The missing Auto Overclock feature for CPU in Radeon Software for some users with an AMD Ryzen 5000 series processor and AMD Radeon 6000 series GPU has been fixed.
In contrast, NVIDIA released their latest WHQL GPU driver a week ago that is not only supported on Windows 11 but has also added the support for a plethora of new games, while AMD has only added 3 new games.
There are also some known issues with this new release by AMD. Let's see what those are.
Known issues
The Open Broadcaster Software may be running in the background even though the user has ended the recording and closed the application.
Users may experience driver timeouts while simultaneously playing a game and streaming a video on some GPUs.
The AMD Radeon software may occasionally crash when playing some DirectX 11 games with multiple external displays in extended mode.
Long hours of playtime on Horizon: Zero Dawn may cause driver timeouts or the game would crash.
Enhanced Sync may cause a black screen to occur when enabled on certain games and system configurations. AMD recommends that the user disable Enhanced Sync until a permanent fix is found for the problem.
Radeon performance metrics and logging features may report extremely high and incorrect memory clock values.
You can now make an informed decision on whether you still want to proceed with updating your AMD GPU with the latest driver, considering the known issues with this release.
Download and install AMD Radeon Adrenalin 21.9.2 GPU Driver
Click on the link below to download the drivers for Windows 10 and 11:
AMD Radeon Adrenalin 21.9.2 x64 for Windows 11 & 10
Once the download is complete, run the executable file. You will need about 1.3 GB of free space in your installation drive before you begin.
You will then see the installation wizard. Click Install to begin the installation process.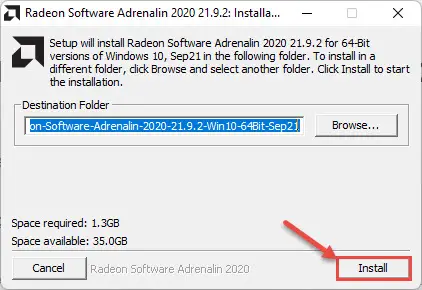 The setup will then extract itself and begin installing. Follow through with the wizard and install the drivers. If your screen flickers, do not panic. It is part of the upgrading process.
Closing words
AMD is one of the leading GPU manufacturers around the world. They may still have some issues with the new driver release, but we believe that they will be mitigated in due time with minor updates.
  If, however, you feel that the issue could negatively impact your gaming experience, we recommend that you wait for a new release while AMD works on the fixes. On a sidenote, AMD has already said that Windows 11 is slowing down the PCs by up to 15%.