Here is the good news for Instagram users that they can now download and save any Instagram Picture and Video from any ones profile. This feature was seems to be never possible but now this is possible. Let me show you how you can download and save the Instagram's media into your System.
In this article, we will share two easy ways to download pictures from Instagram profiles.
Downloading Instagram Pictures
Instagram Images Download Chrome Extension
Google Chrome is providing an extension which helps its users to download the pictures and videos from Instagram. All the media will be downloaded in a zip file. After downloading, you can extract them to any folder.
Go to Google Chrome store and type "Instagram Images Download Extension". It will give you your desired extension and then click on "Add to Chrome".
After 1-2 minutes, it will be added to your browser on top right corner of browser.
Now what's the next step, obviously sign in to your Instagram account to start downloading the pictures.
Let's sign in Instagram's account.
Now after singing in, open the user's profile of which you want to save the pictures. When you open any user's profile, you can see that a pop up window will be there at bottom right of bowser, which gives you options for downloading.
Collect option means, it will collect auto all the photos which are currently displaying at screen, and download them all in only one click. So expand to maximum screen so that extension can collect maximum photos from the screen.
And Download option means, it will download the all photos at one click which are loaded at that moment in a zip folder. And the option of "Save as zip", it will save all photos in a zip folder,. If you don't check its check box then user have to save each photos from "save picture as" window, which can be little frustrating.
The below snapshot tells you the pictures I saved from the Instagram profile of a user. All the pictures are saved in a zip folder. I can easily extract all photos from this zip folder and save or move them anywhere I want to move these photos.
So get this cool extension into your chrome browser and start downloading Instagram pictures with it.
Free Instagram Downloader
Free Instagram Downloader is simple and small program that allows you to save any user's pictures. Download it and install it into your System. Then a window of Instagram Downloader will appear which asks you to enter the name of user you want to save the pictures of.
Enter the user name. But that user must have shared its photos as public. Otherwise this tool won't open pictures of any user with private account.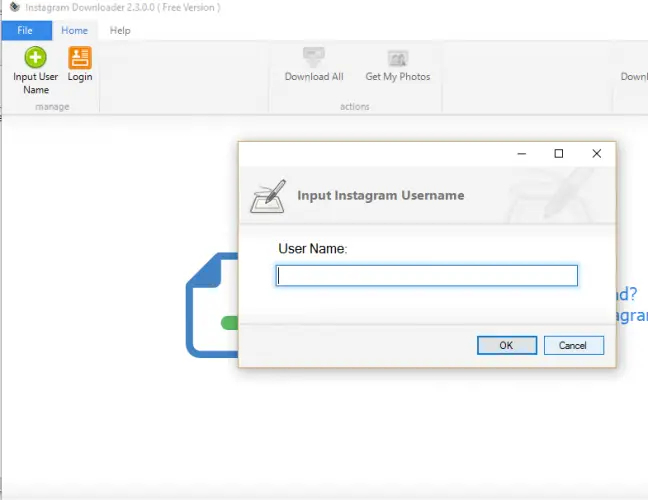 Then all the photos will be open of that particular user. Select them and download the photos into anywhere of your System. And keep enjoying the Instagram with downloading feature.
Download Free Instagram Downloader from here
Downloading pictures with Instagram was not seems to be happen before. But as nothing is impossible now, so same is case here. You can now upload any photos on Instagram as well as download any photo or video of any user into your system or device. Start downloading the pictures of any public user or any user which is following you. But don't forget not to misuse any photos.
Must Read Articles: