Microsoft has quietly released an RTM Stable version of Windows Server 2022. You can download and install the new Windows Server 2022 instantly. The initial build no. of Windows Server 2022 is 20348.169 (fe_release) with KB5005039.
There have been a lot of new features and improvements in this version as compared to Windows Server 2019. We'll talk about all the new features and enhancements in this article.
Since this is a Long Term Servicing Channel (LTSC) release, Microsoft will not provide any bi-annual feature updates as in the case of semi annual channel for Windows 10 and Windows 11.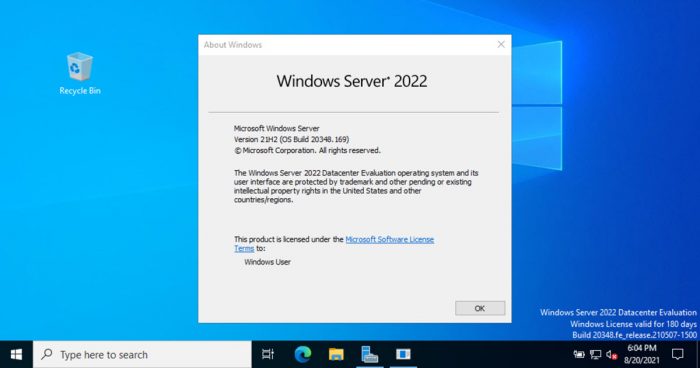 Windows Server 2022 includes Microsoft's official support for five years until October 13th, 2026 and an extended support for five more years until October 14th, 2031.
What is Windows Server?
Microsoft Windows Server is an operating system which provides the infrastructure for connecting apps, networks, and web services. In addition to working with standalone networks, it can also run in hybrid environments combining on-premises and Microsoft Azure installations.
Download Windows Server 2022
ISO and VHD images for Windows Server 2022 are available on Microsoft Evaluation Center and Visual Studio subscriptions (MSDN).   It is also available to customers of Volume Licensing Service Center (VLSC). 
Follow the steps below to download an evaluation copy of Windows Server 2022.
Under Get started for free, select one of the following options:

Sign up for a free Azure account.
Create a Windows Server VM in Azure.
Download the ISO
Download the VHD

In our case, we will select Download the ISO and press Continue button.

Complete the form with your details and press the Continue button.

Select the language in which you want to download Windows Server 2022. The following languages are supported:

Chinese (Simplified)
English
French
German
Italian
Japanese
Russian
Spanish

Press the Download button to start downloading the ISO file.

The three versions included in the ISO are Standard, Data Center and Data Center: Azure (or Azure Stack HCI) Edition. Please note that this is an evaluation version and will expire in 180 days. The download page mentions that the user must activate the evaluation version over the Internet within 10 days of installation to avoid hourly automatic restarts.
Microsoft has not provided any product keys for Windows Server 2022 yet. That means you will be able to register the evaluation version over the Internet and use it for 6 months. After 180 days, you will need to change your product key to the one which has been purchased from Microsoft. Here is the pricing structure of Windows Server:
| | | | |
| --- | --- | --- | --- |
| Edition | Usage | Licensing model | Pricing |
| Datacenter | Virtualization and Cloud | Core-based | $6155 |
| Standard | Physical + 2 VMs | Core-based | $972 |
| Essentials | Up to 25 users and 50 devices | Server License | $501 |
New features and improvements in Windows Server 2022
Windows Server 2022 comes with a lot of new features and security enhancements. We'll discuss a few of them here.
HTTPS and TLS 1.3 are enabled by default. TLS 1.0 and TLS 1.1 are disabled by default. TLS 1.2 is still there.
AES-256-GCM and AES-256-CCM cryptographic suites are supported for Server Message Block (SMB) encryption and signing.
DNS over HTTPS (DoH) is supported and enabled by default.
Windows Server 2022 brings secured core servers with Secured Core boot protection, hardware root-of-trust, firmware protection and virtualization based security (VBS) for physical security. Secured-core servers build on technologies such as Windows Defender System Guard and Virtualization-based Security to minimize risk from firmware vulnerabilities and advanced malware.
Supports SMB over QUIC capability for safer communications. It's designed for VPN replacement and relies on UDP and TLS 1.3 protocols for faster and safer communication.
Windows Server 2022 comes with Azure Arc to manage and govern on-prem servers within Azure.
Storage Migration Service lets users easily migrate file servers from on-premises to Azure.
Update .NET applications with the new containerization tool in the Windows Admin Center.
Windows Server 2022 comes with an optional Server Message Block compression capability to compress files and speed up network transfers.
Windows Admin Center can be used to remotely manage certificates, deploy containers and track server performance.
Windows Server 2022 supports hotpatching. Hotpatching enables the system to install Windows Updates without the need to restart the system every time. Hotpatching is only available in the Azure edition of Windows Server.
Azure Stack HCI enables the deployment of modern Windows Server applications with Azure Kubernetes Service.
Here is a feature comparison of all three editions of Windows Server 2022:
| Features available generally | Windows Server 2022 Standard | Windows Server 2022 Datacenter | Windows Server 2022 Datacenter: Azure Edition |
| --- | --- | --- | --- |
| Azure Extended Network | No | No | Yes |
| Best Practices Analyzer | Yes | Yes | Yes |
| Containers | Yes | Yes | Yes |
| Direct Access | Yes | Yes | Yes |
| Dynamic Memory (in virtualization) | Yes | Yes | Yes |
| Hot Add/Replace RAM | Yes | Yes | Yes |
| Hotpatching | No | No | Yes |
| Microsoft Management Console | Yes | Yes | Yes |
| Minimal Server Interface | Yes | Yes | Yes |
| Network Load Balancing | Yes | Yes | Yes |
| Windows PowerShell | Yes | Yes | Yes |
| Server Core installation option | Yes | Yes | Yes |
| Server Manager | Yes | Yes | Yes |
| SMB Direct and SMB over RDMA | Yes | Yes | Yes (not supported in Azure) |
| SMB over QUIC | No | No | Yes |
| Software-defined Networking | No | Yes | Yes |
| Storage Migration Service | Yes | Yes | Yes |
| Storage Replica | Yes, (1 partnership and 1 resource group with a single 2TB volume) | Yes, unlimited | Yes, unlimited |
| Storage Spaces | Yes | Yes | Yes |
| Storage Spaces Direct | No | Yes | Yes |
| Volume Activation Services | Yes | Yes | Yes |
| VSS (Volume Shadow Copy Service) integration | Yes | Yes | Yes |
| Windows Server Update Services | Yes | Yes | Yes |
| Windows System Resource Manager | Yes | Yes | Yes |
| Server license logging | Yes | Yes | Yes |
| Inherited activation | As guest if hosted on Datacenter | Can be a host or a guest | Can be a host or a guest |
| Work Folders | Yes | Yes | Yes |
Source: Microsoft
Windows Server 2022 hardware requirements
Take a moment to review the hardware requirements for the installation of Windows Server 2022. In order to run Windows 2022 Server, the following minimum hardware requirements must be met.
Hardware Requirement
Description
Processor
1.4 GHz 64-bit processor Compatible with x64 instruction set
Supports NX and DEP, CMPXCHG16b, LAHF/SAHF, and PrefetchW
RAM
512 MB (2 GB for Server with Desktop Experience installation option)
ECC (Error Correction Code) type or similar technology, for physical host deployments
Disk Space
Minimum 32 GB (Windows Server 2022 using the Server Core installation option)
Network
An ethernet adapter capable of at least 1 gigabit per second throughput
Compliant with PCI Express architecture specifications
Additional
UEFI 2.3.1c-based system and firmware that supports secure boot
Trusted Platform Module
Graphics device and monitor capable of Super VGA (1024 x 768) or higher-resolution
Apart from the UEFI and secure boot TPM requirements, most requirements are the same as of Windows Server 2019.
Final Takeaway
The installation steps of Windows Server 2022 are virtually the same as Windows Server 2019. Since it is a server product, upgrading from version 2019 right away would not be wise. You should simulate your upgrade scenario in a lab environment first and then run the actual migration process in a production environment.
If you want to test this version, you can install it on any Hyper-V server including Windows 10 and Windows 11. But with physical installation, secured core servers setup will kick in and you can enable the physical security of your server to keep it safe from on-prem intruders.
Windows Server 2019 was the fastest adopted Windows Server by the network community. Let's see if the new version, Windows Server 2022 with all its newest Windows Server innovations and security features, can pick up early pace and beat the earlier version. What do you think?