If you have the latest updated version of Windows 10 Version 1909, you may encounter an error message "A driver can't load on this device". This means that you won't be able to use that specific device until the driver is loaded successfully.
Microsoft is trying hard to auto-update the drivers of popular PC components. If you rely on Windows Update to install and update your drivers, most probably, you will not encounter this error.
But if you have installed device drivers manually, you may get the driver loading issue.
The main reason for this issue is that Microsoft is trying to secure the device driver installation mechanism on Windows 10 computers. Windows prevents unverified drivers from loading in memory to protect the system from hacking and cracking attempts. This feature is called Core Isolation.
How to fix "A driver can't load on this device"
There are two ways to fix this issue. We will discuss both of them here.
Update Device Drivers
When your system is not able to load a specific driver, the best practice is to uninstall the driver and download and install the latest driver either by using Windows Update or downloading verified device drivers from the manufacturer's website.
When installing drivers using Windows Update, make sure you look in the optional updates section as the latest version of Windows pushes driver updates in optional updates. Optional updates need confirmation before installation.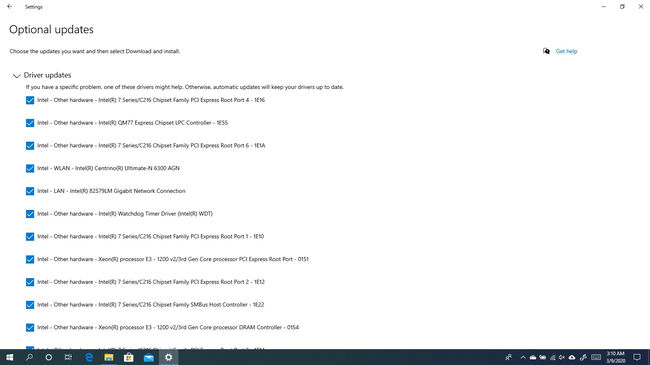 Turn off memory integrity setting
Windows 10 comes with a Core Isolation feature that uses virtualization-based security to protect sensitive parts of the Operating system. One sensitive part is the RAM.
The core isolation feature, Memory integrity, can be turned on to prevent attacks from inserting malicious code into high-security processes.
If you are unable to find a suitable driver for your device, then you will need to disable the memory integrity feature to load the driver successfully.
Here's the step by step information on how to disable the memory integrity feature in Windows 10:
Go to Windows Settings (Windows key + i)
Open Update & Security.
From the left-hand pane, select Windows Security.
From the right-hand pane, select Device Security. This will open another window.

Under Core isolation, click on Core isolation details.

Toggle Memory integrity to Off.

You will need to restart the computer for the changes to take effect. After rebooting, all the device drivers will be loaded into the memory without any restrictions.
Although Microsoft may give a permanent solution to this issue, it is always advisable to use safe device drivers for your own safety. If the drivers are not approved by the device manufacturer, they may be a threat to your privacy and security.
You can read more about this issue on Microsoft Knowledgebase KB4526424.
Did you encounter this error in your Windows 10 system? Please tell us about your experiences about the driver not loading issue in the comments below.