Right before the start of this shopping season, Microsoft has released Edge 87 to the stable channel adding some great shopping features built into the browser.
According to Microsoft, Microsoft Edge is the best browser for shopping online.
Microsoft Edge is the only browser with built-in tools to help you save time and money while shopping online with new features like auto-fill coupons and more proactive price comparisons.

Microsoft
Let's see what's new in Edge 87.
New features and enhancements in Edge 87
Shopping features enabled by default
The shopping features in Edge 87 will alert the user whenever a discount coupon is available for the retail website user is visiting.
It will also compare the product you are purchasing with other online stores and will alert you if it is available somewhere else in a cheaper price.
Since the shopping season has just started and Christmas is around the corner, this feature can benefit a lot if you do a lot of shopping online.
If you don't like this feature, you can disable it by opening edge://settings/privacy and toggle off "Save time and money with Shopping in Microsoft Edge"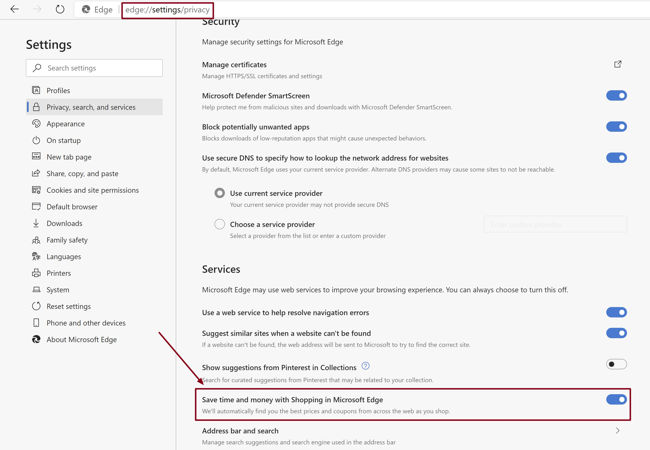 Enterprise users can make use of EdgeShoppingAssistantEnabled policy to enable or disable this feature across the domain network.
New page tab enhancements
Microsoft has integrated voice search in the new tab page. Now you can use your voice to search Bing using the new tab interface.
When I upgraded to Edge 87, I didn't find this feature on my laptop. It seems like this feature has been released for specific countries.
You can also access Microsoft Bing Deals Hub from the new tab. The Deals Hub lets you browse the latest deals across various online retail stores.
The enterprise users can now toggle between their work and personal feeds in the new tab.
Web capture enhancements
Edge 87 adds the capability to take screenshots of web pages and then use annotations and digital ink on the screenshots. You can use this feature by pressing Ctrl + Shift + S.
Once selected, you can copy the screenshot to the clipboard or add notes for annotation.
While this is a good feature, I'm more comfortable with Vivaldi web page capture functionality which captures the complete web pages and automatically saves them to the Vivaldi pictures folder. But annotation feature is not available in Vivaldi.
Copy/Paste enhancements
When you copy a URL from the Edge 87 address bar and then paste it somewhere outside of Edge, the URL will automatically be shortened.
While this can be a great feature, it is annoying for me. So I prefer turning it off.
To bypass this feature, use Ctrl + Shift + V to paste the URL as text or disable it by going to edge://settings/shareCopyPaste and selecting Plain text by default.
PDF improvements
One of the best features of legacy Edge was the PDF annotations and other enhancements related to PDF documents. Microsoft has updated Edge 87 to include most of the PDF functionality available in the legacy version.
For more in-depth information about new features, bug fixes and security fixes, please Visit Edge 87 changelog page.
Release Summary
Complete release build: 87.0.664.41
Release date: Thursday, November 19, 2020
Compatibility: Windows 10, 8.1, 7 (32-bit and 64-bit), Mac, iOS, and Android.
Previous build: Edge 86
Download Microsoft Edge 87
To upgrade Edge to version 87 now, go to edge://settings/help. This will trigger an automatic update check and the browser will be updated automatically if an update is available.
There are a few methods that can be used to update your Edge browser to the latest version including:
Update using Edge update
Use the download Edge installer
These methods have been discussed on a separate page here:
Methods to download and run the latest Microsoft Edge browser
You can use any method of your choice to download, install, and run the latest Edge browser. Otherwise, simply download it using the links given below:
Download: Microsoft Edge Stable for Windows 10
Download: Microsoft Edge offline installer for Windows 10
Download: Microsoft Edge for macOS
Download: Microsoft Edge for Android
Download: Microsoft Edge for iOS