After Google Chrome 98, Microsoft Chromium Edge has also been updated to version 98.0.1108.43 for the stable channel. This update brings new features to the web browser which we think you will definitely like.
Apart from the security updates, a new feature known as "Edge bar" has been introduced which is a floating sticky note so you always keep top of things. Furthermore, a new "Efficiency mode" has also been introduced which reduces RAM and CPU consumption by the browser to increase your battery life (on a laptop).
Let us now discuss these new improvements and details and then move on to upgrade the Edge browser on your Windows PC. If you are now using Windows or have deleted the browser, you can install it from the direct download links for different platforms given below.
Release Summary
Complete Release Build: 98.0.1108.43
Release Date: Friday, February 4, 2022
Previous Build: Edge 97.0.1072.55
New in Microsoft Edge 98
Edge Bar
The new Edge Bar is a floating widget that will appear on the side of your screen, even while the Edge browser is closed. The feature has been in the testing phase for nearly a year in Edge for Insiders and introduced to the stable channel with Edge 98.
This bar can be used to perform Bing searches directly from anywhere inside Windows and also displays the top news stories and live weather forecasts.
You can customize this menu according to your preferences and add and remove widgets from it according to your liking. The feed in the Edge Bar keeps expanding as you scroll further down to bring up more interesting news according to the feeds that you have liked, or disliked.
The bar can be dragged from the top and set on top of other applications anywhere on the screen, or you can simply minimize it and then reopen it from the floating Microsoft Edge button.
Once you have installed Edge 98, you can enable this feature by going to Settings, and then clicking on the "Edge bar" tab on the left. There, simply click Open Edge bar to open the utility, or set the slider in front of "Automatically open Edge bar when the computer starts" to On position to open Edge bar automatically once the computer starts.
Efficiency Mode
Microsoft has now introduced an Efficiency Mode to Edge, whereby enabling it, you can reduce the load on the system resources being used by the Edge browser. This includes the RAM and the CPU consumption.
Enabling this feature will in turn save your battery from draining quickly, increasing battery backup duration significantly.
You can customize when the Efficiency Mode turns on automatically by selecting the following options:
Never (Default setting)
Always
Unplugged
Unplugged, low battery
To customize this setting, go to Settings and then click on the "System and performance" tab on the left. There, under Optimize Performance, set your preference from the drop-down menu in front of "Turn on efficiency mode when."
Other Features
Some other improvements have also been introduced with this release:
Users can now personalize a list of profiles they want to use for individual websites, where the browser will automatically switch user profiles when on a different (configured ) website.
WebRTC's Plan B has been deprecated and replaced with Unified Plan.
Overlay scrollbars have been added to the browser that can be actived in edge://flags.
Since Microsoft has not officially announced the Release Notes for this build, the improvements mentioned above are derived from the changes made to Edge Insider in the last few weeks.
Download Microsoft Edge 98
If you already have Microsoft Edge on your PC, you can simply upgrade it to the latest build. If not, use the links below to install it now.
Microsoft Edge comes preinstalled in Windows 11 and 10. Learn how to uninstall Microsoft Edge.
Upgrade to Edge 98
Follow the steps below to upgrade to the latest available Edge version
Click on the ellipses in the top-right corner of the browser, expand Help and feedback, and then click About Microsoft Edge.


Once it relaunches, you can return to the About page and check that it has been updated to version 98.0.1108.43.
Download Edge 98 Installers
If you want to use Edge 98 on any operating system other than Windows 11 and 10, like Windows 7, Windows 8.1, Linux, macOS, iOS, and Android, you will need to download its offline installers.
You can download the latest Microsoft Edge installers (including stable, beta, and dev releases). You can also download the browser in your preferred language using the tips given on the above-mentioned page.
Use Portable Edge Chromium Updater
If you are using Edge's portable version, it will not update on its own. For that, a small tool known as Portable Edge Updater is available on GitHub, which allows you to install or update the existing Microsoft Edge Chromium to the latest build available. You can also use this tool to download the x64 and x86 versions from all channels, including the stable channel and the 3 channels from Edge Insider.
Download the tool by opening the Portable Edge GitHub page and then clicking on the link provided Portable.Edge.Chromium.Updater….7z.
The tool is then downloaded. Extract it and then run the .exe file. Inside the tool, click on the channel and bit architecture you want to download (the versions are also mentioned). In this case, we will download Edge version 98 from the stable channel.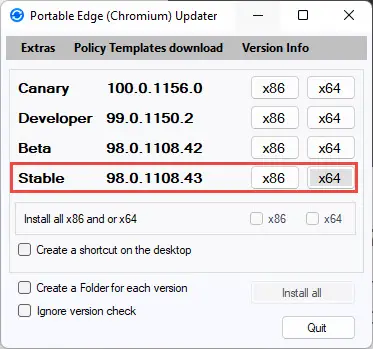 The browser will then begin to update (or download). Once it is done, you can check that the Microsoft Edge Chromium portable 98 is now available on your device.
Microsoft Edge Update History
| Edge Version | Release Date | Features & improvements |
| --- | --- | --- |
| Edge 116 | | |
| Edge 116 | 15-Sep-23 | Addresses 14 vulnerabilities, includes More Tools deprecations and unload event deprecation, includes support for Microsoft Edge for Business for BYOPC via Intune. |
| Edge 115 | 21-Jul-23 | Microsoft Edge management service, rounded tabs, mouse gestures, split screen view. |
| Edge 113 | 5-May-23 | Basic Enhanced Security Mode was removed, shifted to EdgeUpdater on macOS, and introduced new policies, addresses 2 security vulnerabilities. |
| Edge 112 | 6-Apr-23 | Introduced Browser Essentials in place of the Performance Hub, improvements to enhanced security mode and some policies. |
| Edge 111 | 13-Mar-23 | Bing copilot in the toolbar, auto-hiding sidebar, hover over the sidebar to expand, and policy to clear IE mode history on browser exit. |
| Edge 110 | 9-Feb-23 | Introduces Immersive Reader policies, Azure Active Directory synchronization, Drop feature to share files, and several security updates. |
| Edge 109 | 13-Jan-23 | 14 security updates, 8 new policies, and 2 deprecated policies. |
| Edge 108 | 5-Dec-22 | Important security fixes, a new policy to disable Web Select amongst others. |
| Edge 107 | 27-Oct-22 | Improved sidebar, new policies, and security fixes. |
| Edge 106 | 3-Oct-22 | Improved web defense and increased the maximum number of search results to 4 |
| Edge 105 | 2-Sep-22 | Improvements to IE mode and enhanced security |
| Edge 104 | 5-Aug-22 | Support to import data and enhanced security on the web |
| Edge 103 | 23-Jun-22 | Improvements for online and web gaming |
| Edge 102 | 31-May-22 | With reverse image search and security improvements |
| Edge 100 | 1-Apr-22 | Sends 3-digit user agent string, PDF updates, and hardware-enforces stack protection |
| Edge 99 | 3-Mar-22 | Custom primary password and PDF navigation |
| Edge 98 | 4-Feb-22 | Edge Bar, reduced resource consumption |
| Edge 97 | 6-Jan-22 | Auto-citation, endpoint data loss prevention (DLP) |
| Edge 96 | 10-Dec-21 | Super duper secure mode, typosquatting |
| Edge 90 | 15-Apr-21 | SSO, PDF printing |
| Edge 89 | 4-Mar-21 | Vertical Tabs, Sleeping Tabs, Startup Boost |
| Edge 88 | 21-Jan-21 | Password generator, transparent privacy controls |
Microsoft Edge history
Closing Words
Similar to the Edge Bar, Microsoft is also playing with the widgets bar flyout in the Taskbar in Windows 11. Both offer similar news and manageability. However, the Edge bar can be floating anywhere on your screen and also offers internet searches, which is not possible with the Windows widgets. Hence, since they both offer a different interface, you may want to reconsider your widget preferences and shift to only using one at a time.
We suggest that you upgrade your Edge browser to the latest version available as it not only offers new features but also patches up security vulnerabilities that protect your PC from outside threats.