If you are a dark mode fan and are using Microsoft Office applications, enabling system-wide dark mode in Windows 10 will have no impact on the Office apps. The Microsoft 365 apps come with their own dark mode (black and grey) themes that can be activated for each Office app individually. You can also enable dark mode on Outlook.com.
Let us show you how you can enable the dark theme on your Outlook, both on the web as well as within the standalone app. Note that the Outlook standalone version that comes with Office 365 supports the dark theme, whereas Outlook 2013 and 2016 currently do not support this feature.
Enable dark mode in Microsoft Outlook app
To open Outlook in dark mode, click File in the top-left corner of the app and then click Office account. Now open the drop-down menu below Office theme and select Black.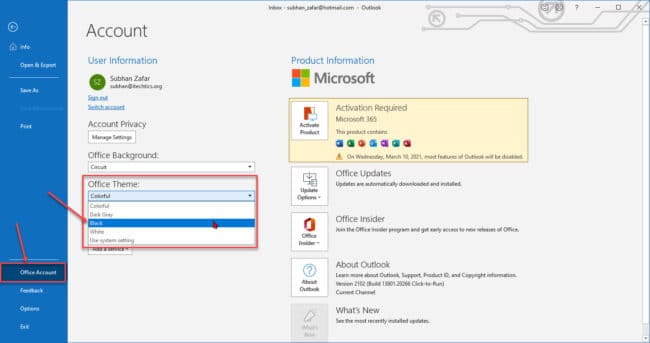 Your Outlook theme will now turn dark across the app. If you do not like the new theme, you can return to the same location and select any other theme of your choice.
Moreover, you can switch the background color of your email from light to dark by‌ ‌clicking‌ ‌the‌ ‌"moon"‌ ‌or‌ ‌the‌ ‌"sun"‌ ‌icon‌ ‌from‌ ‌the‌ ‌top‌ ‌menu‌ ‌bar.

Outlook also allows you to switch the background color from light to dark when you compose an email by clicking the "moon" or the "sun" icon from the top menu bar.
Enable dark mode in Outlook.com web
The online version of Outlook.com is an email client that can be accessed using any browser provided that they‌ ‌have‌ ‌an‌ ‌active‌ ‌internet‌ ‌connection. Here is how you can set a dark theme for Outlook Web.
Browse to Outlook using a web browser and login using your Microsoft account credentials, if not already logged-in. Then, click on Settings (Gear icon) in the top-right corner of the browser. Now, toggle the slider in front of Dark mode to enable it.
The dark theme will now be enabled across the whole Outlook web. If you do not like the theme, you can just as easily toggle the slider again to switch it off.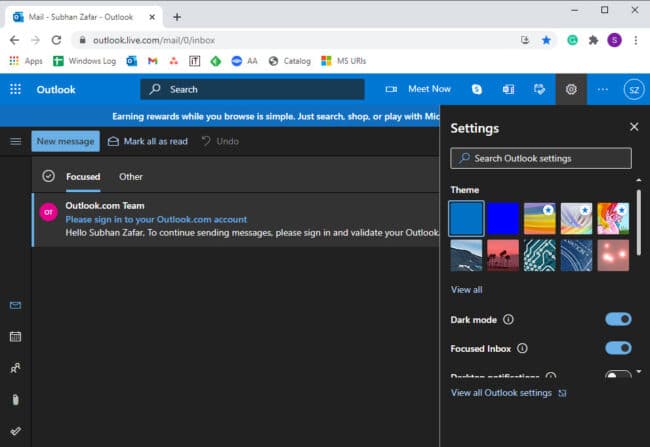 Closing words
Having the option to switch between dark and light themes is always a good idea, regardless of whether you use them. With these quick-change buttons, you can now easily and swiftly switch from one mode to another depending on the time of day and your personal preference.
Hopefully, the Microsoft 365 apps will also follow the Windows 10 system-wide light or dark mode, making it easier for users to use dark mode or light mode across all system apps.