How to Enable Local Security Policy (secpol.msc) in Windows 11 Home
Windows 11 comes with many Microsoft Management Consoles – graphical interfaces to assist you to manage your operating system. However, the Group Policy Editor and the Local Security Policy Manager are only offered in Professional and Enterprise editions of the OS.
The Local Security Policy Manager, which can be quickly accessed by typing in secpol.msc in Run, is used to administer different security parameters of the computer. Since the manager is missing in Windows 11 Home edition, we are going to show you how you can enable it.
If you try accessing it right now, you will get the following error message:
Windows cannot find 'secpol.msc'. Make sure you typed the name correctly and then try again.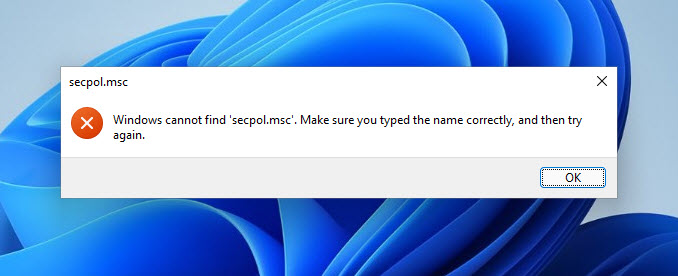 The Local Security Policy Manager is a subsection of Group Policy Management, which is located in the C:\Windows\System32 folder. Therefore, installing the Group Policy Editor would automatically install the Security Policy Editor as well.
Let us continue to show you how to install Local Security Policy Manager in Windows 11.
Note that this method is valid for other Windows operating systems as well, such as Windows 10 Home, Windows 8 Home, and Windows 7 Home.
How to Enable SecPol.msc in Windows 11 Home
We suggest that you first confirm which edition of Windows you are running. To do so, type in winver in Run.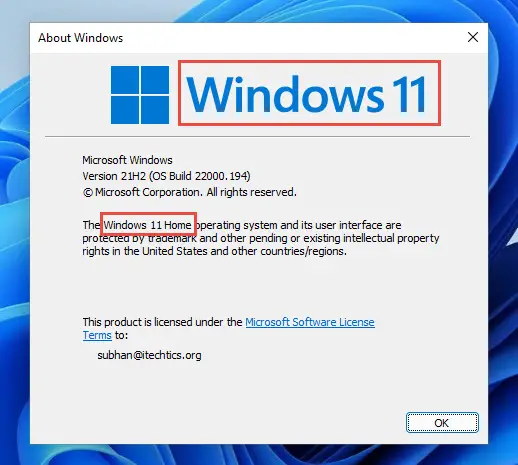 If you see that you are running a Windows 11 edition other than Professional or Enterprise, perform the steps below to install Local Security Policy Manager:
Download SecPol.msc script on your Windows 11 PC.


  GPEdit Enabler for Windows 11 (932 bytes, 2,494 hits)

Now navigate to the extracted folder using File Explorer. Then, right-click on the .bat file and click Run as admin from the context menu.

The file will run in the Command Prompt as in the image below. Please wait while the process is complete. When it is, click any key on the keyboard when prompted.

You have now successfully installed both the Group Policy Editor as well as the Security Policy Manager on your Windows 11 PC.
You can now access the Security Policy Manager by typing in secpol.msc in Run. Alternatively, navigate to the following to access it:
Control Panel >> System and Security >> Windows Tools >> Local Security Policy
Final Thoughts
The ability to manage your device's security policies is a great advantage, especially in the 21st century when online threats are real and dangerous.
The security policies allow you to manage account policies, firewall rules, network traffic, application and software policies, and so much more! Therefore, we encourage you to enable this feature in Windows if you are on the Home edition.
Also see: