Mozilla has released Firefox 70 for Desktop, Firefox for Android 68.2 and Firefox ESR 68.2.
This release is not a major release and can be termed as a maintenance update. There are a few performance and stability improvements along with some visual changes like a new welcome screen and a new Firefox icon.
Firefox 70 New features and changes
New Firefox icon
Firefox has a new icon. The new icon is much of a facelift than a complete change. Here are the old and new icons for you to compare: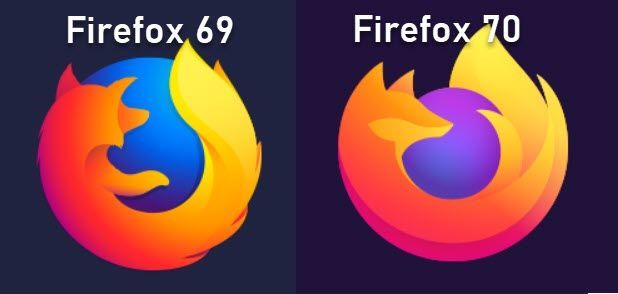 New welcome screen
Firefox 70 comes with a new welcome screen. This will help new users configure the browser easily and much faster than before.
Firefox dark mode
Firefox 70 comes with better support for dark mode especially now it will play better when the system's dark mode. If you have your system configured with dark mode by default, Firefox will also default to the dark mode.
The built-in pages of Firefox like Preferences and Protections report also follow the same dark mode theme.
Otherwise, you can turn dark mode on or off by following the steps below:
Open the Firefox menu and select Customize
From the bottom pane, click on Themes drop-down and select Dark.

Enable Dark Mode in Firefox 70
Tracking protection improvements
With Firefox 70, tracking enhanced tracking protection (ETP) feature is enabled by default for all platforms and users (including social media). This feature will protect the user against cross-site tracking, for example, from Facebook, Twitter, Google, etc.
An interesting feature of tracking protection is the availability of stats. You can see a summary of how much protection Firefox has provided against tracking. You can see a chart of trackers blocked on a daily and weekly basis.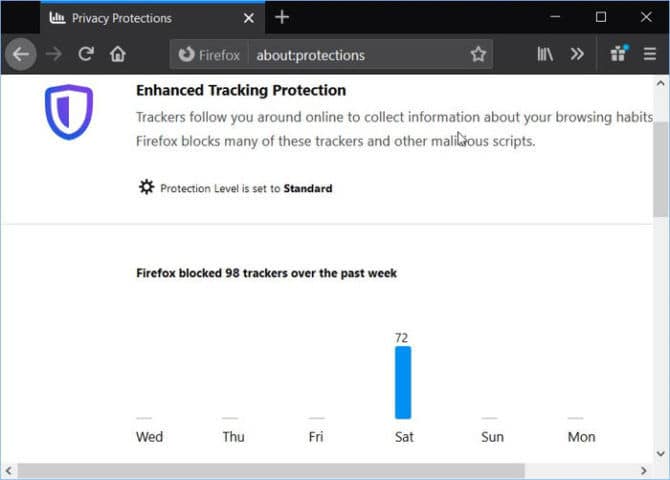 To open the stats, go to Firefox menu –> Privacy Protections.
This is a great feature for people who are concerned about their privacy and tracking.
Other enhancements
Other than the visual enhancements, there are several improvements and fixes which will make the browser more stable.
Firefox 70 comes with a new JavaScript interpreter that improves overall performance. WebRender is enabled by default for Intel Integrated Graphics users to further improve the performance.
Now you will get a small icon in the address bar whenever a website is using your geolocation.
Firefox 70 also has a new icon for the user profile. This is near the Firefox menu. The profile menu lets you see if the user profile is being synchronized with the user's firefox account or not.
Download Firefox 70
If you already have Firefox installed, you should open it and it will automatically give you an upgrade notification. Otherwise, you can also download it from the links below. You can check which version of Firefox is installed.
You can download Firefox 70 English version from the following links.
Download Firefox 70 for Windows 32-bit
Download Firefox 70 for Windows 64-bit
If you want to download Firefox in another language, or for another platform, you should check out this Firefox download page. This page lists down download links for Firefox in all languages, Firefox ESR, Firefox portable, Firefox for Android and Firefox for iOS.