If you are having issues with Flash Player not working in Chrome (or any other browser), we have the exact fixes to enable and run Flash Player in the browser.
Flash isn't very popular any more. In fact, it is an aging technology but still a lot of websites use it for playing audio and video and execute rich Internet applications over the Internet.
Flash Player can run from a web browser as a browser plug-in or on supported mobile devices. But sometimes Flash Player might not work properly on Chrome.
In this article, we will discuss the problems that can cause Flash Player to stop working and how to fix them.
Why does my Flash Player not work on Chrome?
There are several reasons why Flash Player is not working properly in the browser. Some of them include:
The browser can't load the Flash Player plugin
Flash Player is blocked because it's outdated
The plugin is not supported
The plugin is not responding and other Flash errors
We will discuss these problems and their solutions next.
Fix Flash Player not working in Chrome
Although I'm going to use Google Chrome for screenshots, most of the fixes discussed below will be applicable to other browsers as well e.g., Firefox, Microsoft Edge, Opera and Vivaldi.
1. Enable Flash in Chrome correctly
Make sure you have enabled it in your browser. Here's how you can enable Flash Player in Chrome browser:
Open Google Chrome
Click the Menu button from the top right corner and go to Settings
Then go to the Privacy and Security tab

Open the Site Settings
(This may vary according to the Chrome version you are using, if you can't find these sections, try Advanced Settings >> Content Settings).

In Site Settings, scroll down and you will find Flash listed

Open the Flash tab and make sure it is not Blocked.
The settings should be on Ask First and it should be toggled ON
Also, see that the website you are trying to reach is not listed under the Block headings. If it is, unblock it and try running the media on it again.
2. Allow Flash audio and video on a specific website
It is possible that despite the enabling of flash player in the browser, it still is not working because the website specific setting is blocking it. You can allow it like this:
Click on the lock icon beside the website address in the Chrome address bar.

If Flash is listed, select Allow and try to load the website again and run the media.

If you can't find Flash settings here, go to Site Settings.
Scroll down to find Flash and then in the drop down menu, select Allow.
This will also enable Flash on the website.
After you enable Flash in Chrome, try refreshing the webpage by pressing F5 and playing videos again. It should play without any errors. If you still receive messages while playing Flash content, you may try out another troubleshooting method.
3. Restart Flash Plugin
Sometimes Flash player might not work because the Flash plugin would have crashed. Restarting it might help you out. Here's how you can do it:
Go to the menu in the top right corner, go to More tools and under that go to Task Manager. You can also press Shift + Esc shortcut key to open the Chrome task manager.
Find and select the line Plugin Broker: Shockwave Flash, and click End Process
In the message that appears at the top of the page, click Reload to refresh the page in Chrome, Flash should start working again.
This will fix your flash player issue. After you restart your browser, try running the media to check.
4. Update Chrome to its latest version
Sometimes updating your Chrome browser can do wonders and fix a lot of issues including this one. Make sure you are running the latest version of Google Chrome or any other browser.
Open Chrome and go to the menu
Open Settings and go to the About Chrome section
At the top it will show you what version you are using and if an update is available, it'll automatically start the update
Relaunch after the update and now you will get the message that Google chrome is up to date
Try loading the site again which was having Flash Player issues, and check if it works
TIP: You can also check all the ways to download and update Google Chrome.
5. Quit Chrome and Restart again to fix Flash Player
Sometimes a browser restores the tabs and does not restart properly. You have to make sure that once you have done the proper settings of the flash player, Chrome restarts properly too. Here;s how you can restart it and this might fix the flash player too
Open the task manager by pressing Ctrl + Shift + Esc.
In the Processes tab, scroll down and find Google Chrome.
Right click on it and click on End Task.
Try opening the browser again and running some animation to see if the flash player is working properly.
Make sure that before you do that, no important tab is open in Chrome, because it will all be closed once you select the end task option.
6. Update Flash Player plugin
You should also make sure that your flash player is updated to it's latest version in order for it to work properly. Follow these steps to do so:
Open your chrome browser and in the address bar, type chrome://components and press enter
Scroll down to the page and find Adobe Flash Player
Click on Check for update.if you see the message "Component not updated" that means you are on the most recent version.
Chrome will update the flash player if any new updates are available.
Close the browser, open it again and see if the flash player works.
7. Reinstall Flash Player
Reinstalling flash player would a rather long procedure. If no other solution is helpful, the plugin reinstall can be an effective way to fix all issues related to Flash Player. Here's how you can do it:
We have an extensive article on how to download, install and reinstall Flash Player on your computer.
8. Update Graphic Card Driver
Flash player might also not work if you have an old graphic card driver. Try updating it and that might fix your problem. Here is the procedure by which you can update your graphic card driver:
Press Windows key + R and type devmgmt.msc to open Device Manager. You can also open it from the start menu.
In the Device Manager, go to Display adapters and expand it from the arrow (>) next to it.
After expanding you will see your graphic card listed. Right-click on it and click Update Driver.
Then, do as the instruction message prompts says to complete the update. You can either select the driver from your computer or search on the internet.
Once the process finishes, you will be asked to restart your computer. Restart the computer, Open Chrome and try again. Hopefully, you will be able to run the flash player this time.
See also: how to identify the devices and search for their drivers. And automatically download and install the correct device driver for your PC.
We recommend that before installing new drivers, you should keep a backup of old drivers.
9. Clear Browser Cache
If your flash player is still not working, try clearing the cache on Google Chrome. There is a simple way to do it. Follow these steps:
Go to the Settings in Chrome Browser from the menu in the top right corner
Go to the Privacy and Security tab, and under that section, you'll find the option to Clear Browsing Data.
Open it, and go to the Basic tab.
In the Time range, select All time.
Select the three options. Clearing the cached images and files is necessary.
Now restart Google Chome and try running some media to see if the flash player works.
How do I add sites to the Allow/Block section of Flash Player in Chrome?
If you open the Flash player in Chrome and you see no sites listed under the Allow section or the Block section, no need to worry.
Usually the default settings of sites are to Ask First before running the flash player. But if you wish that a site would always automatically allow or block the flash player without asking you first, you can do that in the site settings.
Below I am describing the method with screenshots: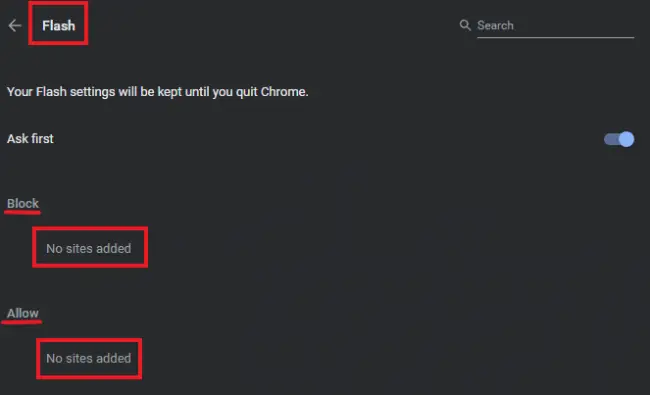 Open Flash on Google Chrome simply using this path:
Settings >> Privacy and Security >> Site Settings >> Flash
Just like the screenshot, if there are no sites added to the Allow/Block section, it means all the sites you use are working on the default Ask First Settings.


Now to add a website to any section, simply open that website and right click on the padlock icon
Under the Flash drop down menu, select Allow
Now open the Flash settings in Chrome again and now you'll find that site listed under the Allow section
Follow the same protocol for Blocking a website.
Further reading: Google also provides helpful resources to fix Flash Player issues.
Conclusion
While Flash is an aging technology and should not be used any more, sometimes it becomes important to enable Flash Player on the website. Hopefully the above mentioned solutions will already have resolved Flash Player issues for your browser.
Do you still use Flash? For what purpose do you use it and how do you manage when you are having issues with the plugin?
Also see: