The fear of the Coronavirus (COVID-19) has spread more than the virus itself. A lot of technology conferences are being canceled or delayed due to the spread of the virus across the world.
John Hopkins CSSE is reporting a real-time count of the coronavirus patients world-wide.
Check the Coronavirus real-time reporting here.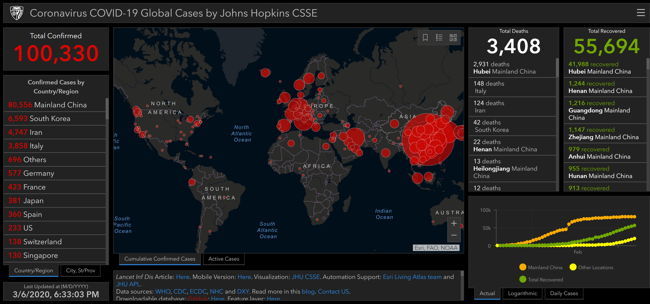 In response to this, a lot of companies either have already allowed their employees to work remotely or are mulling options for workers to work effectively and efficiently from home.
This has increased the demand for remote collaboration tools. In the wake of this virus attack all over the world, many companies have already given generous discounts on their offerings.
We will discuss some of the companies that are offering their remote collaboration tools for free. Let's start with Google and Microsoft:
Google Hangouts Meet free for 4 months
In a recent blog post, Google announced free access to its Enterprise-level advanced Hangouts Meet video-conferencing service to all G Suite and G Suite for Education customers globally.
The Hangouts Meet includes the following features that will be given for free:
Larger meetings, for up to 250 participants per call
Live streaming for up to 100,000 viewers within a domain 
The ability to record meetings and save them to Google Drive
Enable the free Hangouts Meet conferencing service
If you are a G Suite customer, go to your G Suite admin panel, then open Apps –> G Suite –> Google Hangouts. Verify that the Hangouts service is enabled (ON for everyone).
Now go to Meet settings, check Let users place video and voice calls box under Video calling.
You can follow this guide for a step by step tutorial on how to enable video calling for Google Hangouts Meet.
Please note that the enterprise video conferencing service is free until July 1st, 2020.
Microsoft Teams free for 6 months
Microsoft is not left behind and is offering its collaboration service, Microsoft Teams, free of cost for 6 months (180 days).
Microsoft Teams serves as a hub for teamwork in Office 365 suite. With Teams, users can chat, have one-to-one meeting or collaborate with a group of people easily.
You can sign up for Microsoft Teams for free.
While Microsoft Teams free version will remain the same, the premium features offered as a part of the fight against coronavirus will only be free for 6 months.
Cisco Webex free for 90 days
Cisco Webex is an enterprise-level video conferencing service. Cisco is offering the Webex service for free for all users worldwide without any time limits.
It allows up to 100 participants per meeting and also adds a toll-free dial-in number. But these additional features will only be available free of cost for 90 days.
One caveat in this offer is that it is only for businesses that are not Cisco Webex customers. If you are already a customer, you will need to purchase additional features of Webex.
Start using Cisco Webex for free
LogMeIn GoToMeeting free for 3 months
LogMeIn GoToMeeting is a remote collaboration tool with all the features required for remote working including meetings, video conferencing, webinars and virtual events. They have also come up with a different solution.
LogMeIn is distributing emergency remote work toolkits which can be used by the whole organization without any cost for 3 months.
Read more about LogMeIn GoToMeeting emergency remote work toolkits and how to get them.
Kahoot Distance Learning Tools free access
Not only the private and public organizations have been impacted by the fear of Coronavirus but schools and universities are not left behind either. A lot of schools have announced closures due to the virus threat.
The good news is that Kahoot, a game based distance learning tool is offering free access to its premium solutions to schools and universities impacted by the virus.
Splashtop remote access free for 60 days
Splashtop offers remote access solutions for business users to be able to connect to their office networks easily.
Splashtop is giving away Splashtop Business Access remote access software free for 60 days.
Bitrix24 is a business collaboration suite which has a free plan for all users. But there are certain restrictions on the free plan. Bitrix24 is offering to remove 12 of the restrictions on free accounts until the Coronavirus threat is over.
Create a free unlimited Bitrix24 account now
I will try to add more services and tools that are being offered for free. If you find any tool that is being offered for free, please let me know in the comments below.
Which offer is the most attractive for you? Have you started working remotely or still working in-house?