Google has released Google Chrome 78 for Desktop and mobile. It is now available for Windows, Linux, macOS, Android, and iOS. Chrome is the most used browser on the Internet with more than 60% market share depending upon the platform. Chrome has been downloaded more than 5 billion times from the Google Play Store alone.
Google Chrome 78 comes with a lot of improvements and new features, along with some security fixes. Around 37 vulnerabilities have been patched. Three vulnerabilities are of critical nature.
If you have already installed Chrome, opening the browser will trigger the update checking process of Chrome. You can also open the About page to automatically check for updates in Chrome. If you open the About page, the version of Chrome should show 78.0.3904.70 or higher.
You can also check the installed Chrome version by going to Settings –> Help –> About Google Chrome.
Chrome 78 new and improved features
Let's discuss the visual improvements made in this version of Chrome.
New tab page (NTP) customization
Further customizations to the new tab page are available including changing the theme color, shortcuts, and the new tab wallpapers. This feature is not enabled by default. To enable this, you will need to enable two flags:
Go to chrome://flags/#chrome-colors and enable the feature.
Go to chrome://flags/#ntp-customization-menu-v2 and enable the feature.
You will need to restart Chrome for the changes to take effect
After restarting Chrome, you will see a Customize button on the bottom right corner of the new tab. Click on the Customize button and you will be taken to a new pop-up window where you can change the wallpaper of the new tab, change the default color scheme and even customize the shortcuts/frequently used websites section on the new tab page.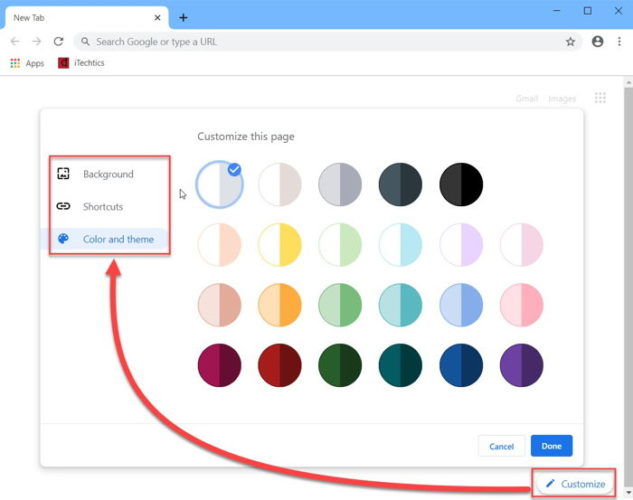 Forced Dark mode for websites
Chrome 78 comes with a feature that can force dark mode for the website even when they do not support it. This feature is disabled by default and you can enable it by following the steps below:
From Chrome's address bar, go to chrome://flags/#enable-force-dark and enable "Force Dark Mode for Web Contents"
You can simply select Enable or select from a long list of options that suits you. You can experiment with different options and select the one which is best for the websites you visit regularly.
Enabled
Enabled with simple HSL-based inversion
Enabled with simple CIELAB-based inversion
Enabled with RGB-based inversion
Enabled with selective image inversion
Enabled with selective inversion of non-image elements
Enabled with selective inversion of everything
Chrome Sync for phone numbers
If you use Google Chrome on your Desktop as well as on your phone, then Chrome Sync is for you. Chrome Sync could already synchronize the open tabs in different devices and also move them from one device to another.
Now you will be able to call the phone numbers links just by clicking on them even when you are using Chrome on your Desktop or laptop. The only condition is that you are logged into Chrome profile with the same user on both the devices and Chrome Sync is enabled on both of them. Once you click on the phone no. on your laptop, it will automatically get transferred to your phone and you'll be able to call the number without typing the digits again.
DNS-over-HTTPS
DNS-over-HTTPS (DOH) feature was scheduled to be released in Chrome 77 but was delayed and has been released in Chrome 78. With this feature enabled by default, all the DNS queries from Chrome will be passed through an encrypted channel. This is great for user privacy and security.
DOH is enabled for all platforms and devices except for Linux and iOS.
Chrome Password Safety
Chrome Password Manager is used by millions of users. It can synchronize the credentials across devices and is connected with the Google ID. Once you login to Chrome with your ID, all your credentials will be available wherever you go.
Chrome 78 adds the Chrome Password Safety tool. This tool ensures that the passwords saved in Google Chrome are safe and are not compromised in the wild. You will get a notification if one of your passwords is listed in a publicly available hacked passwords database.
If you are a developer, you can check out this video to see what's new for developers in Chrome 78:
Download Google Chrome 78
If you have already installed Chrome, it will automatically download and upgrade itself. But if you want to download an offline installer of Chrome 78, you can either download it from the links given below or visit the Chrome download page which lists all the ways to download Chrome including how to download it using command-line.
Download: Google Chrome web installer
Download: Google Chrome offline installer
Download: Google Chrome MSI Installer [Enterprise Edition]
Download: Google Chrome for macOS
Download: Google Chrome Offline Installer for Linux
Download: Google Chrome for Android
Download: Google Chrome for iOS
Download: Google Chrome Portable