Intel has released the Arc and iris Xe graphics driver version 31.0.101.4672. Although this is a basic driver update, it serves as a hotfix for the recently launched game "Starfield." Since it does not include only fixes for that particular game, this release has not been announced as a hotfix.
Additionally, this is a non-Windows Hardware Quality Labs (WHQL) update, meaning it has not been tested on Windows systems before publishing. But that does not mean that it won't work with Windows operating systems – it just hasn't been tested like most other driver releases.
Use the direct download link below to download this Intel driver update for your supported hardware.
This page covers
Download Intel Arc & Iris Xe Graphics Driver 31.0.101.4672
Click on the given link below to download the Intel Arc and Iris Xe graphics driver version 31.0.101.4672:
Download Intel Arc & Iris Xe Driver Update x64 31.0.101.4672 (.exe) [684.8 MB]
To automatically detect which drivers your device may require, you can use Intel's Driver and Support Assistant, which automatically detects, downloads, and installs any driver updates installed on your hardware. Here is a complete guide on how to use it to install the graphics drivers.
Alternatively, you can simply download the .exe file from the link above and run the file to install the driver. Once you run the Intel driver downloaded file, follow the onscreen installation wizard instructions and complete the installation with a system restart.
Note: Installing this Intel graphics driver will overwrite your computer manufacturer's (OEM) customized driver.
Intel Arc & Iris Xe driver 31.0.101.4672 changelog
Game title support
Support for the following title has been included in Intel Iris & Xe graphics driver 31.0.101.4672 for Intel Arc A-series GPUs:
Performance improvements
The following improvements have been included in this update which specifically apply to Starfield:
Game load duration is significantly reduced.
The game experiencing instability and application crashes while launching and during gameplay is fixed.
The game exhibiting texture corruptions and scene flickers during gameplay is fixed.
With these fixes, there are a few issues with this update as well.
Known issues
Intel Arc Processors:

Starfield may experience application instability in some areas of the game.
Starfield may exhibit corruption when using Dynamic Resolution Scaling. A workaround is to change
the Render Resolution Scale slider value.
Starfield may exhibit texture flickering on light sources during gameplay.
Starfield may exhibit low texture details on certain objects in the game.
UNCHARTED: Legacy of Thieves Collection may exhibit texture corruption on characters.
Halo Infinite campaign may experience an application crash on some system configurations.
Dead by Daylight may experience an application crash during gameplay.
Topaz Video AI* may experience errors when using some models for video enhancement.
Adobe After Effects* may experience an application crash during render operations.
Device fan may ramp up frequently on certain Intel Arc Graphics products.
To read further about the fixes and the known issues, read the Release Notes for Intel Arc and Iris Xe Graphics Driver 31.0.101.4672.
Intel CPU and OS support for Intel Arc & Iris Xe driver 31.0.101.4672
The table below shows which Windows versions support the graphics driver with the corresponding Intel CPU, summarizing both the operating system version with the processor family: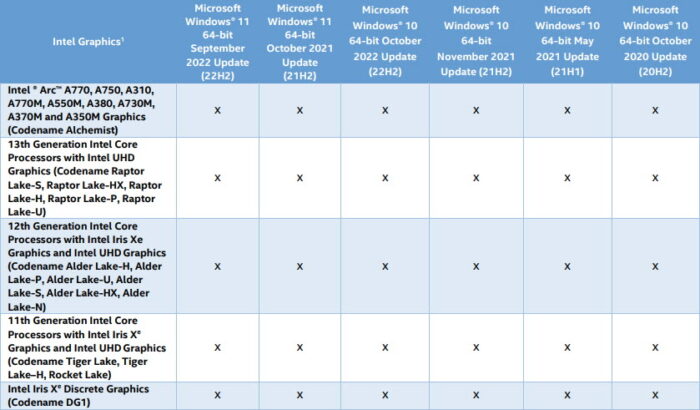 Ending words
You can also install your GPU drivers from the built-in Device Manager in Windows. Here is a complete guide to checking your driver version and installing new drivers.
This driver release fixes critical in-game and launching issues in Starfield. However, it also introduces some issues with the same game, and with others. Note that these are only the known issues; there might be even more that come to light from user feedback.
That said, after considering all the pros and cons if you do not play the Starfield game, you may want to hold off from installing this driver release.
Intel Arc & Iris Xe Graphics Driver Release History
Complete Version
Release Date
Highlights
Release Notes
31.0.101.4824
14-Sep-23
– Included support for Mortal Kombat 1, The Crew Motorfest
– Fixes gameplay issues
Intel Arc & Iris Xe Graphics Driver 31.0.101.4824 release notes
31.0.101.4672
4-Sep-23
– Support SYNCED
– Fixes issues with Starfield
– Still several known issues with games
Intel Arc & Iris Xe Graphics Driver 31.0.101.4672 release notes
31.0.101.4644
15-Aug-23
– includes support for Madden NFL 24, Wayfinder
– Fixes app-crash issues in Blender 3.6 and UNCHARTERED: Legacy of Thieves
Intel Arc & Iris Xe Graphics Driver 31.0.101.4644 release notes
31.0.101.4576 (Beta)
24-Jul-23
-Fixes texture corruption and flickering in Remnant 2 and World War Z
Intel Arc & Iris Xe Graphics Driver 31.0.101.4576 (Beta) release notes
31.0.101.4514 (Beta)
27-Jun-23
– Includes support for AEW: Fight Forever, Layers of Fear
– Performance gains for Assasin's Creed Unity, F1 22, deathloop
Intel Arc & Iris Xe Graphics Driver 31.0.101.4514 (Beta) release notes
31.0.101.4499 (Beta)
14-Jun-23
– Includes support for CS2, F1 23, Aliens: Dark Descent, and Forever Skies on Intel Arc A series devices.
– Performance gains in CS 2, F1 23, and Destiny 2.
Intel Arc & Iris Xe Graphics Driver 31.0.101.4499 (Beta) release notes
Release history of Intel Arc & Iris Xe graphics drivers