iTunes 12.7.4 Offline Installer Direct Download Links For Windows And Mac OS
iTunes 12.7.4 has been released and is available for download and installation. If you have iTunes 12.7.3 or earlier installed on your computer, then you can simply check for updates and download the latest update. This will let you upgrade to iTunes 12.7.4 but you will not have the executable for installing iTunes again. If you want to install iTunes on multiple computers or save an offline installer of iTunes 12.7.4 then you can download it from the direct download links given in this article.
Update: iTunes 12.9 is available for download.
The newest iTunes include a much improved Apple Music. Now users can easily find what's new and popular in Music videos within Browse and play videos back-to-back with exclusive music video playlists. If you have an Apple device, then you should also update to iOS 11.3 as it is the latest version of iOS Operating System and plays very well with iTunes 12.7.4.
Updating iTunes
If you have already installed iTunes, it's easy to upgrade to the latest version.
Open iTunes and go to Help –> Check for Updates.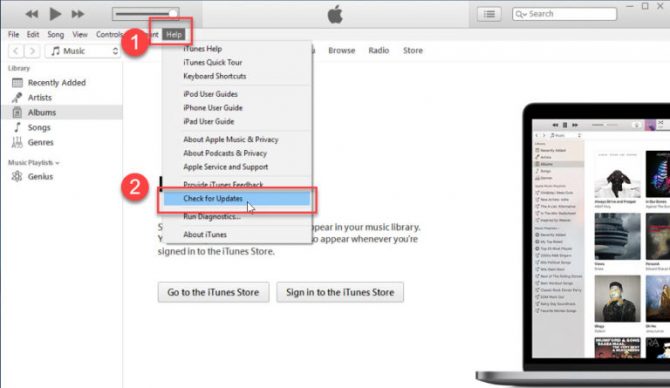 iTunes 12.7.4 direct download links
If you are using a Mac, you can directly install the latest version of iTunes from Apple Store. But if you want to install iTunes on multiple systems or you want to install it on a system which doesn't have an Internet connection, you may download iTunes 12.7.4 offline installers direct download links from below.
If you are using iTunes 12.7.3 or an earlier version, it is recommended that you install and upgrade to this latest release.
The following download links are directly from Apple Store. So you can be sure that you are downloading iTunes 12.7.4 from an official source.
Download iTunes 12.7.4 offline installer for Windows 64-bit [EXE 260 MB]
Download iTunes 12.7.4 offline installer for Windows 32-bit [EXE 200 MB]
Download iTunes 12.7.4 offline installer for MacOS [DMG 273 MB]
Must Read Articles: