Download KB4343885 Cumulative Update For Windows 10 Version 1703 August 2018
Microsoft has released KB4343885 cumulative update for Windows 10 Creators Update Version 1703. After installing this update, the complete build number of Windows will become 15063.1266. It is recommended that you should always keep your system up to date.
You can check the current Windows version and build by going to Run –> winver.
Please note that Microsoft has already released a new version of Windows 10, Windows 10 Version 1803. If you have already installed Windows 10 Version 1803 then you may install KB4343909 instead of this update.
In August, Microsoft has released security updates for the following products:
Internet Explorer
Microsoft Edge
Microsoft Windows
Microsoft Office and Microsoft Office Services and Web Apps
ChakraCore
Adobe Flash Player
.NET Framework
Microsoft Exchange Server
Microsoft SQL Server
Visual Studio
If you have installed any of these products, you may need to run Windows Update to make sure that all software in your system are up to date including the Operating System itself.
KB4343885
In KB4343885, 3 critical and 18 important vulnerabilities have been fixed. These also include some critical security holes which must be fixed by installing this update as soon as possible. Some of the changes introduced in this release include the following:
Protection against Spectre and Meltdown has been enhanced by fixing a new speculative execution side-channel vulnerability.
The issue with Internet Explorer has been fixed where it stopped working for some sites.
Fixed issue with Device Guard to block some ieframe.dll class IDs after installing May cumulative update KB4103722.
IE and Edge both support preload="none" tag. This is helpful for sites which want to disable preloading.
If you get the following error while Device Guard is enabled, you should install this update to fix the issue:

"This module uses the dot-source operator while exporting functions using wildcard characters, and this is disallowed when the system is under application verification enforcement"

The issue with .NET Framework in which COM components would fail to load or run properly because of "access denied" or "class not registered" or "internal failure occurred for unknown reasons" has been fixed.
This cumulative update also contains updates for Windows 10 Mobile build 15063.1266.
How to get KB4343885 update for Windows 10 Version 1703
There are two ways to get this update, either you can get it through Windows Update or you can download and install it manually.
To download and install this update through Windows Update, please go to Settings –> Update & Security –> Windows Update and select Check for updates.
If the update doesn't show in Windows Update then you can download KB4343885 from below given links and run the installers for installing the update.
Download KB4343885 cumulative update for Windows 10 Version 1703 64-bit [1.2 GB]
Download KB4343885 cumulative update for Windows 10 Version 1703 32-bit [698 MB]
Before installing KB4343885 update
Before installing any Windows Update, it is always recommended to create a restore point for your safety.
Create a restore point
This should be the default case before installing any update or software on your system. At the very least, if the system get bricked after installing an update, you will be able to revert back to the working point.
On the System Protection tab, enable System Restore and create a restore point manually.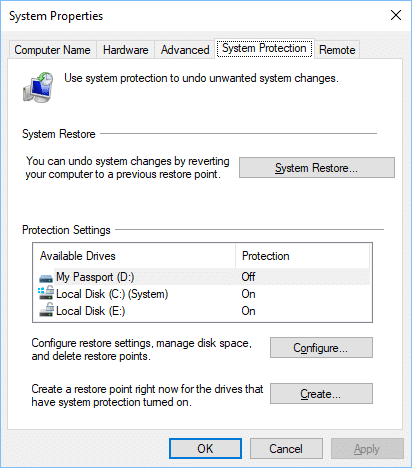 Must Read Articles: