Microsoft has released the KB4541335 cumulative update for Windows 10 Version 1909 and 1903. This is an optional update and will not be installed automatically. You will need to install it manually either by using the Windows Update app or by downloading and installing the MSU update file.
Microsoft usually releases optional updates in the third or fourth week of every month. Regular Patch Tuesday is released on the second Tuesday of each month.
There is no compulsion to install the optional cumulative updates as all the fixes in the optional updates will be included in the next Patch Tuesday cumulative updates.
But if you are having problems with Windows and the update includes a fix, then you should install the update without waiting for the mandatory update.
Also Check: How to download and install any cumulative update on Windows 10
What's new in KB4541335 cumulative update
KB4541335 comes with the following major fixes:
Fixed an error caused when printing to a document share.
Better performance when playing DRM (Digital Rights Management) content.
Fixed problems with the mute button not working with the Your Phone app.
Fixed an issue that prevents applications from closing.
Fixed calendar dates appearing messed up (wrong day of the week, time and date region etc.)
Fixed East Asian characters keyboard layout error causing the application to be closed unexpectedly.
If you want to go through the full list of fixes, you can read the list of fixes here.
Install KB4541335 using Windows Update
To install this update using Windows Update, please go to Windows Settings –> Update & Security –> Windows Update. In the right-hand pane, click on the Check for updates button.
You will see the following under Optional updates available:
2020-03 Cumulative Update for Windows 10 Version 1909 for x64-based Systems (KB4541335)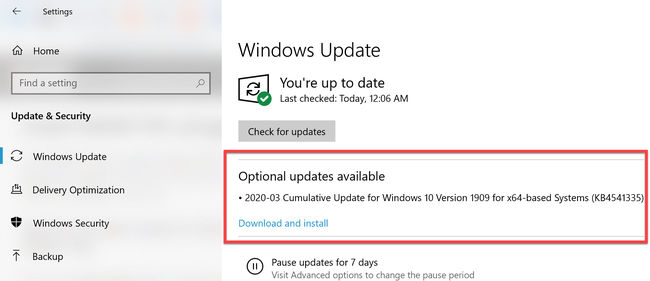 Click on the Download and install link. This will automatically download and install the update for you. You will need to restart the computer after the installation is complete.
Download KB4541335 Standalone installers
You can also download this cumulative update and then install it on any system without requiring any Internet connection.
Download KB4541335 MSU for Windows 10 v1903 and v1909 32-bit and 64-bit
This link will lead you to the list of downloads for all the systems.
After installing this update, the Operating System build number will be 18363.752 for Windows 10 Version 1909 and 18362.752 for Windows 10 Version 1903.
Uninstall KB4541335 cumulative update
At the time of this writing, I did not find any problem being discussed in different forums regarding this update.
However, if you are having issues with this update, it can be uninstalled in two ways:
Uninstall KB4541335 using Windows Update History tool
Go to Windows Settings (Windows key + i) –> Update & Security –> Windows Update.
From the right-hand pane, click on View update history.
Now click on Uninstall updates.
Select Update for Microsoft Windows (KB4541335) and press the Uninstall button.
Uninstall KB4541335 using command-line
Another quick way to uninstall this update is by using the command prompt. Here are the commands:
Open Command Prompt (Run –> cmd)
Run the following command:
wmic qfe list brief /format:table
This will show all the updates installed on the computer. Make sure KB4541335 is on the list.
To uninstall the update, run the following command
wusa /uninstall /kb:4541335
The system needs to be restarted after uninstalling the update.
Are you in favor of installing optional updates? What type of performance or productivity boost did you see after installing this update?
Also see: