Microsoft has released a new patch for Windows 10 Version 2004 with KB4565503 cumulative update. This is part of Microsoft Windows Patch Tuesday for July 2020.
We have already reported that Microsoft has decided not to release any new features with these cumulative updates while the Coronavirus pandemic continues.
After KB4565503 is installed, Windows 10 Version 2004 build no. will become 19041.388.
Let's look at what's new in this Windows update. This will give us a good idea of why and when we should install the latest update.
What's new in KB4565503
According to the Microsoft Security Response Center, a total of 357 vulnerabilities have been fixed in Windows 10 Version 2004 and Windows Server Version 2004, including 32-bit, 64-bit and ARM64 based systems.
The impacts of most of these vulnerabilities include Denial of Service, Elevation of Privilege, Remote Code Execution, and Information Disclosure.
If you want to go deep into the details of each vulnerability, you can download the excel sheet of the fixed vulnerabilities which will show you the details of each vulnerability.

  Fixed security vulnerabilities in KB4565503 for Windows 10 Version 2004 (23.9 KiB, 680 hits)
Here are some of the highlights of this update:
Improves security in the Microsoft Store.
Updates to improve security when using input devices (such as a mouse, keyboard, or stylus).
Updates to improve security when Windows performs basic operations.
Updates for storing and managing files.
Updates an issue that might cause certain games and applications to have visual distortion when resizing in windowed mode or switching from full screen to window mode.
Updates to improve security when using Internet Explorer and Microsoft Edge Legacy.
Updates an issue that might prevent some applications from printing documents that contain graphics or large files.
Updates an issue that might prevent you from connecting to OneDrive using the OneDrive app.
And here are some of the improvements and fixes in KB4565503:
Fixed an issue that might cause lsass.exe to fail with the error message, "A critical system process, C:\WINDOWS\system32\lsass.exe, failed with status code c0000008. The machine must now be restarted."
All the issues related to printing have been resolved including hardware and software printing.
Security updates to the Microsoft Scripting Engine, Windows App Platform and Frameworks, the Microsoft Store, Windows Graphics, Windows Input and Composition, Windows Media, Windows Shell, Windows Fundamentals, Windows Management, Windows Kernel, Windows Hybrid Cloud Networking, Windows Storage and Filesystems, Windows Update Stack, Windows MSXML, Windows File Server and Clustering, Windows Remote Desktop, Internet Explorer, Microsoft Edge Legacy, and the Microsoft JET Database Engine.
The issue that caused certain games and applications to experience visual distortion when resizing in windowed mode or switching from full screen to window mode has been fixed.
For more details about KB4565503, you can check out this Microsoft help page.
Install KB4565503 using Windows Update
The size of this update is around 350MB. It took me around 5 minutes to install the update including restarting my system.
If you are missing any previous updates, installing KB4565503 will install all the security fixes included in all previous updates.
To install this update using Windows Update, please go to Windows Settings –> Update & Security –> Windows Update. In the right-hand pane, click on the Check for updates button.
You will see the following updates are available:
2020-05 Cumulative Update for Windows 10 Version 2004 for x64-based Systems (KB4565503)
Since this is a mandatory update, it will download and install automatically. Once installed, you will need to restart the system for the changes to take effect.
Download KB4565503 Offline installers
You can also download this cumulative update and then install it on any system without requiring any Internet connection.
Download KB4565503 for Windows 10 Version 2004 64-bit [268.6 MB]
Download KB4565503 for Windows 10 Version 2004 32-bit [73.8 MB]
To install the update, simply run the downloaded MSU file and Windows will automatically install the cumulative update.
You can check out your current Windows build by going to Run –> winver.
I have been following different forums and have been able to find a couple of issues reported by Reddit users.
The first error that came up is that the electron desktop apps will stop working after this update. Here's an excerpt:
Updates KB4565503 & KB4565627 appear to have KOed Electron desktop app on some Windows 10 v2004 machines. Getting "The application was unable to start correctly (0xc0000005). Click OK to close the application" error

Reddit user
I'm using Authy which is an electron app. My app didn't stop working after installing this patch. I'm assuming that this problem is not a general issue. It should be specific to that user only. So there's no need to worry about it here.
The second issue that came up is related to USB ports not working. Here's an excerpt:
Suddenly 3 out of the 4 USB ports stopped working on my Intel NUC nuc8i3bek. The working one has no problems at all, and the 3 bad ones don't work at all. No usb devices are recognized, no charging power, no nothing. All the usb devices work properly when plugged into another pc, so the problem is definitely with the usb ports. It happened all of a sudden while using the computer. This happened a few hours after installing cumulative updates KB4565627 and KB4565503.

Reddit user
After reading out the comments, it seems that this is also a specific issue and does not affect everyone. Right now it is safe to say that this is a pretty stable update and you should install it to make sure you are using a secure system.
Uninstall KB4565503 cumulative update
At the time of this writing, I did not find any problem being discussed in different forums regarding this update.
However, if you are having issues with this update, it can be uninstalled in two ways:
Uninstall KB4565503 using Windows Update History tool
Go to Windows Settings (Windows key + i) –> Update & Security –> Windows Update.
From the right-hand pane, click on View Update History.
Now click on Uninstall updates.
Select Update for Microsoft Windows (KB4556799) and press the Uninstall button.
Uninstall KB4565503 using command-line
Another quick way to uninstall this update is by using the command prompt. Here are the commands:
Open Command Prompt (Run –> cmd)
Run the following command:
wmic qfe list brief /format:table
Wmic qfe command will show all the updates installed on the computer. Make sure KB4565503 is on the list.
To uninstall the update, run the following command
wusa /uninstall /kb:4565503
The system needs to be restarted after uninstalling the update.
Cleanup after installing Windows Updates
If you want to save space after installing Windows updates, you can run the following commands:
dism.exe /Online /Cleanup-Image /AnalyzeComponentStore
dism.exe /Online /Cleanup-Image /StartComponentCleanup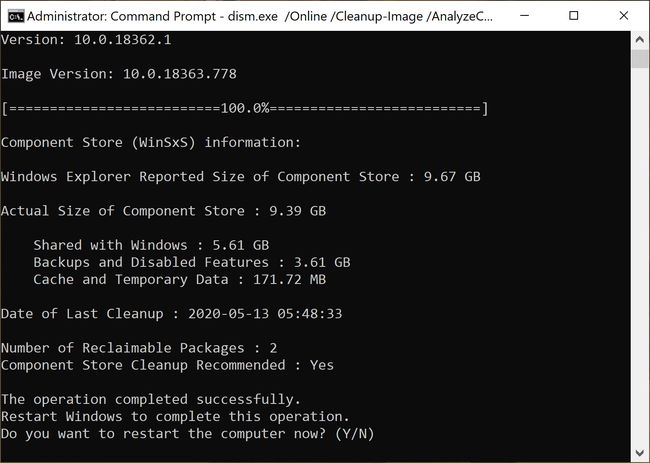 Also see: