Microsoft has released a new cumulative update KB4566782 for Windows 10 Version 2004. This update is a part of the Microsoft Windows Patch Tuesday for August 2020, which shall be automatically installed on all registered devices through Windows Update.
After installing the KB4566782 cumulative update, the build number for Windows 10 Version 2004 will be 19041.450.
Let's see what this update has to offer us. This will give us a good insight into why this update is important and when it is optimal for installation.
What's new in KB4566782
As per Microsoft Security Response Center, a total of 259 vulnerabilities have been addressed for the Windows 10 Version 2004, including 32-bit, 64-bit and ARM64 based systems.
9 of the vulnerabilities addressed are critical, all of which address remote code execution without authentication. Other matters addressed include elevation of privilege and spoofing.
You may dig deeper into the details of the vulnerabilities addressed by Microsoft by downloading the excel sheet below.

  Fixed security vulnerabilities in KB4566782 for Windows 10 Version 2004.xlsx (18.3 KiB, 416 hits)
The highlights of this update are:
Improves security when using input devices and peripherals, such as mouse, keyboard, USB drive, etc.
Improves security when Windows is performing basic operations.
Updates for managing and storing files.
Improves security when using Microsoft Edge Legacy and Internet Explorer.
Improves security when using Microsoft Office products.
Update to verify usernames and passwords.
Some of the improvements and fixes in KB4566782 are:
Addresses an issue with Universal Windows Platform (UWP) apps that allow single sign-on authentication when an app does not have the Enterprise Authentication capability. Applications may begin to prompt users to provide additional credentials with the release of CVE-2020-1509.
Security protocols have been updated for many of the products, such as Microsoft Scripting Engine, Internet Explorer, Windows Graphics, Microsoft Graphics Component, Windows Kernel, Windows Input and Composition, Windows Media, Windows Shell, etc.
For more elaborate information on KB4566782, checkout this Microsoft help page.
Install KB4566782 using Windows Update
The size of this update is around 317MB. It should take around 4 minutes to install this update, including restarting the computer.
If you are missing any previous updates, installing KB4566782 will install all the security fixes included in all previous updates.
To install this update using Windows Update, please go to Windows Settings –> Update & Security –> Windows Update. In the right-hand pane, click on the Check for updates button.
You will see the following updates are available:
Download KB4566782 Offline installers
The update can also be installed on any computer having Windows 10 Version 2004 without having an internet connection. Download the offline installers below:
Download KB4566782 for Windows 10 Version 2004 64-bit [316.8 MB]
Download KB4566782 for Windows 10 Version 2004 32-bit [105.1 MB]
For downloading other updates related to KB4566782, please check Microsoft Catalog.
To install the update, simply run the downloaded MSU file and Windows will automatically install the cumulative update.
You can check out your current Windows build by going to Run and then type winver.
A known and acknowledged issue with this update is that some applications might stop responding, or close entirely, such as Microsoft Excel, when having Microsoft Input Method Editor (IME) for Chinese and Japanese.
Upon investigating, the problem is caused by several of the written characters in the user's language that are not compatible with the updates released by Microsoft.
Right now, Microsoft has not addressed the issue. A fix would probably appear with a future update.
Uninstall KB4566782 cumulative update
If this update creates issues for your system, you can easily uninstall it using the following two ways:
Uninstall KB4566782 using Windows Update History tool
Go to Windows Settings (Windows key + i) –> Update & Security –> Windows Update.
From the right-hand pane, click on View Update History.
Now click on Uninstall updates.
Select Update for Microsoft Windows (KB4566782) and press the Uninstall button.
Uninstall KB4566782 using command-line
You can also delete the update by entering several commands in the Command Prompt. Here is how:
Open Command Prompt (Run –> cmd)

Run the following command:
wmic qfe list brief /format:table

This will show all the updates installed on the computer. Make sure KB4566782 is on the list.

To uninstall the update, run the following command
wusa /uninstall /kb:4566782
Restart the computer once the update is uninstalled.
Cleanup after installing Windows Updates
If you want to save space after installing Windows updates, you can run the following commands:
dism.exe /Online /Cleanup-Image /AnalyzeComponentStore
dism.exe /Online /Cleanup-Image /StartComponentCleanup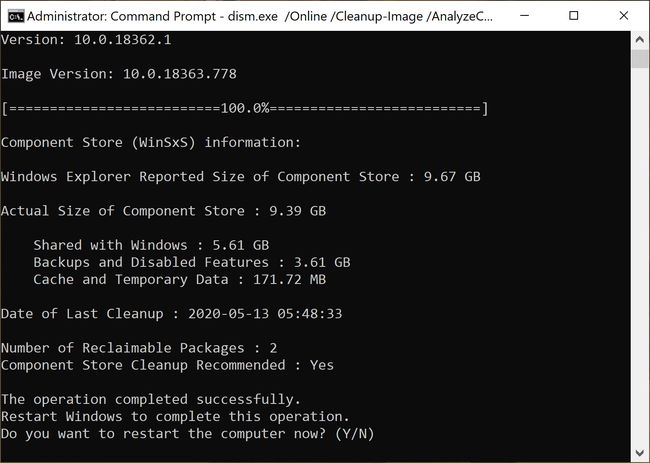 Also see: