Microsoft recently released a new update KB4601382 which takes Windows 10 20H2 to build 19042.844 for users in Windows 10 Beta and Release Preview ring. Simultaneously, they have also released a new optional build only to the Beta channel that upgrades your OS to version 21H1 (Build 19043.844). You can read about it in our blog post.
This update introduces a number of fixes and improvements to your operating system and upgrades its build to 19042.844.
What's new in KB4601382 (19042.844) for v20H2
The update package KB4601382 does not add any new features to Windows, only some enhancements to existing features. The update, however, fixes a lot of new issues discovered during testing. Here is a list of what was improved on this new release:
Internet Explorer 11 has been updated to include a fix for a memory leak associated with a Chinese language pack.
A COM+ callout problem that resulted in a deadlock was resolved.
Solved a problem involving a problem when some apps were run as "Run as" a different user.
The Windows Out of Box Experience (OOBE) has been fixed to display unexpected screens.
A problem that causes a deadlock when multiple subscribers receive the same event simultaneously‌ ‌has‌ ‌been‌ ‌fixed.
Refresh rates incorrectly displayed on High Dynamic Range (HDR) monitors have been corrected.
The OpenGL issue with the CAD applications has been resolved.
The issue of video playback flickering on low-latency monitors has been fixed.
An issue with the Input Method Editor (IME) that sometimes blocked the input of strings into the editor has been resolved.
The problem where Desktop Windows Manager (DWM) leaks handle and virtual memory in Remote Desktop sessions has been addressed.
The stop error that occasionally occurs at startup has been addressed.
The issue that may result in a delay in the installation of Windows Hello for Business (WHfB) Certificate Trust when opening the Settings-> Accounts-> Sign-in Options page has been resolved.
The issue with some keys on the keyboard not responding while in‌ ‌ Kana‌ ‌mode‌ ‌in‌ ‌Japanese‌ ‌IME‌ ‌has‌ ‌been‌ ‌resolved.
Microsoft has removed all previous‌ ‌display‌ ‌images‌ ‌ from‌ ‌the‌ ‌user‌ ‌account‌ ‌profile.
The problem with‌ ‌the‌ ‌wrong‌ ‌language‌ ‌being‌ ‌displayed‌ ‌on‌ ‌a‌ ‌console‌ ‌after‌ ‌ changing‌ ‌the‌ ‌system‌ ‌locale.
The issue where the Windows Remote Management Service (WinRM) would stop working when a PowerShell plug-in formatted the data was‌ ‌addressed.
A problem in the Windows Management Instrumentation (WMI) service that causes a heap leak every time the security settings for the WMI namespace are applied ‌has‌ ‌been‌ ‌fixed.
The issue with screen rendering experienced after launching games with certain hardware configurations has been fixed.
The startup timings for applications that have roaming settings when User Experience Virtualization (UE-V) is turned on have been improved.
An issue in which a principal in a trusted MIT realm fails to obtain a Kerberos service ticket from Active Directory Domain Controllers (AD DC) has been addressed.
High CPU and memory utilization by Microsoft Defender for Endpoint has been addressed.
Microsoft has enhanced data loss prevention and insider risk management solution functionalities in Microsoft 365 endpoints.
An error that was displayed when accessing an untrusted web page using Microsoft Edge or opening an untrusted Microsoft Office document has been removed.
An issue that prevents wevtutil from parsing an XML file has been fixed.
An issue that fails to report an error when the Elliptic Curve Digital Signature Algorithm (ECDSA) generates invalid keys of 163 bytes instead of 165 bytes has been addressed.
Microsoft has added support to use the new Chromium-based Edge as the assigned access single kiosk app.
The problem with the User Datagram Protocol (UDP) broadcast packets that are larger than the Maximum Transmission Unit (MTU) which resulted in being discarded has been fixed.
An issue in which the WinHTTP AutoProxy service does not comply with the value set for the maximum Time To Live (TTL) on the Proxy Auto-Configuration (PAC) file has been fixed.
WinHTTP Web Proxy Auto-Discovery Service has been improved to ignore any invalid Web Proxy Auto-Discovery Protocol (WPAD) URLs returned by the Dynamic Host Configuration Protocol (DHCP).
Universal Print queues will now display the proper Envelop media type as a selectable output paper type.
A random paper size will no longer be displayed when using the Microsoft Internet Printing Protocol (IPP) Class Driver.
Windows can now retrieve updated printer capabilities so that users have a proper set of selectable printing options to choose from.
Microsoft has updated support for hole punch and stapling locations for print jobs with long edge first paper feed direction on certain printers.
A fix has been made so that the IKEEXT service does not stop working intermittently.
The issue preventing a Non-Volatile Memory Express (NVMe) device from entering the proper power state has been resolved.
An issue resulting in a stop error "7E" in sys on servers running Network File System (NFS) has been fixed.
An issue that prevents the User Profile Service from successfully detecting a slow or fast link has been addressed.
An issue that causes contention for a metadata lock while using Word Folders has been fixed.
A new key has been added to the System Registries by "dfslog." Its path is HKEY_Local_Machine -> Software -> Microsoft -> dfslog. The RootShareAcquireSuccessEvent filed within this key has the following possible values:

Default value 1 = Enables log
Any value other than 1 = Disables log

Microsoft has updated the Open Mobile Alliance (OMA) Device Management (DM) sync protocol by adding a check-in reason for requests from the client to the server, which allows it to make better decisions about sync sessions.
By default, token binding in Windows Internet (WinINet) will now be disabled.
An issue that resulted in the incorrect Furigana characters appearing while using Japanese IME to enter Kanji characters in applications has been addressed.
How to install Windows 10 Insider Preview Build 19042.844
If you are subscribed to the Windows Insider Program Beta or Release Preview channels, then you shall automatically receive the new update through Windows Updates. However, if you are anxious to install the update without waiting, here is what you can do.
Navigate to the following location:
Start Menu -> Settings -> Update & Security -> Windows Update
Now click on Check for updates on the right side and the computer will start scanning for any newly available updates.

When scanned, click on Download now and the installation should begin.
Unfortunately, no standalone installation ISOs are available for Windows 10 20H2 with this build. Furthermore, Microsoft has not acknowledged any known issues or faults with this update.
Rollback/remove Windows 10 Insider Preview update
If you do not wish to keep the installed preview update for some reason, you can always roll back to the previous build of the OS. However, this can only be performed within the next 10 days after installing the new update.
To rollback after 10 days, you will need to apply this trick.
Cleanup after installing Windows Updates
If you want to save space after installing Windows updates, you can run the following commands:
dism.exe /Online /Cleanup-Image /AnalyzeComponentStore
dism.exe /Online /Cleanup-Image /StartComponentCleanup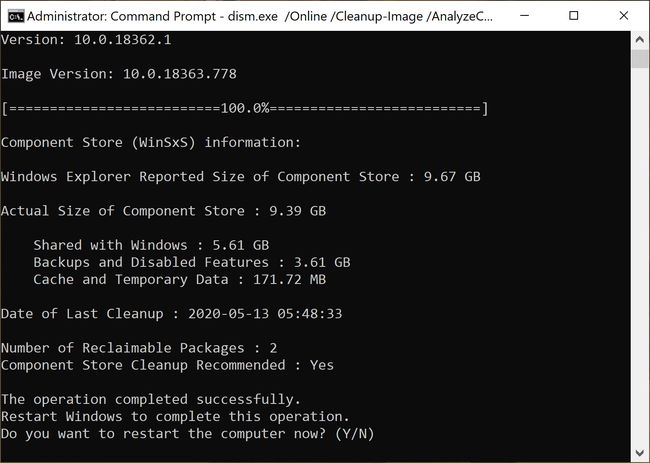 Also Read: