Microsoft recently released a Feature Experience Pack version 120.2212.2020.0 (KB4601906) for Windows Insiders on the Beta Channel. These experience packs are updates for Windows OS which are outside of regular feature updates, such as Patch Tuesdays, that bring little change. This is the first release in quite some time that is targeted for the Beta Channel only.
Likewise, this update KB4601906 has brought minor changes that are mainly focused on the screen-snipping experience in Windows 10. Since it is a Feature Experience Pack, installing it will not change the build of your operating system.
Let us dig in deeper to understand what this new release will bring.
What's new in Windows 10 Feature Experience Pack v120.2212.2020.0 (KB4601906)
This release does not bring any new features to Windows 10 in the Beta channel. It does, however, increase the reliability and usability of the screen-snipping tool.
The Snipping Tool is a built-in utility in Windows 10 that allows users to capture an image of anything visible on their screen. You can access this utility by searching for Snipping Tool in the Search Box.
You can then start capturing different portions of the screen. They can be rectangular, or you may select custom shapes by selecting the free-form snip from the Mode drop-down menu.
Microsoft has improved the reliability of the screen snipping experience, especially for applications that access the clipboard often. Microsoft is also temporarily removing the ability to copy and paste a snip directly into a folder using File Explorer. The reason for this is the feedback from Insiders highlighting an issue with the feature. However, it's not confirmed whether this ability will be brought back, depending upon whether the issue can be resolved in time.
We hope to re-enable this capability in a future update after we address this issue.

Microsoft
These were the only improvements introduced with this new release. Moreover, no known issues have been identified with it so far.
How to install Windows 10 Feature Experience Pack v120.2212.2020.0
To begin with, you must first ensure that you are subscribed to the Beta channel. You may use this guide to join the Windows Insider Program: Beta channel.
If you are subscribed to the Beta channel of the Windows Insider Program, then you shall automatically receive the new update through Windows Updates. Here is how you can manually check for it.
Navigate to the following location:
Start Menu -> Settings -> Update & Security -> <a href="https://www.itechtics.com/limit-windows-update-bandwidth/" class="rank-math-link">Windows Update</a>
Now click on Check for updates on the right side and the computer will start scanning for any newly available updates.

Once scanned, your download should begin automatically.

Uninstall Windows 10 Feature Experience Pack
If you do not wish to keep the installed update for some reason, you can always roll back to the previous build of the OS. However, since this is a feature pack, it needs to be removed as if it were a regular Windows update for a stable build. Here is a guide on how to uninstall cumulative/ feature Windows updates.
Cleanup after installing Windows Updates
If you want to save space after installing Windows updates, you can run the following commands:
dism.exe /Online /Cleanup-Image /AnalyzeComponentStore
dism.exe /Online /Cleanup-Image /StartComponentCleanup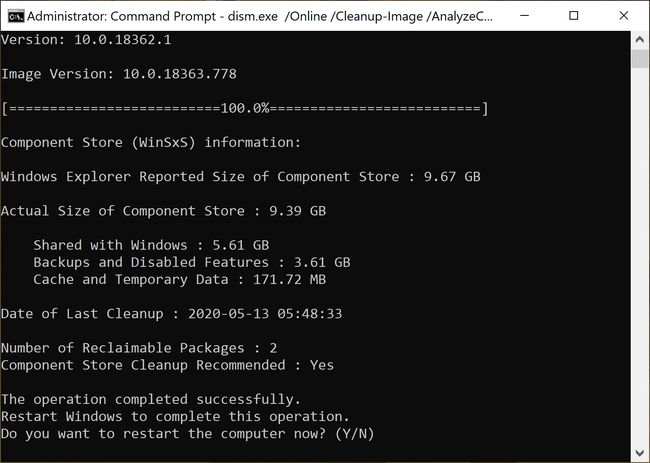 You can learn all about the Microsoft Insider Programs and check out how to join and manage them. You can also join the Windows Insider Program without creating or registering your Microsoft account.