As usual, Microsoft has released a new iteration of Windows 11 Insider Preview for beta and dev channels. Installing KB5005191 will take your system build number to 10.0.22000.168.
Microsoft has introduced a couple of new features in this build along with a lot of minor changes and bug fixes.
Windows 11 Insider Preview Build 10.0.22000.168 introduces a new widget called Microsoft 365. This will keep you updated on your Microsoft 365 documents and Microsoft Teams (meetings and recordings). The new Windows widget will show you your frequently opened and trending files.
At the moment, this feature only works if you are on Dev channel and have a computer account connected to Azure Active Directory. If you are on the Beta channel, you will need to wait for a while until this feature gets rolled out to the Beta channel users. With this update, Microsoft Teams gets further integrated into the Windows 11 ecosystem that is inline with Microsoft's cloud strategy.
If you are running the previous update which is build 22000.160, this update will only take a few minutes to download and install. But a restart is required after installing the update. When you run Windows Update, it will show up as Cumulative Update for Windows 11 (10.0.22000.168) (KB5005191).
Another major change with this build is that Microsoft revised the minimum hardware requirements for Windows 11 installation. The system requirements are largely the same. Microsoft has only included a few 7th generation Intel processors in the compatibility hardware list. But AMD has been left behind.
The good news is that Microsoft has not blocked any methods of bypassing the minimum system requirements. You will be able to install Windows 11 on unsupported hardware, but the system may not perform as well on unsupported hardware.
You can check out the latest Windows 11 minimum hardware requirements here.
A new version of the Microsoft Store (version 22108.1401.9.0) has been released. This update will only apply to Dev users first. Here are the improvements to this version of the Microsoft Store:
The Library UI has been completely redesigned with simplified navigation and enhanced performance.

The Microsoft Store app now features an updated Spotlight design for promoted products. You can view a preview of the option by hovering over it.

An important bug that broke the Windows Search functionality (blank window with no search results) has also been fixed in this update. You can now use Windows Search without any issues or glitches.
Also check out the complete changes and improvements in this build for Windows 11.
Download and install Windows 11 Insider Preview Build 22000.168
Microsoft has already provided an ISO for clean installation of Windows 11. If you have not installed Windows 11 yet, you can download Windows 11 ISO and install it on a supported computer.
If you have already installed Windows 11 and want to upgrade to the latest version, you can follow the steps below:
 Check for new updates on Windows 11. You will see the following items in the available updates:
Cumulative Update for Windows 11 (10.0.22000.168) (KB5005191)
Pressing the Download now button will start the download process. Once downloaded, the update will install automatically and show a Restart message. Restart your computer and go to Run –> winver to check the running Windows version.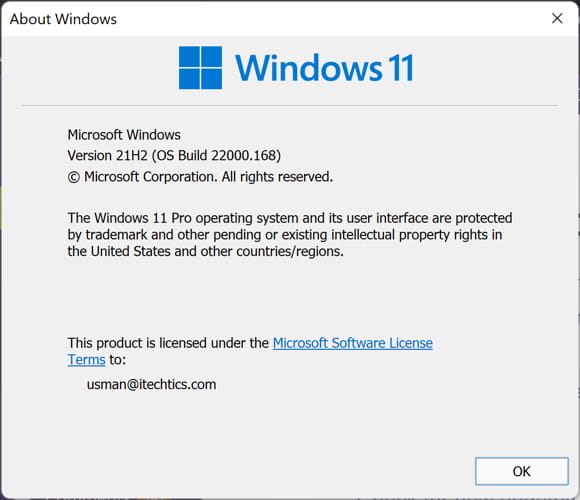 Rollback/remove Windows 11 Insider Preview update
If you do not wish to keep the installed Windows Insider Preview update for some reason, you can always roll back to the previous build of the OS. However, this can only be performed within the next 10 days after installing the new update.
To rollback after 10 days, you will need to apply this trick.
Cleanup after installing Windows Updates
If you want to save space after installing Windows Insider Preview updates, you can run the following commands one after the other in Command Prompt with administrative privileges:
dism.exe /Online /Cleanup-Image /AnalyzeComponentStore
dism.exe /Online /Cleanup-Image /StartComponentCleanup
Have you installed Windows 11 yet? Please let us know about this update in the comments below.