It is time for Patch Tuesday and Microsoft has released KB5009543 for Windows 10 versions 21H2, 21H1, and 20H2. It is a cumulative update, which means that if you had not installed the updates from the previous months, this one will import all the features and improvements from them.
Since Microsoft did not make a "C release" last month due to the holiday season, KB5009543 is more of a security update and thus does not include any significant new features for the Windows 10 operating system.
Unfortunately, the update does not apply to Windows 10 v2004 since it had reached the end of service on December 14, 2021.
The table below indicates your updated OS build number after installing KB5009543:
| | |
| --- | --- |
| Windows 10 version | Updated OS Build |
| 21H2 | 19044.1466 |
| 21H1 | 19043.1466 |
| 20H2 | 19042.1466 |
Updated OS build number
You can check your Windows 10 version and build number by typing in winver in Run.
Let's continue to see what this update has to offer and whether it has any significant issues, and then proceed to how you can install it.
Fixes and Improvements
This update includes quality improvements for the Servicing Stack (SSU), which is responsible for installing the Windows updates. These improvements ensure that the user has a smooth experience while installing these updates.
Moreover, Microsoft has also addressed an issue with the Japanese Input Method Editors (IME) where the cursor occasionally shifted unexpectedly in certain apps, or the text may have appeared out of order.
Another issue that prevents Active Directory (AD) attributes from being written during Lightweight Directory Access Protocol (LDAP) modification operation has been mitigated with this update.
With these improvements, there are several issues with the release as well.
Known Issues
An issue with the standalone (clean) installation of Windows 10 with this update is causing Microsoft Edge Legacy to be removed. However, it is not being replaced by the new Chromium-based Edge. This occurs only when Windows has a custom offline media or an ISO image installed that does not include the 29th March 2021 SSU update.
Microsoft suggests that you either install the March SSU update through slipstreaming or simply update an existing OS through Windows Update, so you will not be facing this issue. Alternatively, you can simply download and install the new Microsoft Edge if you have already encountered this problem.
Another issue that users might face with this update is that they are unable to install it entirely. This may be because of a previously installed update KB5003690. If that is the case, you can find a workaround for it here in Microsoft's post.
Users may also see an error message "Your credentials did not work. The credentials that were used to connect to (device name) did not work. Please enter new credentials" when connecting to devices in an untrusted domain using Remote Desktop while using smart card authentication. Microsoft has found a temporary fix around the issue which you can find here.
We have noticed that these issues have been around for Windows 10 for quite some time now. However, Microsoft has not been successful at fixing them as of yet.
Download and Install Windows 10 KB5009543
Offline Installers
For Windows 10 Version 21H2
Download KB5009543 for Windows 10 Version 21H2 64-Bit [651.3 MB]
Download KB5009543 for Windows 10 Version 21H2 32-Bit [304.9 MB]
For Windows 10 Version 21H1
Download KB5009543 for Windows 10 Version 21H1 64-Bit [651.3 MB]
Download KB5009543 for Windows 10 Version 21H1 32-Bit [304.9 MB]
For Windows 10 Version 20H2
Download KB5009543 for Windows 10 Version 20H2 64-Bit [651.3 MB]
Download KB5009543 for Windows 10 Version 20H2 32-Bit [304.9 MB]
To install the update, simply run the downloaded MSU file and Windows will automatically install the update. To download any other updates related to any of the above, please check the Microsoft Catalog.
Windows Update
To install this update via Windows Update, you need to be running Windows 10 version 21H2, 21H1, or 20H2. To check your version of the operating system, type in winver in Run and press Enter.
Once confirmed, navigate to the Settings app and then click Windows Update on the left. Then click Check for updates on the right side of the page. Once the scan is finished, the respective update will begin to download automatically. Once downloaded, click Install now.
Once installed, click Restart now to finalize the installation.
Once the PC boots up again, you can then confirm that the update has been installed successfully through winver.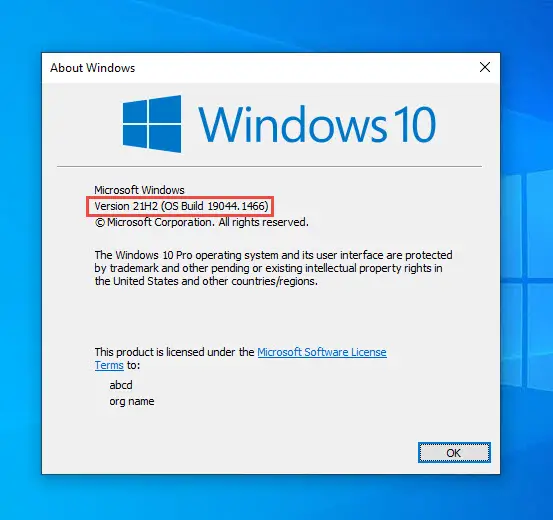 Rollback/Remove Windows 10 Cumulative Update
If you do not wish to keep the installed update for some reason, you can always roll back to the previous build of the OS. However, this can only be performed within the next 10 days after installing the new update.
To roll back after 10 days, you will need to apply this trick.
Cleanup After Installing Windows Updates
If you want to save space after installing Windows updates, you can run the following commands one after the other in Command Prompt with administrative privileges:
dism.exe /Online /Cleanup-Image /AnalyzeComponentStore
dism.exe /Online /Cleanup-Image /StartComponentCleanup