It would be a total disaster to lose all your files, folders, and other data in a jiffy if your hard disk decided to fail entirely. Even if you have complete system backups and restoration points configured, it's always better to monitor SSD and hard drive health regularly.
Although modern hard drives come with SMART (Self-monitoring Analysis and Reporting Technology) support, software is still required to collect and display that information.
We have compiled some free software that can be used to constantly monitor your SSD or hard drive health for you to ensure that it will not let you down without a heads-up.
TIP: Check out utilities to check for complete hardware information about your computer.
What is SMART health monitoring?
SMART is a technology initially developed by IBM to monitor health and other aspects of a working hard drive. They used various sensors and technologies to make up 30 different attributes of the technology, which add up together to display the information about the storage device.
This technology has then been adopted by other manufacturers with variations and has been used in almost all of the modern-day digital storage devices.
The freeware that we are about to discuss further into the article uses the exact same attributes to identify the characteristics and status of these devices.
How to check hard disk status using Command Prompt
Although Microsoft plans to add a built-in feature to monitor hard disk health at all times, it currently does not have sufficient support to do so. But rather, we can use the Command Prompt to check the status of the hard drive(s) on your computer.
We know that Microsoft plans to introduce such a feature due to its recent release of Build 20226 in the Windows Insider Dev channel.
To check the status of the hard drive or SSD using the Command Prompt, simply enter the following command:
wmic diskdrive get status
Furthermore, in the case of multiple storage devices, you may use the command below to obtain individual state:
wmic diskdrive get model,status
If the command returns an "Ok," it means that the hard drive is currently functioning normally. However, this information is insufficient for a user to determine how long he or she has before they absolutely need to change their hard drive and backup their data.
For this reason, we need to refer to a third-party solution to illustrate the real-time conditions of the storage device.
Best free tools to monitor SSD and hard drive health
Third-party utilities are often used to provide the functions and support which Windows itself fails to provide. Below are some of the trust-worthy and free utilities to check and monitor your hard drive's health.
Hard Disk Sentinel
Hard Disk Sentinel is a useful utility to monitor the SSD and hard drive health of your PC. Apart from that, it also provides a bunch of other information, such as hard drive's performance, detailed information about temperature (minimum, maximum, average, etc.), individualized information about each volume partition on the disk, event logs, etc.
Users may also add information about their emails to get prompts of any incidents.
Simply download and install the package by going through the installation wizard in a few easy steps.
Although Hard Disk Sentinel is not free, it is the best hard drive monitoring utility.
Hard Disk Sentinel is packed with various features and can be configured to perform different scans on the hard drive.
HDD Health
HDD Health is a freeware you can use to obtain basic information about your storage device(s) including its manufacturer and model, serial number, capacity, live temperature readings, and health. Simply download it and install it in a matter of seconds.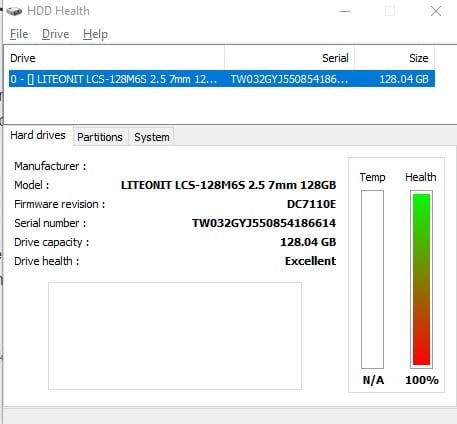 This application can run in the background and monitor hard drive conditions. Once it is run, it can be minimized to a small icon in the Notification Tray. Simply hovering over its icon can give a summary of the storage device's condition.
If you want to quit this utility, pressing the "x" in the top-right corner would not work. Instead, right-click on its icon in the Notification Tray and hit Exit.
CrystalDiskInfo
CrystalDiskInfo performs the same function as the tools mentioned above by displaying the hard drive health by using SMART information from the storage device. However, it does not display the health percentage of the SSD, like the other two utilities.
Rather, it displays static states of the hard drive through colors, such as Blue is good, Yellow is caution, Red is bad, and Grey is unknown. Although these might be useful to determine the state of the device, they do not depict the exact health of it.
The User Interface (UI) might not seem so friendly, nonetheless, it provides other functions that are very similar to the other hard drive monitoring tools, such as email alerts and event logs.
Closing words
There are a variety of hard drive monitoring tools available on the internet for free, but some display very little information about what is required, while others require manual scans to monitor the health, which was a factor in selecting the right options for our readers.
A detailed condition of the storage device can save a person from losing all their data without any warnings. Hence, it is recommended to use these small and harmless utilities to always keep a keen eye on your hard drives and SSDs.