For small networks, it's easy to manage them. But as soon as the network starts growing, it becomes difficult to manage. To overcome this situation there are many free and paid network monitoring tools available in the market for network performance monitoring. Normally, we called them network monitoring tools.
There are many tools available in the market and they are growing every year. When it comes to network monitoring, it is not limited to software. There is a huge variety of devices that play a role in Network monitoring.
With today's complex needs, some advanced network monitoring tools will also serve the purpose of network mapping and network management. But in this article, we will only discuss the effective monitoring of the network.
Selecting the best network monitoring software
When selecting Network monitoring tools, there are few things that we should consider:
The device up and down alerting system
The notification system like instant messaging, email, sms or other notification channels should be supported.
The ability of its integration using SNMP and integration with old in place systems
We might be interested in automation and fault resolution so that those tools can help saving our time.
Network security monitoring can also be added to the monitoring tool for network traffic monitoring, analysis and alerting.
It should work irrespective of the Operating System whether it is Windows, Linux, Mac or any mobile device. If the device is connected to the network, it should be supported and monitored.
There are different types of tools for monitoring different types of networks. For example, if you want to monitor services like IP addresses space usage, DNS and DHCP services, you will need IPAM software. And if you want to monitor Cisco specific equipment, you will need software which supports Netflow protocol. Other network devices may support SNMP protocol and can be monitored using the tools mentioned below.
Here are the top free network monitoring tools
And here are the top paid network monitoring tools
The Best Free Network Monitoring Tools
Nagios
Nagios is the best and easy to manage network monitoring tool for small to medium enterprises and can support large Enterprises. Nagios comes in two flavors, Nagios Core and Nagios XI. Nagios Core is completely free version and open source. It supports different plugins and addons for extending its functionality. The plugins may need to be bought with additional licensing.
The software is easy to install and needs some very basic knowledge and network understanding to initially setup. The downside is it does not discover the devices automatically. You must manually configure all the devices that you want to monitor through this tool. The standard paid edition cost $1,995 for 100 nodes monitoring.
Pros:
Its very cost effective when it comes to licensing.
It is very easy to create monitors.
It provides detailed graphs when it comes to monitoring.
Cons:
You have to manually configure all of the devices you want to monitor.
OpenNMS
OpenNMS is an open-source enterprise level network performance management application that offers many features for effective monitoring of the network. The feature-set includes but not limited to performance measurement, automated network discovery, events and notification management and service assurance features. It also offers mobile apps so that you can monitor your network on the go. All the functionality of the desktop version is also available on the mobile app. With OpenNMS, you can monitor the network devices on the go.
You can also setup devices using the mobile app and can setup alerts as well. Once you log into the tool, the dashboard will give you a quick snapshot of your network performance. It provides advanced level of reporting for your infrastructure. You can generate reports which can be used to take high level decision for your network devices and their performances matrices.
Pros:
It supports collection on information from many vendors.
It alerts in real time so that we can act fast for resolution of the problem.
Cons:
Sometimes it sends alerts with delay.
PRTG Network Monitor Free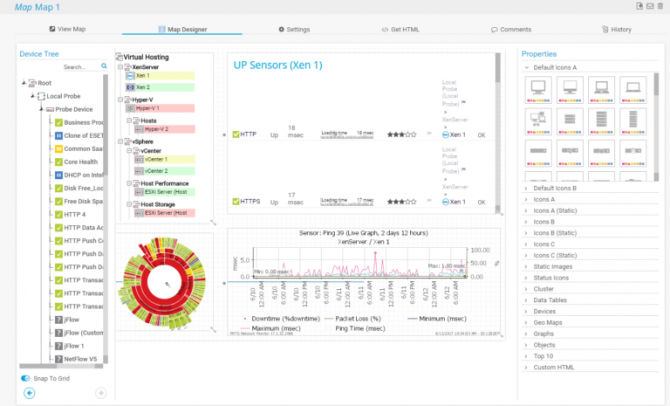 PRTG Network Monitor is a robust monitoring and mapping solution. It takes seconds to install, and it is easy to set up. This software has a few hundred sensors that allow you to monitor and map different aspects of your network. Its rich web interface has everything you need. Paessler's PRTG Free is an excellent choice for SMBs as it presents everything they need to know about their network in a well-designed and intuitive console. PRTG boasts separate user interfaces, for the web, Windows console and mobile. You can monitor your network on the go and at any platform of your choice.
Pros:
Easy to use and setup
A wide variety of licenses for expanding
A great reporting tool.
Cons:
Only 100 sensors free
Links can be a bit overwhelming.
Zabbix
Zabbix can monitor everything in your network, from network devices to CPUs, databases, and applications. Also, it will provide you with thorough reporting and network mapping. This allows you to see what is happening in your network. Zabbix will alert you of any incidents within your network. It will create maps that are updated live. Zabbix's simple scripts can resolve issues without human intervention as Zabbix can execute them for you as needed.
Pros: Scalable, robust, and easy to implement. Great community support, open-source allows full-scale customization.
Cons: Paid support, its UI may not be the best, and Linux knowledge might be needed.
Spiceworks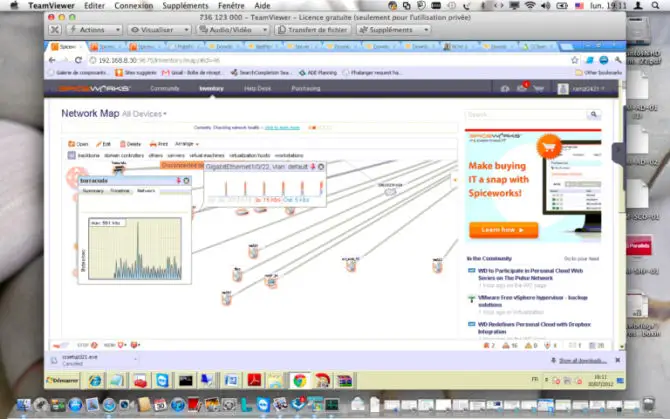 Spiceworks is one of the best free network management tools which also includes the network monitoring capabilities. This is simply the best web based network management software if you have some computing resources available. The real-time monitoring of Spiceworks takes quite a lot of CPU usage. It automatically detects the devices on the network and will also do the network mapping for you. Installing Spiceworks is very easy. Just download and install the setup. You need to have network administrative privileges for Spiceworks to detect and discover computers on the network. It can monitor critical items like server disk space, CPU, RAM and network bandwidth usage. These items can be monitored for each device. The network devices like routers, switches and even printers can be monitored.
Pros:
All in one solution for monitoring, management, mapping and inventory.
Auto discovery of network connected devices.
The software is free as well as the support.
Cons:
Takes a lot of CPU and disk resources in case of larger networks.
Some ads.
The Best Paid Network Monitoring Tools
Microsoft System Center Operations Manager (SCOM)
Microsoft System Center Operations Manager is a cross-platform monitoring system for Operating system level resources. It can monitor the state, health and performance information of each system which is being monitored. SCOM also supports Unix and Linux based systems. It can give you in-depth monitoring reports especially if you are running Windows Servers.
Pros:
Microsoft solution.
Management packages available for third party applications like SQL server, email server monitoring etc.
Gives great insights for easy troubleshooting of the identified issues.
Cons:
Only monitors system level resources. No support for network devices
Initial setup can be complex and time consuming
SolarWinds Network Performance Monitor
SolarWinds Network Performance Monitor is highly user-friendly and specialized network monitoring solution which can be deployed on premises infrastructure.  It automatically discovers the network within few hours and shows all the network layout. The product is very easy to use, and devices can be managed very quickly and easily. There are many levels of dashboards available for network devices. These can be customized and setup as per business requirements in your main network performance monitor dashboard. It supports all the major vendors, so I can quickly detect the issues and resolve them promptly.
You can setup alerts as per your requirement which can be sent to any group or NOC team via email. You can customize the Alert body so that you can add your own run books for rectification of those issues.  So, when you will get an alert you may have your procedure attached within the Alert body.  The price starts from $2,995 and it's one-time licensing.  You may need to buy additional modules if you want to set up additional monitors. These can include modules like monitoring database performance etc.
Pros:
It works very well when it comes to network monitoring.
It sends alerts in Realtime so that you can minimize the downtime.
It provides historical data up to a month.
Cons:
This is the most expensive monitoring tool available with higher licensing cost.
You need to deploy high end servers to run this application as it creates a big SQL Database.
SolarWinds Network Performance Monitor
Thousand Eyes
Thousand Eyes is a nice cloud-based network monitoring system. It can help you visualize the network and troubleshoot the problems at exact segments.
The company has deployed network agents across the globe. This makes sure your network performance is same for all your customers and employees all around the world. You can use their pre-deployed network agents to get your network performance matrix. You can also deploy your own network agents on your remote offices. This enables you to continuously monitor the network performance the application performance on the internet and intranet.
The best thing about this tool is it provides different level of agents to monitor the performance of the network. You can deploy the user agent on the end users' machines to see how efficient network performance is for the end users. The enterprise agents can be deployed on factories, stores and data centers. This enables you to see how the network interlink with each other. This gives you a bigger picture of your network performance in real-time. It has flexible usage-based pricing and plans on what level of service you are planning to deploy. They offer prices for test units to test the following:
Applications
End points to monitor the network devices
Servers
Router gateways
All layer 2 devices
Pros:
Provides detailed point to point monitoring.
You can use already deployed nodes for monitoring your network performance from remote location.
It provides detailed graphs when it comes to monitoring.
Cons:
You may need to deploy a node if there is no node available in the region you want to monitor.
ConnectWise Automate
ConnectWise Automate is a good cloud-based monitoring platform which helps you to monitor all your infrastructure devices. You can monitor the network devices and client computers from a single dashboard. It not only monitors the network devices but also alerts with possible resolution of the problem. It has predefined action to resolve and mitigate some of the issues through built in fault resolution system.
It also supports patch management by integrating Windows patch management tool or third-party software. You can centrally manage and monitor you are patching activities for your servers and workstations.
It also provides remote control functionality. You can remotely connect to the devices and resolve the issues as they occur. The software is on quote base pricing depending on your requirement and size of the network.
Pros:
Its gives the flexibility to provide quick support.
It supports manual scripting which make is more powerful.
Cons:
Server monitors are not powerful enough as it creates false alerts.
The mobile application doesn't refresh the data in real time so you have to manually refresh the data.
ManageEngine OpManager
ManageEngine OpManager is a network monitoring software very similar to Spiceworks with a bit better interface. It can be used for real-time monitoring of network equipment including servers, switches, routers, firewalls etc. It supports almost all types of protocols required for network monitoring including, NetFlow and SNMP. You can also monitor system level resources like CPU, memory, disk etc. You can setup thresholds of each monitor. OpManager will alert your when a threshold is crossed.
Pros:
Cons:
Pricing can be a bit high.
Support doesn't seem to have 24/7 availability.
WhatsUp Gold
WhatsUp Gold is an all in one network monitoring solution. With WhatsUp Gold, network availability and performance monitoring can become very easy. Its dashboard gives the complete visibility on the status and performance of applications, network devices and servers, both in the cloud and on-premise. The alerting system of WhatsUp Gold is quite intuitive and if you are working on your client's network, you can also setup SLA monitoring. WhatsUp Gold can be an all in one network management suite with network and application monitoring, network traffic analysis, configuration management, network mapping, cloud monitoring and virtualization environment management.
Pros:
Unified dashboard with high network visibility
Great user interface with easy to use controls
Auto discovery and scanning of new devices and virtual machines in the network
Cost effective
Cons:
Doesn't seem to have manual addition option for new devices (or devices which are not detected automatically)
Unreliable updates. The updates can simply crash the system. You need to test the new releases before deploying them in your network.
Conclusion
Although I'm concluding this list here, it is not complete at the moment. We will keep on adding new software and write new articles about network administration. This will be helpful for all network admins and sysadmins. If you want a topic to be covered by us, please let us know in the comments below. In the mean time, don't forget to tell us your views about the best network monitoring tools in your experience.