Many Capturing tools are available but Snagit is known as best among them. Snagit is not free so we need to find something which is free and provides the same features as Snagit. Screeny is alternative to Snagit and is free for home users. Screeny comes with most of the commonly used features of Snagit and fulfills the user demand related to Screen Recording and Capturing.
Now capture and record your screen with Screeny. Screeny is a freeware Tool which has diversity in features. Its countless features are just shattering and surprising. This is best if you want to use it for Personal/Non-Commercial use. But you can go for its Premium version if you have a plan for using it in Professional/Commercial purposes. It can compete with all other screen capturing tools due to wide variety of features.
System Requirements
It has compatibility with Windows XP and later.
The processor required to run it is at least 1 GHz.
512RAM can also be used but 1024 MB is recommended.
100MB space should be free on Hard Disk for it.
Features
Capturing Styles
Screeny provides you many different ways to capture according to your need.
You can capture in any area in Rectangle shape.
If you want to capture Free hand, you can also do this with Screeny.
Any selected Region shooting also entertain with this tool.
Complete screen, DOS window, Window Shot, Sub windows and many more style can be picked for capturing.
Different Options after Capturing
When you capture your picture, then a window will appear that asks you what you want to do with That capture and provides you many options. Select anyone according to your need and go capturing.
Cool Editor
If you want to Edit your capture, Screeny facilitate you with providing Editor that has many more features. Add any arrow, shape or write any Text if you want to show/remind about something on that capture. And then save that capture in any destination where you want to save it in your System.
Integrated Whiteboard
With the white board, you can draw anything on your Desktop or made any important notes while doing any task, and then save all that screen as a Picture. This is another proficient stuff you can do with Screeny.
Record Video
The Screeny can record video of Screen, Window or Selected area with your voice. It can record video in AVI format. You can record or save any presentation or tutorial with Screeny by using Whiteboard too. So that users may understand your video in better way what you exactly wants to demonstrate.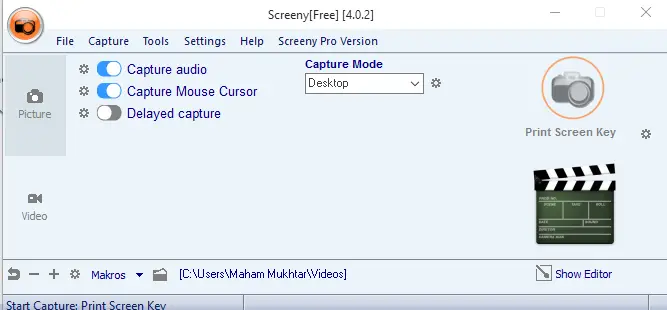 Reliable Transfer
The video can be transferred or shred to any desired output reliably and efficiently.
Output Options
It provides many saving/output options. You can simply save capturing picture into any JPG, BMP, PNG etc. or send to mail, load to FTP server, Open in any application, Open in Word/Excel/Power Point, Copy to Clipboard, Drag and drop or save as PDF format.
Conclusion and download link
These features of Screeny help you in capturing and recording more easy and advanced way. Developers are adding new features in it time to time and fixes errors. In short, Screeny is worth using. What's your take on Screeny? Which screen capture tool are you using?
Must Read Articles: