Google drive is used for storing your files, pictures, and all other important stuff. it's one of the cool feature is that you can share your files even with those users who don't have google account. It is not wrong at all to say that "Google is starting platform for free online office productivity".
It provides you the storage of 15 GB free. But if you are looking for unlimited storage, you can available Google's unlimited account option which is just $10/user/month.
Supported types of file
Its viewer supports mostly all types of possible files that include:
MS office files
All images files i.e. png, jpeg, gif, bmp, tiff and webp
Audio files
Video files
Apple pages
Adobe files
And all others files can be supported and open with google drive file viewer. The files which it can't be support, user can upload them but cannot view within the app. They can download that files and view them in their related viewer.
Getting started Google Drive
You can go to drive.google.com to open your drive through browser. And then enter email and password to access your drive.

This is the basic interface of your drive which has option of my drive, shared with me, recent and all you can see in this above snapshot.
In "my drive", you can have your uploaded folders and files and your documents.
In "folder shared by me", there is those files which you can see and can have access .these are shared to you by any of your contacts or any friends.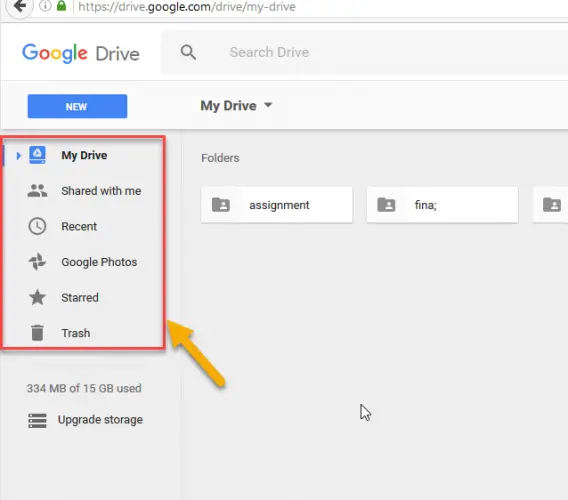 You can make new folders by clicking on "my drive" –> new folder or upload any files by clicking on "my drive" –> "upload files". Or can open any MS office program.
If you want to download any folder from your drive, just click on the folder and then on right top you see 3 dots sign, click on that, list will appear. On last of list you see download option. Click the "download" for downloading that particular folder.
This is very easy way to get started and have access of your files and folders through google drive.
Sync multiple google drive accounts
Now you can sync multiple google drive accounts in parallel and can enjoy to open your all google accounts at the same time. Just follow the below easy steps to have access of your multiple accounts parallel.
Just go to "my drive" and create new folder and named it whatever you want. Click on create it. It'll create.
Then select the folders you want to move in new folder and then click on "move to", there you'll be asked where to move.
Now open that folder and on top bar, there you'll see the name of folder "sharedStuff", click on it. You see the option share with, click on it. It will ask you email id you want to share it with. Just enter your another google account so that you may access that files from your other account.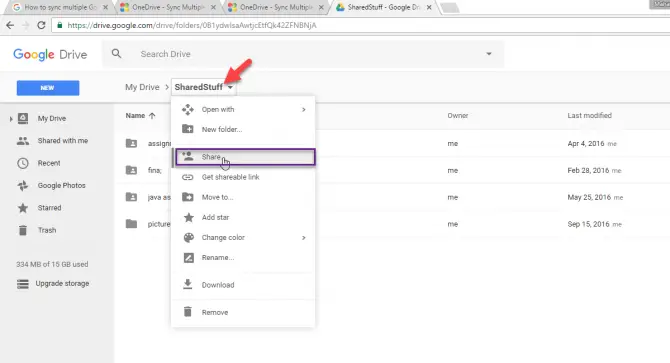 Now when you click on "send", an invitation will be send via email to your other/secondary account that this person has shared some folder to you. Click on "open" to see the folder in your drive.
When you open it you'll see the contents in that folder. You can add that folders to your drive. So whenever you need them, they'll be available for you in your drive and no loss of data will occur.
So by doing all these steps, you can easily access to all of your accounts and contents in them anywhere. This is very interesting and usable feature to use your drive to sync multiple accounts. In any case if you can't get access to your one account, you'll have no worry because all of your important data is already synced to your other drive.
I hope this detailed discussion will provide you complete understanding of syncing your google drives to one another.
Also see: