The new version of System Mechanic 12 has been released. The standard edition of System Mechanic is $49.95 but we will give you the discount coupon code for System Mechanic 12 through which you'll be able to get System Mechanic 12 Standard in just $24.95 only which is 50% off the original price. Let's first see what's new in System Mechanic 12.
The installation and setup of System Mechanic is a breeze. Just download the setup and install with very simple options. Even the novice will be able to install System Mechanic 12.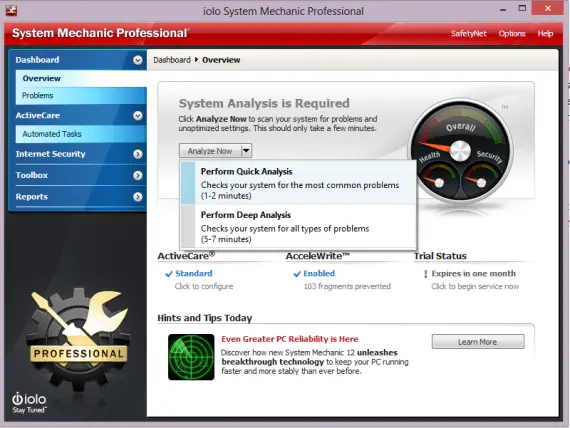 On the Overview tab, clicking on Analyze now will return two analysis options: a quick analysis and a deep analysis which looks out for every type of problem. Either scan option will identify problems in your system and rate your system using health, security and overall metrics.
You can also browse through the entire list of problems and select few of them to be fixed or select 'Repair All'. You may want to inspect a problem and System Mechanic helps you with it. Every problem is displayed with relevant solutions and you will be pleased to see how quickly System Mechanic repairs them.
Here are some of the tools that you'll be able to use to fix different problems in your Windows computer.
Net Booster
Net Booster automatically tailors your computer to suit your internet connection by safely adjusting the key settings that affect network and internet connection speeds. It fine tunes a group of hidden configurations  so that your PC receives more data over internet. The result is faster and more reliable downloads, video and music playback, web surfing, online gaming, and more.
In System Mechanic, navigate to the Toolbox.
Individual Tools -> Increase Performance ->NetBooster -> Start.
Select your internet connection type and click Next
Energy Booster uses Tune-up definitions and user defined profiles to identify the background services that can be temporarily shutdown to boost up the speed.
Core Data Recalibrator
It is a landmark technology that can automatically detect and accurately repair WMI issues without the uninstallation or reinstallation of an application. It corrects the corrupted Windows Information and can save you from frustrating application errors, security issues, false alarms and some post application install issues. It improves your entire Windows experience from start up to shutdown.
Stability Guard
Stability Guard keeps an eye on the  rogue programs and unauthorized configuration changes that may reduce system stability. It uses complex algorithms to track and correlate the root causes of freezes, hangs, crashes, errors, and restarts. The CRUDD Remover guesses and finds out the redundant and unnecessary software in your system that may destabilize the system.
Active Care
Active Care works when your PC is idle. It runs the automatic maintenance routines when your processor is inactive and immediately stop when you come back. In this manner your system is kept safe, fast and reliable without interrupting your work.
In System Mechanic, navigate to ActiveCare
Automated Tasks -> Automatically repair unoptimized Internet configuration
Toggle the switch to 'Enabled'.
Besides these, Tune-up Definitions is now powered up with over 36,000 independently identified solutions that allow System Mechanic to repair each PC according to its unique configuration. AccleWrite technology, that was introduced earlier, stores the data efficiently on solid state drives and the hard drives.  Drive accelerator, SSD accelerator, program accelerator, start-up optimizer and the system shield antivirus add up to the effectiveness of the System Mechanic Tool. You can also see the reports sections which contains the history of your recent activities.
Windows 8.1 Support
System Mechanic 12 has been able to meet up the optimization challenges provided by the Windows 8.1. A few important features are:
Winspresso App: It optimizes system memory by recaliming the RAM from inactive background apps.
PC Health Status App: This app is exclusively designed for Windows 8.1 user interface to keep you informed of the system's health and efficiency at a glance.
Download System Mechanic 12 with 50% discount
If you want to buy System Mechanic, there is no need to buy it in full price when you can save your $25. Just click on the link below which will automatically apply the discount coupon and take you to the checkout page.
System Mechanic 12 with 50% discount coupon code
If you want to try System Mechanic 12 before you buy, here's the download link to the free version of System Mechanic 12:
Download System Mechanic 12 Free
Must Read Articles: