Windows 10 themes are used to personalize your PC according to your taste and customize different visual aspects of the Operating System. Themes have been an integral part of Windows 10 since Windows 2000 and Windows XP.
In this article, we'll discuss everything about Windows 10 themes.
Let's start with the basics.
What are Windows Themes?
Windows themes are a collection of background pictures, menu colors, system sounds etc. to quickly customize the Windows 10 user interface. A theme can be applied to the user interface by simply clicking on the downloaded theme file.
There are some themes that are present in Windows by default . You can also download Windows 10 themes from the official Microsoft Store and also third-party sites that collect and create different customized themes.
How do I find Windows Themes?
You can find Windows themes in the Microsoft store. You can do so by following these instructions
Go to Windows Settings (Windows key + i) –> Personalization –> Themes
Under the Change theme section, you will find the "Get more themes in Microsoft Store" option.
You can explore new themes here. Open the store, sign in to your Microsoft account and install whatever theme you like.
You can simply download themes from other websites too. Personally I liked this website the best. It has a huge variety of themes including themes of our favorite fan fiction movies and seasons. Check it out here:
https://themepack.me/
Where are Windows Themes stored?
If you want to add more resources to a current theme, you can do that by going to the following folder. All Windows 10 themes are stored in this folder by default.
C:\Users\Username\AppData\Local\Microsoft\Windows\Themes
You will need to replace the Username with your actual Windows username.
OR you can open it using the following command:
%localappdata%\Microsoft\Windows\Themes 
Any new themes or pictures that you download will also be present in this folder.
Please note that if you are using an older version of Windows, you can find the theme folder here:
C:\Windows\Resources\Themes
How can I create my own Windows Theme?
Creating your own theme is not difficult. I am describing the entire method in detail below.
First go to Settings and open Personalization tab
Go to Themes, and at the top you will find the option of Background, Color, Sounds and Mouse cursor
Background and Wallpapers
First I would describe background options and how to alter them.
Under the background, you will find three options: Picture, Solid color and Slideshow
Picture: You can browse the picture you wish to put as your desktop background, below that you can find "choose a fit". You can select how you want the background to fit your screen, options are Fill, Fit, Stretch, Tile, Center and Span
Solid Color: If you wish to use solid color as your desktop background, you should select this option. You can select the color you wish to put from the range of color shown below, and you can create your own color as well by selecting Custom color
Slide Show: This is a really fun option for people who like to have a changing background after every few minutes. Simply select the album you want the slide to show off. You can browse it from your computer. Then select the time after which you want your background picture to change from the provided options in the drop down menu in the Change picture every option. You can turn on shuffle option to make the pictures appear in a random order rather than the sequence you provided.
Also see: 20+ best HD wallpapers for Windows 10
Colors and Dark Theme
In the color option you can adjust the color for the accent (start menu) and for bars. Simply:
Go to the Colors option.
Under Choose your color and select the theme you want from Light, Dark or Custom. Choosing the Dark option will put the Windows 10 theme into Dark Mode.
There is a an option of Transparency effects, It is more like a design style. You can toggle it ON or OFF as you like.
The next option is of Choose your accent color, for anyone who doesn't know what that is, I have highlighted it in the picture. You can select the color of your choice for the accent. If you don't want to always pick it by yourself, you can enable the Automatically pick an accent color from my background.
If you want to apply the same color of accent, to bars and borders, scroll down and you will find the option of Show accent color on the following surfaces and below that, tick the options you want.
To know how to turn off the Dark theme, refer to the "How to change Windows theme?" section below.
Also see: Introduction of dark themes in Google Chrome
Sounds
In the Sounds option you can explore different sounds for notifications. By default Windows has already set a tune. But if you want the sound change with change of a theme, you can select the sound here. Every time you put this theme you created, your selected notification sound will also be enabled.
Also see: Identify which program is making sounds in Windows
Mouse Cursor
Just like sound, you can also select a mouse cursor design with a selective theme. By default Windows has the arrow cursor design. Click the Mouse cursor option and go to pointers. Select the type of pointer you want. You can also check out different tabs under Mouse cursor, such as pointer operations, buttons, wheels etc. Explore each tab for different options
Save the newly created theme
After you are done designing everything, click the back arrow and come to the main theme page.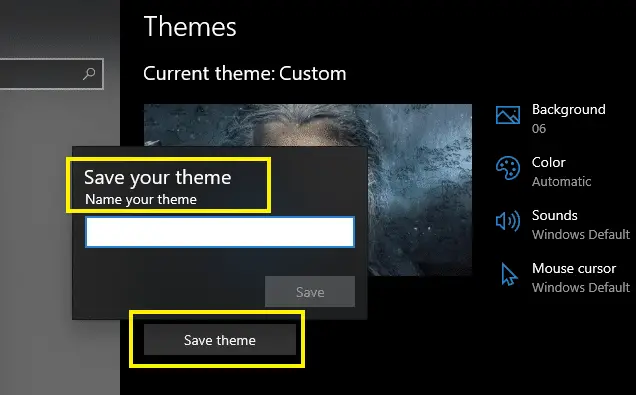 Select the Save theme, enter the name for your theme, and your new custom design theme will be saved.
How to change a Windows theme?
To change Windows themes, trace the following path
Go to Windows Settings –> Personalization –> Themes
Under Themes, you will find the option of Change theme
Here you will find different themes that you have downloaded by yourself or are present in Windows by default. Click on the theme you like and it will be applied
You can adjust the colors or sounds too, as I described earlier
If you want to switch back to a light theme, go to Colors and under choose your color, select "light". This will turn off the dark theme as well
How to delete a theme?
If you want to delete a theme, follow the steps below:
Go to Settings –> Personalization –> Themes
Right-click the theme you want to delete and the option to delete will appear over it. Delete the theme.

If the theme you are trying to delete is currently in use, you will not be able to delete it.
Do Windows Themes slow down the computer?
This is an important question that comes to mind. While the load of themes in Windows 10 is negligible, it really depends upon the number of resources in your computer. If you have low RAM, you should certainly not go with heavy themes as they will start slowing down your computer.
But if you have adequate hardware resources, the Windows themes have negligible effect on computer performance and will not slow down your computer at all.
How do you use Windows 10 themes? Do you customize the themes or use the default ones?