6 Ways to Prevent Windows 10 Sleep Mode
While we are working on our machines, often without moving the mouse or pressing any keys on the…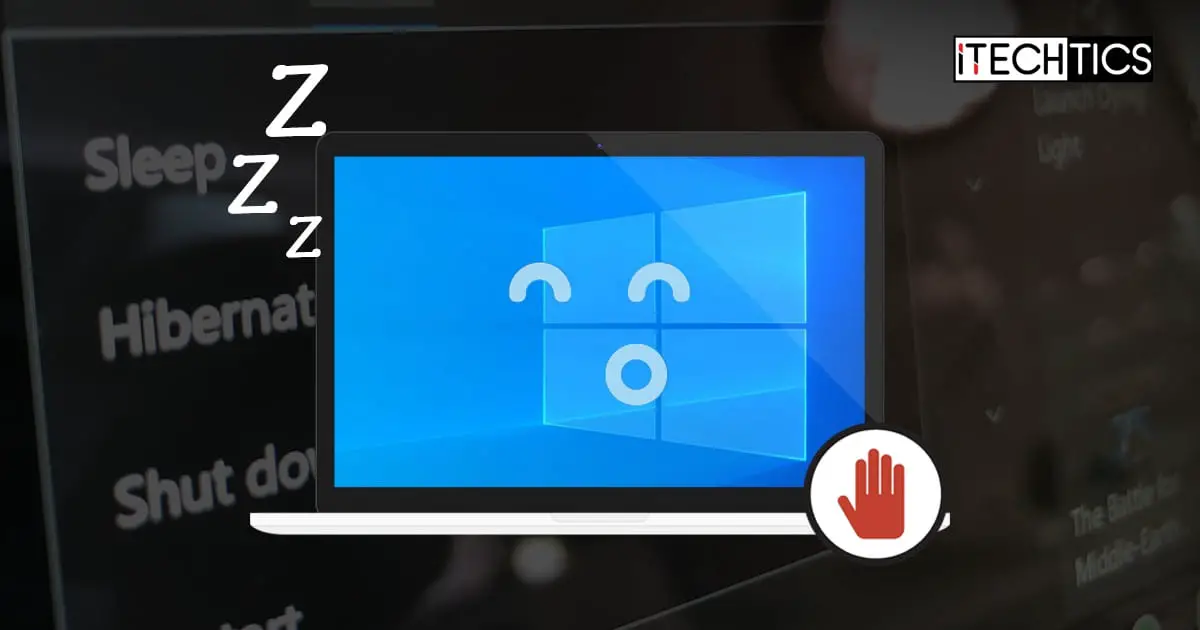 While we are working on our machines, often without moving the mouse or pressing any keys on the keyboard as we are reading some eBooks, an article, or watching a show or movie. As the system will go to sleep according to the configured power plan which causes hindrance in our activity and pulls out our attention.
We can do this by configuring our power plan so that it won't let our machine sleep even though we don't press any key or move the mouse. You can do this through built-in settings in Windows 10 or by using a third-party tool. Just navigate down through the article to find a suitable way to keep your computer from sleeping.
Table of contents
Using Windows Power Options to Manage Sleep Mode
From Settings App
Perform the following steps to prevent your Windows 10 computer from going into sleep mode from the built-in Settings app:
Navigate to:
Settings app >> System >> Power & sleep
Your computer will now never go into sleep mode.
From Control Panel
You can solve the issue of the computer entering sleep mode by performing the following steps through the Control Panel:
You just changed the settings for only one plan, if you have more than one plan then you need to change the settings for each plan when selected as the Current plan.
From Screen Saver Settings
If the above configurations have not worked for you, you can also perform the steps given below that will turn off sleep mode on your PC, or refer to the given third-party tools below as an alternative method.
Open the Screen Saver Settings by navigating to:
Settings app >> Personlization >> Lock Screen >> Screen saver settings

This will prevent the screen saver from appearing when the computer goes to sleep mode, which it no longer should.
The methods discussed till now disable the sleep mode permanently unless the settings are changed back. However, using the third-party tools, you can allot specific times when the sleep mode should be disabled, and when it is automatically enabled.
Through Third-Party Tools
Don't Sleep
Download Don't Sleep from here
Don't sleep is small portable tool that don't allow your system to Restart, Shutdown, Hibernate or go to Sleep.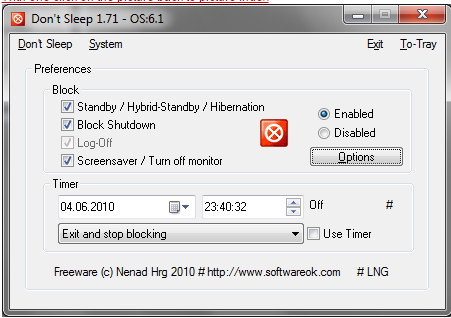 The advantage of using this tool is that it can provide you with a timer, which helps you to make your settings automatically change. If you want to keep your system awake during specific hours, just add that time limit to the timer and switch it on.
Don't Sleep saves you time by not having to reconfigure your settings over and over again for different sleep mode requirements.
Insomnia
Insomnia is available in both 32 Bit and 64 Bit architecture. It is a very small and simple utility.
Upon installing, a small window will appear on your screen that says "The computer can't go to sleep while this window is open". So as long as we open the window, your machine will stay awake and will not go to sleep.
So you don't have to set any timer or anything else regarding the settings to keep your system awake.
Noise
This is another simple tool. When you install it, a window will open that asks you to enter any key from the keyboard, and then after every 60 seconds it sends the same keystroke to the processor automatically so that it thinks that someone is using and pressing the keys.
In this way system won't go to sleep and the screen will remain on. Users can easily use any key by opening this little window. It won't create any obstacles or stop the user from doing their work.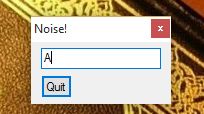 Noise is accessible through the system tray. You can easily open it by clicking its icon and enter any key, or changing it as required. You can also add combinations of numbers and characters.
Closing Words
These are all simple and easy ways to stop your system from going to sleep or turning your system's screen off while watching a movie, reading an eBook, or downloading a large file. These tools will provide you with simple installation and ease of use.
Also see: