Sometimes we are working with our machines without touching the mouse or pressing any key, because we are reading some eBook, any article or watching the show or movie or like anything. And as the system has to go to sleep according to the power plan which causes hindrance in our activity and pull out our attention. So this needs to be solved. We want to wake up our system in such instances.
We can do this by setting up our power plan so that it won't let our machine sleep even though we don't press any key or touch the mouse. You can do this by built in way from Windows or by adding any Third Party Tool. Just navigate down through the article to find a suitable way to wake up your machine.
Using Windows Power Options to manage Sleep mode
Power Plan Settings
You can solve the issue of sleeping of your system by playing with your settings. It'll be solve in a minute or less.
Go to "Control PanelHardware and SoundPower OptionsEdit Plan Settings".
And then select the option of "never" from the list for both "On Battery" and "Plugged in". And click on "Save Changes". So you are done with making your system wake up.

You just change the settings for only one plan, if you have more than one plan then you need to change the settings for each plan.
Setting Screen Saver
Go to "Control PanelAppearance and PersonalizationPersonalizationChange Screen Saver" and then a new window will open "Screen saver Settings". Un-check the box of "On Resume, Display Logon Screen". This will not let your system sleep.
Here come s little frustrating issue by using built in ways for waking up the system. The settings you store or change go for permanent. If you want your system to go for sleep in specific time, it won't happen due to these settings. To avoid this, you can use the Third Party tools listed below.
Through Third Party Tools
Don't Sleep
Download Don't Sleep from here
Don't sleep is small portable tool that don't allow your system to Restart, Shutdown, Hibernate or go to Sleep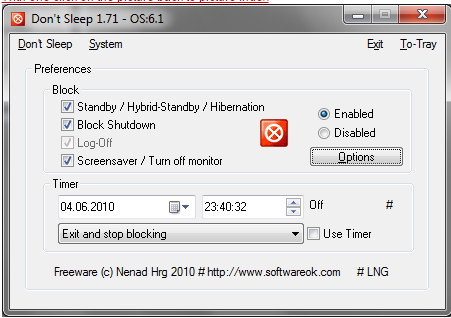 The advantage of using this tool is that it can provide you a Timer, which helps you to make your settings changeable. If you want to wake up your system for specific hours, just add that time limit to the timer and switch on the timer.
Don't Sleep saves you time by not touching again and again to your system so that it may not go to sleep. And it is very easy to use.
Insomnia
Insomnia is present in both 32 Bit and 64 Bit Windows. It is a very small and simple utility.
On installing, a small window will appear on your screen that says that "the computer can't go to sleep while this window is open". So as long as we open the window, our machine will stay awake and will not go to sleep. So we don't have to set any timer or anything else regarding the settings to make our system awake. This is a very simple and easy tool to use. Just let the window open and enjoy the sleep-less system as long as you want.
Noise
This is another simple tool. When you install it, a window will open that asks you to enter any key from keyboard, and then after every 60 seconds it sends the keystroke to processor so that processor thinks that someone is using and pressing the keys. In this way system won't go to sleep and the screen will remain on. Users can easily use anything by opening this little window. It won't create any obstacles or stop the user from doing his work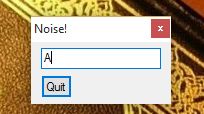 The Noise tool is available in your system tray. You can easily open it by clicking its icon and enter any key. You can also add combinations of Number key and Character key.
These are all simple and easy ways to stop your system from going to sleep or making your system's screen off while watching any movie, reading any eBook or downloading any file. These all tools will provide you simple installation and ease in use.
Also see: