If you are looking to get YouTube unblocked, we will guide you through the process with six different techniques. You can use any method which works well for you.
But first of all why YouTube is blocked at all?
There may be a few reasons subjective to the location and possibly time.
Why is YouTube Banned?
Let's list down some reasons so that we are clear about why and then we'll continue to the how part.
Some organizations, schools, and universities block YouTube because of the management policies. The reason can be for bandwidth saving or for keeping employees or students focussed on work.
Sometimes YouTube gets banned in a country (such as Pakistan) because the copyright laws do not allow them to run videos which are against their policies.
Now let's get to the how part. We will list down some ways to unblock YouTube at school sites, universities or even organizations. Although we have testest these methods on a Windows PC, most of the techniques we discuss can also be used on Android, iPhone and Mac.
1. Get YouTube Unblocked Using VPN
Virtual Private Network or VPN is a technique to connect to a remote network and use its resources to browse the Internet.
This means that if we are using a VPN, we will be privately connected to another location around the world. This way, we will be able to bypass the location restriction on YouTube.
VPN completely encrypts all data to and from your computer. This encryption warrants that even the network administrator will not be able to interpret what is happening.
ExpressVPN
ExpressVPN is one of the best VPNs that you can get. It has a very strong privacy policy. They do not track or store your information whenever you are using their service.
This VPN provides a very fast upload and download speed as well, which is not found in many VPNs. It encrypts the information we are accessing through the web and also hides the IP address of our machine, as it claims to do so.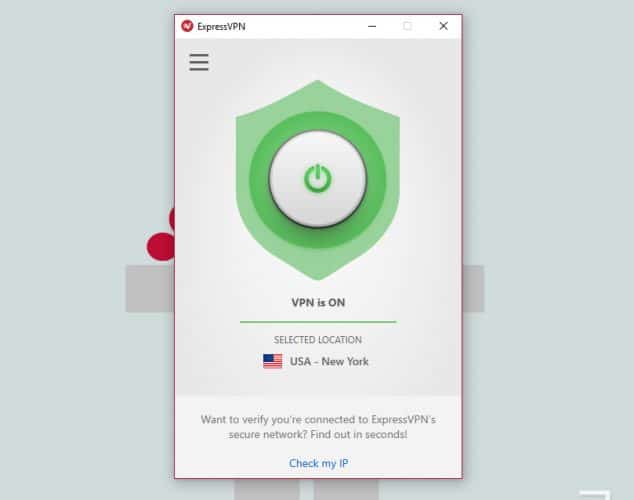 IPVarnish
IPVarnish provides a reliable VPN service. It provides good speed and great privacy policy. It is used to unblock a large variety of Geo-restricted websites.
It also encrypts the information you are accessing on the web. It is not free but can be used on a free trial of almost a month.
NordVPN
NordVPN offers a VPN service at a relatively cheap price that allows its users to browse anonymously and securely.
It provides a strong privacy policy, hides your IP address and encrypts the information you access while this VPN is turned on.
2.Unblock YouTube Using Browser Add-ons
There are various plugins for different browsers that allow the users to access YouTube using that particular browser. You simply turn them on before accessing YouTube and it allows you to use YouTube and watch any video without a hassle.
Following are some handy plugins for unblocking YouTube
ProxyTube
ProxTube is a plugin used for Firefox which lets you change the geographical area in the options and doing that lets you surf any video on YouTube. You can simply turn it on when you need any help and it does not bombard you with notifications.
Stealthy
Stealthy is another great plugin used for Google Chrome. It lets you access any website that is blocked. Stealthy is a simple, user-friendly add-on that lets you visit websites that are restricted based on geographical location, governmental or organizational regulations.
Hola
Hola is a VPN by nature, but it possesses other abilities like an ad blocker, accelerator, GPS locator and web browser too. It lets you use any location from the globe and you can easily access many blocked websites as well as Blocked YouTube.
It is Ad-free and does not only provide browser extensions but also can be shared among different devices.
3. Unblock YouTube Using Web Proxy Sites
The purpose of Proxy is the same as VPN but it does not require any software or direct network connection to the remote computer. Proxy is accessed through the web browser directly. The proxy server will serve all your browsing data through itself instead of going through your Internet connection directly.
Here are some good proxy websites which can get YouTube unblocked. Please note that these are not specific YouTube proxy sites but generally they can be used to open other sites as well like YouTube, Facebook, Twitter, Google etc.
ProxySite
ProxySite is one such website, it lets you choose the server and you simply type the URL to unblock YouTube video.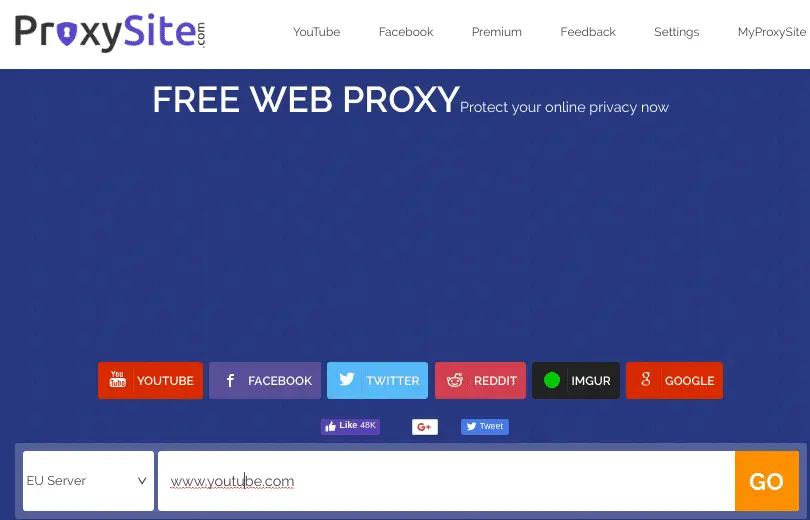 GenMirror
GenMirror is another fast and quick site that lets you unblock websites.
FilterByPass
FilterBypass is a free proxy website that allows its users to bypass Internet filters that restrict the use of the websites and provides unrestricted usage and browsing. The user can enjoy unrestricted YouTube by using FilterBypass, FilterBypass also removes the blocking of other popular video streaming websites like Dailymotion and social platforms like Facebook etc.
Click on this link https://www.filterbypass.me/
Now you can click on the YouTube HD logo.
Now You will redirect on anonymous IP.
Now YouTube Unblocked.
Enjoy it.
4. Download YouTube videos to watch them
Another method for watching the video of your choice would be to simply download the video you want to see. You can make the video offline and simply watch it later even if it is blocked or cannot be watched using the local network.
Simply search for the video in Google.
From the results simply copy and paste the URL in any website or app that lets you download the video.
Download the video and you can even enjoy it offline.
Y2mate
y2mate.com is a good and promising website. It offers 720p HD video downloads from YouTube and then it also provides mp3 conversion service. It provides fast conversion of the video.
Clip Converter
Despite the name, Clip converter isn't just a tool for saving videos in different formats. Its main purpose is downloading videos from YouTube – a task it makes incredibly simple. Just copy the main address from your browser's address bar, choose the video quality and file format, or opt to grab just the audio, and hit Start.
As an added bonus, there are also plugins available for Chrome, Safari, and Firefox so you can easily download YouTube videos without the need to keep visiting the Clip Converter site.
5.Unblock YouTube using Web Browsers
TOR
Tor is a secure internet browser that hides users' IP addresses to allow them to access and share online content anonymously.
You can download it for free, but you'll need administrative privileges on the device you're using to install it. But it does not encrypt your data, so your data might become visible as soon as it leaves the network.
Simply Download the Browser and without a worry access YouTube videos and blocked content.
Opera
Opera browser has now introduced a built-in VPN. Now you don't have to download an app or an add-on to access blocked websites. You can simply just turn on the VPN protection in Opera browser. It hides your IP address and lets you access any website you want.
6.Unblock YouTube Videos Using Google Translate
This is a very easy method for unblocking YouTube. It uses Google translate to translate the page and makes the server believe it is being accessed from a different place where YouTube may not be blocked.
Now you will see the YouTube page being translating to English from the language you translated from.
And now enjoy any video you want.
Now go to the YouTube website and you will be able to access the videos.
That's it. We have tried and tested many more solutions but only listed that worked for us. Which YouTube unblocker technique is your preferred one? Let us know in the comments below!
Must Read Articles: