To download Windows 10 ISO, go to the download table and click on download ISO or download torrent.
The ISO file is a large file, so it may take some time to download. The file size will vary depending on the version of Windows 10 you are downloading. The ISO size may vary from 3.5 GB to 5.5 GB.
Once the ISO file is downloaded, you can use it to create a bootable USB drive or DVD to install Windows 10 on a new computer. To create a bootable USB drive, you can use Rufus or Media Creation Tool.
Windows 10 ISO images are available for download. If you want to install Windows 10, you'll need to download the ISO file. The ISO file is a disk image that contains all the files required to install Windows 10.
This article will help you download Windows 10 ISO, create a bootable USB or DVD and install it on your computer.
This guide will show you how to upgrade or clean install Windows 10 step by step.
Windows 10
Microsoft released Windows 10 in 2016, a few years after the release of Windows 8 and Windows 8.1. Overall, Windows 8 had a negative impact on user experience, as it seemed half baked compared to Windows 7.
Windows 10 is much better than Windows 8 in terms of speed, security and feature set. The boot time is much shorter, and the start menu is faster (and not annoyingly full screen). It has better multitasking capabilities and file management features, allowing users to work simultaneously on different apps without noticeable performance lag.
Windows 10 comes with a preinstalled antivirus and a firewall called Microsoft Defender. Although it provides basic protection, it's much better than having nothing at all.
Overall, the user experience of Windows 10 is much better than Windows 8 and even Windows 7 (provided you have enough hardware resources available).
If you are using an earlier version of Windows, you should probably upgrade to Windows 10 without worrying about performance or compatibility issues. Most apps compatible with Windows 8 are also compatible with Windows 10.
Upgrading to Windows 10 is free. Follow this guide to upgrade to Windows 10 for free.
You can also download Windows 11 ISO files.
Download Windows 10 ISO
Windows 10 ISO download links
Learn how to open magnet links using your browser.
You can also download Windows 10 ISO using Setup Assistant, Media Creation Tool, or even directly from Microsoft. All these methods are given below.
Windows 10 Editions in the ISO
The downloaded ISO will contain the following Windows 10 editions:
Windows 10 Home | Core
Windows 10 Home N | CoreN
Windows 10 Home Single Language | CoreSingleLanguage
Windows 10 Education | Education
Windows 10 Education N | EducationN
Windows 10 Pro | Professional
Windows 10 Pro N | ProfessionalN
Windows 10 Pro Education | ProfessionalEducation
Windows 10 Pro Education N | ProfessionalEducationN
Windows 10 Pro for Workstations | ProfessionalWorkstation
Windows 10 Pro N for Workstations | ProfessionalWorkstationN
Windows 10 also comes with other SKUs, including Windows 10 Enterprise. You will need to download the enterprise edition. You can find the download links for Windows 10 Enterprise in the following sections.
Download Windows 10 using Update Assistant
If you are already using Windows on your system, the easiest way to upgrade to the latest version of Windows 10 is to use the Update Assistant. If the update assistant does not download the ISO file for you, it automatically updates your Operating System to the latest version. You will need an active internet connection before the update assistant completes the process.
Follow the steps below to upgrade your Operating System.
Download the Windows Update Assistant from here [6 MB]
Run the executable and click on the Update Now button.
The assistant will check the compatibility of the latest Windows version with your hardware. This should be fine if you are using a modern PC.
Click the Next button to start the download. It will take some time for the download to complete, and then the installation will start automatically.
The system may ask you to restart to proceed with the installation.
Download Windows 10 using Media Creation Tool
If you wish to install Windows 10 anew, you can download the Windows 10 Windows Media Creation tool. This will automatically download Windows and create a bootable media like a USB or DVD for you. The media creation tool acts as a Windows 10 download tool plus a bootable USB builder. You can perform a clean install and upgrade your current installation.
Here is how you can download Windows 10 ISO using the Media Creation Tool:
Download the Windows 10 Media Creation tool from here.

Download and run the Media Creation Tool

Select Create installation media (USB flash drive, DVD, or ISO file) for another PC.

The first option for Upgrade PCs will now do the same thing as Windows 10 Upgrade Assistant.

Select Language, Edition, and Architecture from the next screen.

Select language, architecture, and edition
Download Windows 10 directly from Microsoft
You can easily access any version of Windows 10 from this Microsoft download link. The problem with this link is that if you open the link on a Windows 10 PC, it automatically detects and forces the user to download the media creation tool first. The media creation tool can download the ISO, but it is not pleasant. If you want to use the download manager, you will need the direct download links.
Here, we will discuss how to download Windows 10 ISO directly without Media Creation Tool. This method is useful especially when you want to download the ISO in any other language of choice other than English.
The supported languages include the following:
English (United States)
English (United Kingdom)
Chinese (Simplified)
Portuguese (Brazilian)
German
French
French (Canada)
Russian
Japanese
Italian
Dutch
Spanish
Spanish (Latin America)
Polish
Turkish
Swedish
Czech
Arabic
Korean
Chinese (Traditional)
Finnish
Thai
Let's first understand the logic. Microsoft's media creation tool is only for Windows. If you open the same page using another device, like Android, MacOS, etc., Microsoft will give you the download links. We can trick Microsoft into thinking that we are not using Windows. This can be done if you are using Google Chrome, Firefox, or even Safari. We will only discuss how to do this in Chrome and Firefox.
Here is how you can download Windows 10 ISO directly from Microsoft:
Press the three vertical dots icon in the top right corner of the inspect window.

Under User Agent, uncheck "select automatically."

The above steps will enable a drop-down list just below the checkbox. Select anything other than Windows. For example, I chose "Chrome OS."

Select user agent in Chrome

Without closing the Inspect panel, hit the reload button or press F5. This will re-open the same Windows 10 download page, but with a drop-down menu to select the edition of Windows ISO you want to download.

Select Windows edition to download

Select the Windows 10 edition to download (normally the top one, which is the latest) and press the Confirm button.

Next, you will need to select the product language. Choose which language you want to download the ISO in and click the Confirm button.

Select the product language

You will be provided with two buttons on the next screen.

64-bit Download
32-bit Download

Click on the appropriate link. The download should start immediately.

Windows 10 download links

Please note that these download links will only be valid for 24 hours. You need to complete the download process before the expiration time.
If you are using Firefox, you can use the user agent switcher add-on to change the user agent.
Download Windows 10 Enterprise Edition
As the name suggests, Windows 10 Enterprise Edition is for IT pros and large enterprises, as it includes features like deployment, updates, and support across the organization, managed advanced protection against modern security threats, device and app management controls, etc. These features are not available in the normal edition of Windows 10. 
Check out the differences between Windows 10 editions.
You can freely download the evaluation version of Windows 10 Enterprise. Here's how to download the Windows 10 Enterprise edition:
Go to Microsoft's evaluation center page.

Under Windows Evaluations / Windows 10 Enterprise, expand "Start your evaluation."

Select your evaluation file type. There are two editions available:

ISO – Enterprise
ISO – LTSC

LTSC is a long-term support channel that will be supported for a longer period of time than the regular Windows channel, which is supported for around one year.

Select Windows 10 Enterprise evaluation ISO file type

Fill in the evaluation form, which includes your name, company name, company size, job title, work email address, work phone number, and country. Press the Continue button when you're done.

Complete the form to start the evaluation

On the next screen, select your platform (32-bit or 64-bit) and then select your language.

Windows 10 Enterprise ISO is available in 11 languages.

Select platform and language

Clicking on the Download button should immediately start the download process.
You will be able to install the Enterprise edition without any product key. However, the evaluation version will only work for 90 to 180 days. After that, you will need to reinstall Windows.
If you want to run Windows 10 for a longer period of time without a license, you may want to try Windows 10 Insider Preview.
Download Windows 10 Insider Preview
The Insider Preview version of Windows is particularly suitable for developers and testers. Microsoft releases new features of the Operating System to Insiders first. Once tested, the features are then included in the stable version of Windows.
The Insider Preview is not a stable version and some features may not work as intended. The Insider Preview version expires when the new preview is released.
You can download Windows 10 Insider Preview from Microsoft's Insider website. Note that you will need to sign in using your registered Microsoft account.
Should I select a 32-bit or 64-bit ISO image to download?
Selecting a 32-bit or 64-bit installation of Windows 10 is an important decision and should be taken at the start. This decision can't be changed later. A few factors to consider before selecting the platform:
Processor architecture and compatibility – Select 32-bit ISO only if your processor is old and does not support 64-bit Operating Systems. A 64-bit Operating System is always recommended.
RAM limitations – If you have less than 4GB of RAM, it's best to install Windows 10 32-bit version, as it will be lighter on resources. For more than 4GB of RAM, a 64-bit install is always recommended.
Software compatibility – If you are using old apps that are not compatible with a 64-bit Operating System, you should consider going with a 32-bit system.
Performance – 64-bit systems always outperform 32-bit systems, as long as there are enough resources.
Windows 10 system requirements
Here are the system requirements for Windows 10:
Minimum System Requirements:
Processor: 1 GHz or faster processor
RAM: 1 GB for 32-bit or 2 GB for 64-bit
Hard disk space: 16 GB for 32-bit or 20 GB for 64-bit
Graphics card: DirectX 9 or later with WDDM 1.0 driver
Display: 800 x 600 resolution
Recommended system requirements:
Processor: 2 GHz or faster processor with two or more cores
RAM: 4 GB or more
Hard disk space: SSD with at least 40 GB of free space
Graphics card: DirectX 12 or later with WDDM 2.0 driver
Display: 1920 x 1080 resolution or higher
Please note that being able to run Windows 10 on your PC is not enough. The actual Windows 10 performance depends on various factors, including hardware components and software/applications being run.
How to Create a Bootable Windows 10 USB Drive
Once you have downloaded the ISO image, you will need to create a bootable media drive so you can install Windows 10 on any system.
You can create a bootable USB drive and a DVD. However, we suggest you create a USB drive, as it is more convenient.
You can use Rufus or Ventoy to create a bootable USB flash drive using the ISO image you have downloaded for Windows 10 in the section above.
Learn how to create a multi-boot USB flash drive with multiple ISO files using Ventoy.
Here's how to create a bootable USB flash drive for Windows 10:
Plug in a USB flash drive (at least 8GB) to your computer.

Make sure all your data on the USB is backed up since it requires formatting where all stored data on the USB flash drive will be lost.

Download Rufus from its website and install it on your computer.

Alternatively, you can also download the portable version, which does not need any installation.

Download Rufus

Once downloaded, run Rufus software.

From Rufus, select the USB flash drive from the drop-down menu under Device.

Select the USB flash drive

Then, click "Select" under Boot selection, navigate to the downloaded Windows 10 ISO file, and select it.

Select Windows 10 ISO file

Leave the rest of the settings to their default values and click Start.

Begin making Windows 10 bootable USB flash drive

If prompted for confirmation, click OK.

Your Windows 10 bootable USB drive should now be in the making. This step may take a few minutes to complete.
Your bootable drive is now ready and you can proceed to the installation phase using the guide below.
How to install Windows 10 Step by Step
Now that you have created a bootable drive using the ISO file, you can now begin installing Windows 10. Here is how to clean install Windows 10 correctly on your computer:
Plug in the bootable Windows 10 USB flash drive in the computer you want to install it on.

Turn on/reboot the computer and open its One Time Boot Menu (Usually through the F12, F10, or Esc button).

Select the external USB drive to boot from the bootable USB.

You will now see a menu such as the one below. Click "Next."

W10 install next

On the next screen, click "I don't have a product key."

Even if you do have one, you can activate the product later after installation.

Proceed without entering the key

Select the edition you want to install on this device from the list. When selected, click Next.

Select Windows 10 edition to install

Select "Custom: Install Windows only (advanced)."

You will now be asked if you want to upgrade your existing OS or perform a custom installation. Since this is a clean and fresh Windows 10 installation, we will be selecting "Custom.

Custom installation

Click "New" and create the disk partitions as you want them.

Remember to have at least 40GB of space in your primary (C) drive for Windows installation.

Create disk partitions

Click "New," enter the size of the partition to create (in MBs), then click Apply.

If intimated about additional partition creations, click Ok.

Automatic creation of additional partitions prompt
Further ahead, you will be asked to configure your PC through several Out of Box Experience (OOBE) screens. Proceed with the on-screen instructions and configure your PC, and you will have successfully installed Windows 10.
Once it finishes, you will be logged in to your user account on the all-new Windows 10 PC! You can now begin installing the relevant software and customizing it according to your liking.
Windows 10 product keys
When you purchase Windows 10, Microsoft will provide you with a 25-character product key that can be used to activate a licensed copy of Windows 10.
There are different types of product keys for Windows 10:
Retail License keys – Retail licenses are sold to consumers. These product keys can be purchased online from Microsoft Store, Amazon, eBay, and other stores.
Volume License keys – VLK licenses are sold to businesses that need to install Windows 10 on multiple devices. To purchase Volume License keys, you will need to contact Microsoft Volume Licensing Services or a reseller.
OEM License keys – OEM licenses are sold to manufacturers of Windows devices. These license keys are pre-installed on the devices.
Digital License Keys – Digital licenses are attached to the user's Microsoft account, enabling the user to activate a new installation for Windows 10.
The price of each Windows 10 product license may vary depending on the seller and quantity. You can also buy a subscription-based license, like Microsoft 365, that includes Windows 10 and other Microsoft apps.
Some clarifications and FAQs
Can the downloaded ISO file be used for recovery purposes?
Yes, the ISO can be used for troubleshooting and recovery.
How long will it take to install Windows 10?
It depends on the system's hardware. Normally, it takes between 15 and 30 minutes for the installation process to be completed.
How long does it take to download Windows 10 ISO?
It depends on your internet connection bandwidth. Since all of our links are from Microsoft servers, it should not take long if you have a good Internet connection.
How much space should the USB/DVD drive have to make a bootable image?
At least 8GB of storage devices are required to create a bootable Windows 10 media.
For how long will Windows 10 be supported?
Support for Windows 10 will end on October 14, 2025. After this date, Microsoft will no longer provide technical support, security updates, or bug fixes for Windows 10.
I'm running Windows 7. Can I upgrade to Windows 10 for free?
The free upgrade offer for Windows 10 ended on July 29, 2016. If you have a license for Windows 7, 8, or 8.1, you can still upgrade to Windows 10 for free. You can upgrade your system by downloading the Windows 10 Upgrade Assistant from Microsoft.
How do I activate Windows 10 after installation?
A valid product key is required to activate Windows 10. The product key can be entered during installation or from Settings > Update & Security > Activation, by clicking "Change product key". If you have a digital license for Windows 10 linked to your Microsoft account, you can sign in with your Microsoft ID to activate your installation automatically.
Windows 10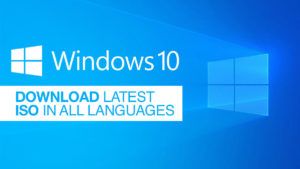 Microsoft released Windows 10 in 2016, a few years after the release of Windows 8 and Windows 8.1. Windows 8 had a negative impact on the users, as it seemed half baked compared to Windows 7.
Price: 139
Price Currency: USD
Operating System: Windows
Application Category: Operating System
Pros
User-Friendly Interface: Windows 10 comes with an easy-to-use interface, making it accessible even to novice users.
Compatibility: Windows 10 is compatible with a wide range of software and hardware, including older applications.
Built-in Security Features: Windows 10 has built-in security features, such as Windows Defender, which provides protection against viruses and malware.
Regular Updates: Microsoft regularly releases updates to Windows 10, which include security patches, bug fixes, and new features.
Improved Performance: Windows 10 has better performance and faster boot-up times than previous versions of Windows.
Cons
Privacy Concerns: Windows 10 has been criticized for collecting too much user data, including personal information and usage patterns.
Forced Updates: Windows 10 automatically installs updates, which can sometimes disrupt work or cause compatibility issues with certain applications.
Compatibility Issues: Although Windows 10 is generally compatible with older software, some older applications may not work properly on the new operating system.
Bloatware: Windows 10 comes with a lot of pre-installed apps and software that may not be useful to everyone and can take up valuable system resources.
Cost: Although its upgrade is free for Windows 8 and Windows 7 users, Windows 10 is not a free operating system. The cost can be a barrier for some users, who may prefer free alternatives, such as Linux or MacOS.