Microsoft has announced a new 20221 build for Windows 10 rolling out to the Dev channel for Windows Insiders. This build is packed with cool new features that bring convenience to its users by adding shortcuts and prioritizing their tasks.
What's new in Windows 10 Build 20221
MeetNow on Skype, now in Taskbar
Microsoft introduced the MeetNow feature on Skype earlier this year. They have now taken it a step further by introducing the MeetNow icon in the Notification Tray. Now users can easily set up a video conference with their loved ones using this icon in a few easy steps.
This does not require users to create an account first, nor does it require any downloads as it simply runs on your web browser.
MeetNow on Skype
Microsoft has already introduced MeetNow as a competition to other big names in the virtual meeting-hosting applications, such as Zoom and GoToMeeting. Similar to these apps, MeetNow was introduced to allow multiple people to join a single hosted meeting from anywhere, which could last up to 24 hours.
You can create a MeetNow meeting in Skype by clicking on Meet Now, and then click Host a meeting.

On the next screen, set the name of your hosted meeting and use the link provided to invite people to join it. You can also click on Share invite to invite people via other platforms, such as Outlook and Facebook, where Skype will compose text automatically to be shared with the people you choose to invite.

To join an existing meeting on MeetNow, click on Meet Now and then click Join a meeting. On the next screen, enter the shared link and then click Join.

MeetNow in Taskbar
As we mentioned earlier, with the new build 20221 installed on your Windows 10, the MeetNow option is now directly available from the Notification Tray within the Taskbar. It functions the same as it does in Skype, the only difference is that Skype is not required on the computer hosting the meeting, nor is required on the devices to join a meeting.
To host a meeting using the new MeetNow shortcut, click on the icon in the Notification Tray on the bottom-right corner of your screen.

Now click on Create a meeting.

A page will now open on your default web browser, displaying the page below. Enter the name of the meeting room and then use the link provided to invite users to your room, the same as Skype.

In order to join an existing meeting room, click on the MeetNow icon in the Notification Tray and then click Join a meeting.

A page will now open in your default web browser. Enter a link to the meeting shared with you by another person and click Join.

Pin notifications from Your Phone app
The Your Phone app is a built-in application in Windows 10. It is used to connect your phone to the computer to reply to text messages and access the gallery on your device directly from your PC.
The application also prompts the users of any notifications which are generated, such as emails, text messages, calls, etc. With the new preview build 20221, users can now pin their notifications on their feed so that it will remain on top.
The application is linked to a Microsoft account and does not require communication between your phone and your computer via Bluetooth or Wifi. Both devices should simply have an active internet connection.
If you see a notification on your computer in the Your Phone feed, simply click on the ellipses (three dots) in the top-right corner, and click Pin notification.

Changes and fixes in Windows 10 Insider Preview Build 20221
Microsoft has not only introduced new features to the Windows environment, but also has fixed some previously known issues, as well as made a few changes. Let's see what those are:
Adding a notification to prompt the users when an application supports running at startup.
The People app is no longer a standalone application and cannot be accessed directly, but rather through the Mail and Calendar applications.
Fixed an issue in Windows Settings where Manage Disks & Volume was not blocking the ability for users to change the drive letter.
Fixed an issue where the Start Menu went entirely transparent with certain applications running in the background.
Fixed an issue when typing with an IME in certain applications and the app would stop accepting any input.
Fixed a problem that would hang the Windows updates at 0% for a long time.
Fixed generic errors when using Windows Subsystem for Linux (WSL).
Known Issues
There are some problems with this new build 20221 for Windows 10, but Microsoft is already on top of it and claims to be working on many of them. Some of the significant issues that are acknowledged by Microsoft are:
Windows Update is often hanging when attempting to download and install this build.
The existing pinned sites do not support the new taskbar experience. Microsoft claims to be working on this issue.
Some Office applications have gone missing or are crashing after installing this build.
The Settings application crashes when accessing Manage Disk & Volumes.
Virtualization technologies throwing bug-check when running them.
Users are receiving the error "The remote procedure call failed" when running WSL2 distributions.
How to install Windows 10 Insider Preview Build 20221
If you are subscribed to the Dev channel of the Windows Insider Program, then you shall automatically receive the new update through Windows Updates. However, if you are anxious to receive the update without waiting, here is what you can do.
Navigate to the following location:
Start Menu -> Settings -> Update & Security -> Windows Update
Now click on Check for updates on the right side and the computer will start scanning for any newly available updates.

When scanned, click on Download now and the installation should begin.

You can also download the Standalone ISO file from Microsoft's Insider website. However, you will need to wait as the latest build 20221 is not yet available. Note that you will need to sign in using your registered Microsoft account.
Uninstall the preview update
If this update creates issues for your system, you can easily uninstall it using the following two ways:
Uninstall Windows 10 Insider Preview Build 20221 using the Windows Update History tool
Navigate to the following:
Start Menu -> Settings –> Update & Security –> Windows Update.
From the right-hand pane, click on View Update History.
Now click on Uninstall updates.
Select Update for Microsoft Windows (KB4578846) and press the Uninstall button. Note that the update name is the same for all the same builds. Hence, any preview updates with a different build but the same name will be removed along with this.
Uninstall Windows 10 Insider Preview Build 20221 using command-line
You can also delete the update by entering several commands in the Command Prompt. Here is how:
Open Command Prompt by typing in cmd in Run.
Enter the following command:
wmic qfe list brief /format:table
This will show all the updates installed on the computer. Make sure KB4578846 is on the list.
To uninstall the update, run the following command
wusa /uninstall /kb:4578846
Restart the computer once the update is uninstalled.
You may also leave the Windows Insider Program at any moment following the guide provided.
Cleanup after installing Windows Updates
If you want to save space after installing Windows updates, you can run the following commands:
dism.exe /Online /Cleanup-Image /AnalyzeComponentStore
dism.exe /Online /Cleanup-Image /StartComponentCleanup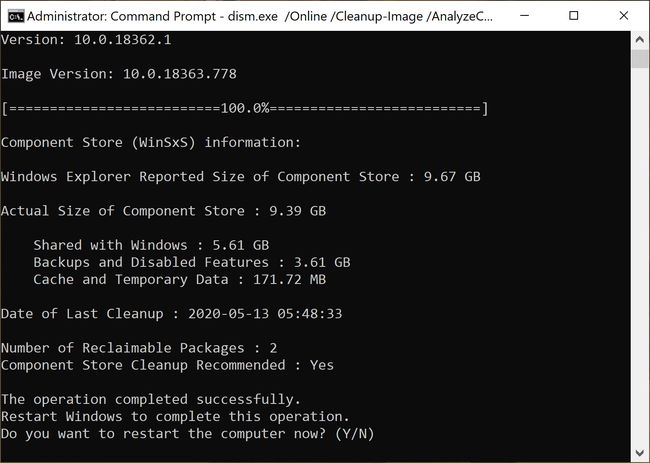 You can learn all about the Microsoft Insider Programs and check out how to join and manage them. You can also join the Windows Insider Program without creating or registering your Microsoft account.