A new build has been released on the Dev channel by Microsoft for the Insiders, the Windows 10 Insider Preview Build 20231.
Update 13/Oct/2020: Microsoft released KB4586238 for Windows 10 Insider Preview 20231. Installing this update will make the build no. 20231.1005. There are not changes or improvements in this update. It is only for testing Microsoft's own servicing pipeline. More details here.
This build brings two significant and exciting features: a dedicated customization page upon Out Of the Box Experience (OOBE) from where users can choose how they will be using their device and organizational level management for IT experts where they can manage per-device or per-user default applications.
Microsoft is introducing new features by the week for Insiders. In the previously released build 20226, they introduced storage health monitoring along with other features.
What's new in Windows 10 Preview Build 20231
Improved user relevancy experience through dedicated setup page
A new page has been added to the OOBE when setting up your Windows 10 environment, with the heading "Customize your device." Users can now select the purpose of the device they will be using it for, and then Windows will adjust what they see accordingly.
Since this is a setup page, it will only be visible when users reset their PC after installing the build or install a fresh copy of Windows.
After this screen, users will experience different screens and feature options, depending upon what they have selected here. Users can check the boxes next to the following options, as per their device usage practices:
Gaming
Discover new games and keep up on the latest news from the industry.
Schoolwork
Make quick notes and collaborate with people on your projects.
Family
Allot individualized profiles to each family member and manage their safety features and settings.
Entertainment
Connect to social media platforms and keep up with the latest movie releases.
Creativity
Edit images, videos, and presentations in the most creative way.
Business
Run your business by managing clients and expenses.
Brandon LeBlanc from Microsoft says that this feature is currently being rolled out to selective users, and will be available to every Insider on the Dev channel soon.
This feature is rolling out to a subset of Insiders in the Dev Channel at first, to help us quickly identify issues that may impact performance and reliability. Rest assured they will be gradually rolled out to everyone in the Dev Channel.
Default App File Association for Enterprise customers
The IT administrators in enterprises can now manage default applications for all their users and devices for specific file types. This can be managed through a Group Policy Object. This way, individual users would not need to choose default applications and will be standardized throughout the organization.
For example, the IT administrator can set Microsoft Edge as the default application for all PDF files, and these settings can be applied to individual users or even per-device.
To set up the default application, follow the steps below:
Manually modify the XML by adding 2 new properties:

Add Version="1" to the DefaultAssociations tag.
Add Suggested="True" to any Association tag.

Launch the Group Policy Editor by typing in gpedit.msc in Run.
From the left pane, navigate to the following:
Computer Configuration -> Administrative Templates -> Windows Components-> File Explorer
In the right pane, double-click Set a default associations configuration file.
In the Properties page, select Enabled, and then click Apply and Ok.

Now update the group policy by running the following command in Command Prompt:
gpupdate /force

This feature will also be gradually released for all Windows Insiders.
Changes and fixes in Windows 10 Insider Preview Build 20231
Along with the significant changes introduced with the new build which we have discussed above, Microsoft has also made a few other fixes and improvements with this new build. Let us discuss what those are:
The Meet Now button is now available in the Taskbar to every insider, which was initially introduced with build 20221.
Microsoft is starting to roll out a feature to view information about the GPU in the Settings app under System -> About
Features to move the text cursor via gestures are not rolling out to Insiders in the Dev channel.
The issue of vEthernet disconnection inside the WSL has been fixed.
The problem of unexpectedly switching to the wrong window when using the alt + tab shortcut keys has been addressed.
The problem of the Action Center and the notifications button that were not visible after switching between high contrast black and high contrast white has been fixed.
The problem of no notification for "Show audio alerts visually" has been addressed.
The problem with the narrator not announcing the signed-in username on the login screen and also not announcing the error message if a face was not recognized at Windows Hello has been fixed.
Task View reliability has been improved.
The Settings application hanging has been fixed for some Insiders.
The problem resulting from the PDF previews not being visible in File Explorer has been fixed.
The mischaracterization in the Chinese IME has been fixed if your text had an apostrophe.
Known issues
Like any other preview build, the 20231 also has its flaws, which Microsoft is already aware of and currently working on to fix. Below is a list of the known issues:
Some users have logged into temporary profiles with this and previous builds. Here is the fix.
The Windows Update process hangs for long periods of time when installing this update.
No live preview is available for pinned site tabs.
No new Taskbar experience for existing pinned sites. They need to be unpinned and re-pinned.
Some office applications go missing or stop working entirely after installing this update.
Some users are receiving a Compatibility Assistant notification stating "Microsoft Office is no longer available," even though it is previously installed and functional.
For some users, the taskbar is obscuring the power button in the Start Menu. For that, users may have to use the Windows Key + X shortcut keys to power off their devices.
How to install Windows 10 Insider Preview Build 20231
If you are subscribed to the Dev channel of the Windows Insider Program, then you shall automatically receive the new update through Windows Updates. However, if you are anxious to receive the update without waiting, here is what you can do.
Navigate to the following location:
Start Menu -> Settings -> Update & Security -> <a class="rank-math-link" href="https://www.itechtics.com/limit-windows-update-bandwidth/">Windows Update</a>
Now click on Check for updates on the right side and the computer will start scanning for any newly available updates.

When scanned, click on Download now and the installation should begin.

You can also download and make a fresh installation using the Standalone ISO file from Microsoft's Insider website. Note that you will need to sign in using your registered Microsoft account.
Rollback/remove the Windows 10 Insider Preview update
In case this build makes your system behave abnormally, you can always roll back to the previous version of the Operating System. However, this will only work if you roll back within the next 10 days after installing the new Insider build.
How to rollback Windows Update (including Windows 10 Insider build)
Cleanup after installing Windows Updates
If you want to save space after installing Windows updates, you can run the following commands:
dism.exe /Online /Cleanup-Image /AnalyzeComponentStore
dism.exe /Online /Cleanup-Image /StartComponentCleanup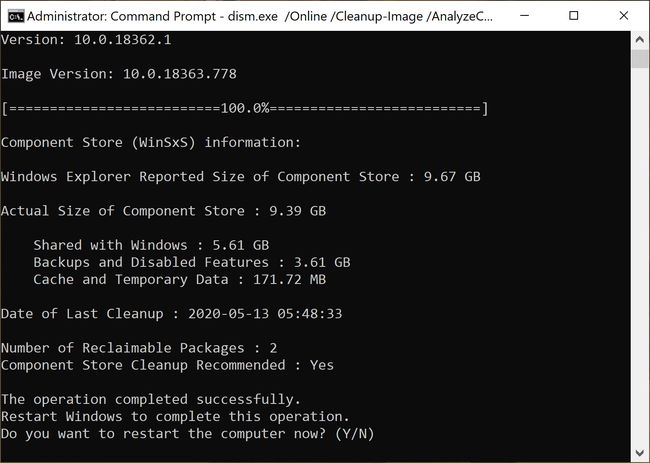 You can learn all about the Microsoft Insider Programs and check out how to join and manage them. You can also join the Windows Insider Program without creating or registering your Microsoft account.