Microsoft has released a new build on the Dev channel for Insiders, released from a new branch for Windows 10, the build 20246.
With many bug fixes and improvements, Microsoft has also decided to change the branch from which they release their Insider preview builds. Hence, you may notice that this build is being released from the FE_RELEASE branch instead of the previous MN_RELEASE branch, mentioned in the Windows Update, when downloading the new build.
Let's dig in further to see what the new build brings along.
What's new in Windows 10 Preview Build 20246
Microsoft shifts to new branch for Insider Preview releases
As mentioned above, Microsoft has decided to move to a new branch to manage its Dev Channel releases known as the FE_RELEASE. Microsoft had previously shifted to the branch MN_RELEASE back in May 2020. However, they have now decided to move their releases to another branch to prioritize all their work from a specific branch.
Microsoft warns that some features such as voice-typing, theme-aware splash screens, and other minor features have been removed in this build temporarily and will be brought back eventually due to this transition. So do not worry that some of your features might have disappeared. They will be re-introduced with newer releases.
Removal of Calendar app preview experience
Microsoft also points out that the Calendar app will soon be experiencing a change where its new look will be ripped and brought back to its older, classier look.
However, they ensured their users that Microsoft is working to give the best Calendar experience.
Updates for developers
For some time now, Microsoft has been releasing new updates for developers with each build released on the Dev channel. Here is what they have to say:
Windows SDK is now flighting continuously with the Dev Channel. Whenever a new OS build is flighted to the Dev Channel, the corresponding SDK will also be flighted.

Microsoft
You can now download the SDKs from the Insider's official website. Note that you will need to be logged in with a Microsoft account registered with the Windows Insider Program.
Changes and fixes in Windows 10 Insider Preview Build 20246
Microsoft has also addressed a few issues that users were experiencing with the older releases. Here is a list of the fixed issues and improvements with this new build:
A new command wsl.exe --install has been added to install a Linux distro automatically. Users can now use this command to quickly set up a WSL instance which is ready to go.
An issue of KMODE_EXCEPTION bugcheck has been addressed when users were using certain virtualization technologies.
The problem of some devices not being able to connect to the internet running Malwarebytes Web Protection has been fixed.
The bugcheck that appeared on tcpip.sys has been fixed.
The problem resulting from the Pick Time button in Windows Updates not doing anything has been addressed.
An unexpected border over the thumbnail while hovering over an item in Task View has been fixed.
The problem with chkdsk being stuck at 100 percent has been addressed.
A problem that resulted in a crash while disconnecting an audio device while playing audio has been addressed.
An issue where the Windows Update page would fail to load if the Wi-Fi was connected to a device without an internet connection has been fixed.
The Settings application crashing problem when accessing the Update and Security page has been taken care of.
The Storage Settings in the Settings app showing more space than is visible through File Explorer has been addressed, along with other issues on the same page.
Known issues
As with every new build in the Dev channel, this update also has a few issues that Microsoft is aware of. Here is a list of those known problems:
A problem with the secondary drive (Non-OS drive) being inaccessible after installing a game from the store has been reported. Microsoft has proposed a workaround: You must change the location of the default storage before installing it. This can be done through:
Settings -> Storage -> Change where new content is saved.
The update process hangs for long periods when downloading the new build 20246.
Live previews for pinned sites in the Taskbar have not yet been published for all insiders. Hence, users might see a blank or grey image when they hover their mouse over the Taskbar's thumbnails.
The new Taskbar experience is not yet active for the already-pinned sites. Users can re-pin while removing them from the edge://apps page.
Microsoft is currently working on a fix for the DPC_WATCHDOG_VIOLATION bugcheck some users are experiencing.
Some users are experiencing that the Taskbar may be obscuring the Power button in the Start Menu.
Some Windows Insiders may experience Windows PowerShell crashing on devices with ARM architecture. Microsoft has provided a workaround for users to run the 32-Bit version of PowerShell or download the modern PowerShell 7 from Microsoft store and use it.
The majority of these known issues with the build have been carried on from the previous releases, and Microsoft has yet to determine their cause and fix them. Let's wait for the newer builds to see whether Microsoft has progressed in fixing these issues or have they just introduced new ones.
How to install Windows 10 Insider Preview Build 20246
If you are subscribed to the Dev channel of the Windows Insider Program, then you shall automatically receive the new update through Windows Updates. However, if you are anxious to receive the update without waiting, here is what you can do.
Navigate to the following location:
Start Menu -> Settings -> Update & Security -> <a class="rank-math-link" href="https://www.itechtics.com/limit-windows-update-bandwidth/">Windows Update</a>
Now click on Check for updates on the right side, and the computer will start scanning for any newly available updates.

When scanned, click on Download, and the installation should begin.

Currently, there is no standalone ISO available for the users to make a fresh install with.
Sixth anniversary badge
It has been six years since Microsoft started its Insider Programs. To celebrate their achievement, they have released badges for Insiders to claim through the Microsoft accounts. Visit Feedback Hub -> Achievements to claim your badge.
Rollback/remove the Windows 10 Insider Preview update
If you do not wish to keep the installed preview update for some reason, you can always roll back to the previous build of the OS. However, this can only be performed within the next 10 days after installing the new update.
To rollback back after 10 days, you will need to apply this trick.
Cleanup after installing Windows Updates
If you want to save space after installing Windows updates, you can run the following commands:
dism.exe /Online /Cleanup-Image /AnalyzeComponentStore
dism.exe /Online /Cleanup-Image /StartComponentCleanup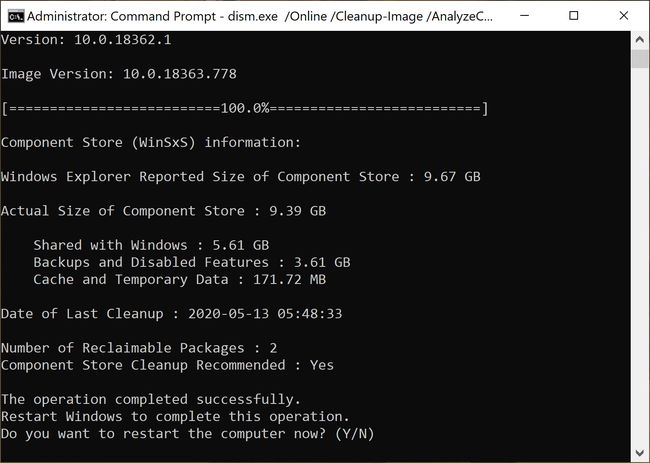 You can learn all about the Microsoft Insider Programs and check out how to join and manage them. You can also join the Windows Insider Program without creating or registering your Microsoft account.