Windows 10 Insider Preview Build 20251 Comes With Lots Of Fixes
Microsoft has recently released a new build on the Dev channel for Insiders, which adds new features to the Windows Operating System, the build 20251. As with the previous release, Microsoft has also released this new update from the new FE_RELEASE branch.
The new build does not include any new features but contains a lot of bug fixes and performance enhancements. Let us dig further into the details of what the new build has to offer.
Table of contents
What's new in Windows 10 Preview Build 20251
As mentioned, this update did not bring any new features to Windows. Rather, it focuses more on fixing the previously known problems highlighted by Insiders.
Updates for developers
For some time now, Microsoft has been releasing new updates for developers with each build released on the Dev channel. Here is what they have to say:
Windows SDK is now flighting continuously with the Dev Channel. Whenever a new OS build is flighted to the Dev Channel, the corresponding SDK will also be flighted.

Microsoft
You can now download the SDKs from the Insider's official website. Note that you will need to be logged in with a Microsoft account registered with the Windows Insider Program.
Fixes in Windows 10 Insider Preview Build 20251
Microsoft has fixed a few issues that users were experiencing with the older releases. Here is a list of the fixes made with this new build:
An issue with the dialog boxes' background being grey instead of white has been fixed.
The notorious problem with the Taskbar covering the Power button in the Start Menu has finally been resolved.
The problem of some insiders experiencing SYSTEM THREAD EXCEPTION NOT HANDLED bug check has been fixed.
System crash due to a certain .dll file has been fixed.
The Settings application hanging problem when checking for updates, amongst other issues, has been addressed.
The problem with the Search Indexer not being able to retrieve metadata has been fixed.
The system being idle when clicking the "Cast to Device" option has been fixed.
Freezing problems with Miracast being used have been addressed.
Known issues
As with every new build in the Dev channel, this update also has a few issues that Microsoft is aware of. Here is a list of those known problems:
A problem with the secondary drive (Non-OS drive) being inaccessible after installing a game from the Microsoft store has been reported since the release of build 20236. Microsoft has proposed a workaround: You must change the location of the default storage before installing it. This can be done through:
Settings -> Storage -> Change where new content is saved.
The update process hangs for long periods when downloading the new builds.
Live previews for pinned sites in the Taskbar have not yet been published for all insiders. Hence, users might see a blank or grey image when they hover their mouse over the Taskbar's thumbnails.
Some Windows Insiders may experience Windows PowerShell crashing on devices with ARM architecture. Microsoft has provided a workaround for users to run the 32-Bit version of PowerShell or download the modern PowerShell 7 from Microsoft store and use it.
Some users see the error 0x80070426 when signing into certain apps using their Microsoft accounts. Microsoft claims that rebooting the computer resolves the problem.
Some insiders are claiming that no drives appeared Settings -> System -> Storage -> Manage Disks and Volumes after installing the build 20251. Microsoft has asked users to manage their drives through its legacy Disk Management tool for the time being. You can also open legacy Disk Management by going to Run –> diskmgmt.msc.
How to install Windows 10 Insider Preview Build 20251
If you are subscribed to the Dev channel of the Windows Insider Program, then you shall automatically receive the new update through Windows Updates. However, if you are anxious to receive the update without waiting, here is what you can do.
Navigate to the following location:
Start Menu -> Settings -> Update & Security -> <a href="https://www.itechtics.com/limit-windows-update-bandwidth/">Windows Update</a>
Now click on Check for updates on the right side, and the computer will start scanning for any newly available updates.

When scanned, click on Download and the installation should begin.

Currently, there is no standalone ISO available for the users to make a fresh install with.
Rollback/remove the Windows 10 Insider Preview update
If you do not wish to keep the installed preview update for some reason, you can always roll back to the previous build of the OS. However, this can only be performed within the next 10 days after installing the new update.
For rolling back after 10 days, you will need to apply this trick.
Cleanup after installing Windows Updates
If you want to save space after installing Windows updates, you can run the following commands:
dism.exe /Online /Cleanup-Image /AnalyzeComponentStore
dism.exe /Online /Cleanup-Image /StartComponentCleanup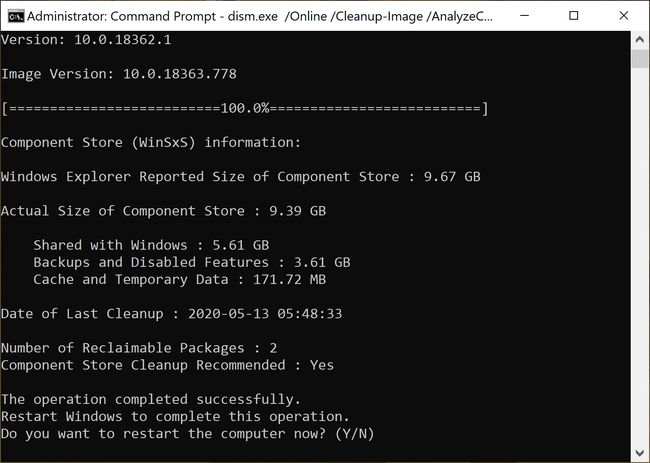 You can learn all about the Microsoft Insider Programs and check out how to join and manage them. You can also join the Windows Insider Program without creating or registering your Microsoft account.
Also see: