Microsoft has released two new Windows 10 Insider Preview Build 20277 and 21277, both on their Dev Channel. These are optional builds for the user to choose from, as both are offered from two different release branches. Build 20277 has been released from the FE_RELEASE branch, while build 21277 has been released from the RS_PRERELEASE branch.
Users can download and install either one of these builds, but not both. Once a branch has been chosen, Windows will continue to download the following Insider updates from the same branch until Microsoft finally shifts all Dev users to the RS_PRERELEASE channel, which they claim will be done after the upcoming holidays.
Note that each build will bring different features and fixes to the OS. Let's see what builds 20277 and 21277 have to offer.
What's new in Windows 10 Preview Builds 20277 and 21277
As we mentioned earlier, both the releases are from different branches; hence they have different things to offer to the users. You can make an informed update to your OS using the details provided, as you may not be able to switch between the branches later.
Build 20277 (FE_RELEASE)
The Windows 10 Insider Preview Update 20277 does not have any new features to offer but comes with minor fixes. Occasionally the WinRE volume label gets lost after a few updates. The problem has been fixed. Moreover, the failure of certain apps closing with the error code 0x80073D02 has also been addressed.
However, there are also a few known issues associated with this release but they are not new to Insiders. These issues include the update process hanging for a prolonged time. The taskbar experience for pre-pinned sites is yet to be enabled, amongst other issues highlighted in previous Insider builds.
You can read more about the changelog for build 21277 here.
Build 21277 (RS_PRERELEASE)
Unlike in the FE_RELEASE, the Windows 10 Insider Preview Build 21277 has brought a few features to the table.
Users can now use x64 applications on ARM devices, thanks to the new x64 emulation feature in this new update. Users can now use a wide variety of applications directly from the Microsoft store built for 64-Bit architecture on their PC having ARM.
Microsoft has also incorporated support for Unicode Emojis 12.1 and 13.0. This brings more than 200 new emojis to users while updating existing emojis with a more gender-neutral design.
To use these cool, new emojis, simply use the shortcut Windows Key + period (.) or Windows key + semicolon (;).
Apart from these new features, Microsoft has also made significant changes, improvements, and fixes to their OS. From the improved performance of the animations to redesigning the folder logic in the Start Menu, Microsoft has put a lot of effort into making the user experience easier with this new release. You can read more about the changelog for build 21277 here.
As with all updates, Microsoft is also aware of the issues it still has and claims to be working on the users' feedback.
Updates for developers
For some time now, Microsoft has been releasing new updates for developers with each build released on the Dev channel. The same is the case with each of these builds. Here is what they have to say:
Windows SDK is now flighting continuously with the Dev Channel. Whenever a new OS build is flighted to the Dev Channel, the corresponding SDK will also be flighted.

Microsoft
You can now download the SDKs from the Insider's official website. Note that you will need to be logged in with a Microsoft account registered with the Windows Insider Program.
How to install Windows 10 Insider Preview Builds 20277 and 21277
Since Microsoft has released two new updates to the same channel, these will not be installed automatically through the Windows Update on any computer. Rather, a user will need to download and install either one of the releases manually. Here is how to do so:
Navigate to the following location:
Start Menu -> Settings -> Update & Security -> Windows Update
Now click on Check for updates on the right side and the computer will start scanning for any newly available updates.

When scanned, click on Download to install the Windows 10 Insider Preview Build 20277, or click on Download and install at the bottom to install Windows 10 Insider Preview Build 21277.

Remember to choose wisely, as you may not be able to switch between the builds, nor the release branches, at a later time.
Rollback/remove Windows 10 Insider Preview update
If you do not wish to keep the installed preview update for some reason, you can always roll back to the previous build of the OS. However, this can only be performed within the next 10 days after installing the new update.
For rolling back after 10 days, you will need to apply this trick.
Cleanup after installing Windows Updates
If you want to save space after installing Windows updates, you can run the following commands:
dism.exe /Online /Cleanup-Image /AnalyzeComponentStore
dism.exe /Online /Cleanup-Image /StartComponentCleanup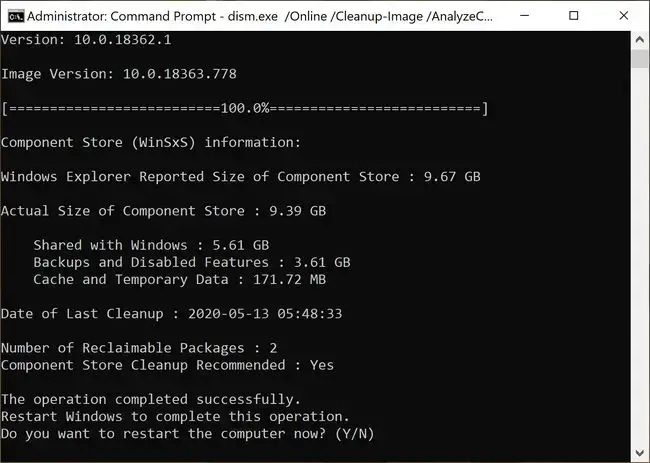 You can learn all about the Microsoft Insider Programs and check out how to join and manage them. You can also join the Windows Insider Program without creating or registering your Microsoft account.