Microsoft has released yet another update to the Dev Channel for their Insiders. Microsoft claims that from here on out, all Insiders will receive the same build in the Dev Channel, regardless of their geographical location. This update mainly focuses on fixing issues that existed in previous releases and making the user experience with Windows 10 better.
Let us continue to dig into what other changes this new release brings.
What's new in Windows 10 Insider Preview Build 21296
Just like Insider Preview Build 21292, this release also does not introduce any new features. However, it does bring several fixes to the Xbox Game Bar. It also ensures that the option to create and manage Storage Spaces from within the Settings app is made available to every insider who updates to this release, which was introduced with build 21286, but not many insiders received this update at the time.
Improvements and fixes in Windows 10 Insider Preview Build 21296
Here is a list of the implemented fixes once you have updated your device to build 21296:
Users can now pin, unpin, delete, and sync their individual entries in the converged clipboard history.
The option to manage and create Storage Spaces just through the Settings application will be available to every insider in the Dev channel from this build forward.
Call of Duty game issues: Modern Warfare and Call of Duty: Black Ops Cold War not launching has been fixed and is currently in the process of rolling out to users. Microsoft recommends updating your game(s) as well for the best output.
An issue where the Xbox Game War was launching on its own has been taken care of.
The issue of the device being unresponsive when launching the Xbox Game Bar has been fixed.
The issue of Program Compatibility Assistant often taking up large chunks of the CPU has been addressed.
The problem with explorer.exe hanging when mounting ISO images has been addressed.
The issue that resulted in the Microsoft Security app showing a button as well as a link to check for updates simultaneously has been addressed.
An issue where certain users experience rendering issues when resizing windows has been addressed.
This build will restore x64 emulation to ARM64 if it has been affected by the last build.
An update is available for insiders using 64-bit apps on ARM64, which adds vcruntime140_1.dll and fixes crashes occurring in several CAD applications. Visit this link to install this update.
Known issues
As with every new build in the Dev channel, this update also has a few issues that Microsoft is aware of. Here is a list of those known problems:
Microsoft is aware of an issue with some games crashing or hanging, such as State of Decay 2, Assassin's Creed, etc.
Some 32-Bit systems may lose network connectivity after a while of installing this update. Microsoft suggests pausing the Insider update if this is a significant problem for the user.
Users may experience low frame rates while using Miracast.
The update process hangs for extensive periods of time when installing the new build.
Microsoft is aware of an issue impacting the reliability of the Start Menu and a few other apps. This issue started with the last build 21292.
Aero Shake is disabled in the new build by default. It can be enabled by creating a new DWORD (32-Bit) Value by the name "DisallowShaking" with Value Data of 0 at the following location:
HKCU\Software\Microsoft\Windows\CurrentVersion\Explorer\Advanced
Live previews for pinned sites in the Taskbar have not yet been published for all insiders. Hence, users might see a blank or grey image when they hover their mouse over the Taskbar's thumbnails.
Microsoft is currently working on enabling a new taskbar experience for insiders. However, users can unpin the pinned sites from the taskbar, remove them from Microsoft Edge by going to the edge://apps page, and then re-pin the sites.
News and interests:

Installing this new build will reset it to "Show icon and text." However, Microsoft assures that this has been fixed for later builds.
Often the news and interests window cannot be closed using a touch/pen
The flyout uses more space on the taskbar than expected.
The flyout can display stale information at times when the user signs in.
Initially, the content is displayed in a single column which then switches to a double-column layout.
Higher screen resolution makes the text look pixelated.
The Taskbar's context menu and news and interests flyout overlap.
Sometimes the news and interests utilized 100 percent CPU upon the first launch.
The flyout dismisses itself when attempting to share the content.

Insiders who had installed Qualcomm Adreno graphics driver on their Surface Pro X may experience lower brightness levels.
Most of these issues have been carried forward from the last build, and Microsoft has not seemed to solve them yet.
How to install Windows 10 Insider Preview Build 21296
If you are subscribed to the Dev channel of the Windows Insider Program, then you shall automatically receive the new update through Windows Updates. However, if you are anxious to receive the update without waiting, here is what you can do.
Navigate to the following location:
Start Menu -> Settings -> Update & Security -> <a href="https://www.itechtics.com/limit-windows-update-bandwidth/">Windows Update</a>
Now click on Check for updates on the right side and the computer will start scanning for any newly available updates.

Once scanned, click on Download and the installation should begin.
Unfortunately, a standalone ISO version for build 21292 has not yet been made available on Microsoft's page.
Rollback/remove Windows 10 Insider Preview update
If you do not wish to keep the installed preview update for some reason, you can always roll back to the previous build of the OS. However, this can only be performed within the next 10 days after installing the new update.
To rollback after 10 days, you will need to apply this trick.
Cleanup after installing Windows Updates
If you want to save space after installing Windows updates, you can run the following commands:
dism.exe /Online /Cleanup-Image /AnalyzeComponentStore
dism.exe /Online /Cleanup-Image /StartComponentCleanup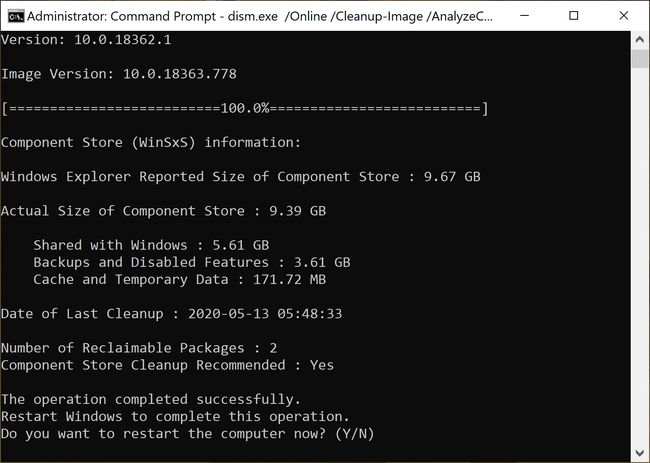 You can learn all about the Microsoft Insider Programs and check out how to join and manage them. You can also join the Windows Insider Program without creating or registering your Microsoft account.