Microsoft released Build 21313 last week, and today they've added Windows 10 Insider Preview Build 21318 to the updates list. There are two new features and a lot of other small improvements in the new build. There are a lot of issues yet to be addressed.
Windows 10 clipboard history now has the option to paste as plain text. If you use the Windows clipboard history feature, you will now be able to paste copied content as plain text, thereby removing ‌any‌ ‌ formatting.
If you are a Windows Insider, you should get an update notification by now. Let's see what Windows 10 Insider Preview Build 21318 has to offer.
What's new in Windows 10 Insider Preview Build 21318
Paste as plain text
If you use Google Chrome or any other modern browser, you should be familiar with paste as plain text option. If you have copied any text and want to paste it without formatting, you can use CTRL + SHIFT + V. This will remove the formatting and only paste the text.
Windows 10 Insider Preview Build 21318 introduces the same feature inside of the clipboard history.
"Simply open clipboard history (WIN + V) and click the … button next to any text-based entry in your clipboard history – you will now see a 'Paste as plain text' option alongside pin and delete,"

Brandon LeBlanc
This feature will initially be released to a handful of dev insiders. It will only be available to all insiders after the initial testing.
Digital ink integration in Microsoft Journal
The second main feature addition to Build 21318 is the Microsoft Journal digital ink. Microsoft Journal is an app for people who want to write journals. Using a Journal using a digital pen or a touch screen can be very useful for quickly drawing sketches, adding annotations and jotting down ideas without wasting time.
You can download and install Microsoft Journal. With build 21318, you will also get digital ink experience with the app.
New GPO Option
According to Tero Alhonen, there is a new option in Group Policy Editor of build 21318.
Turn off cloud consumer account state content
Other changes and improvements
x64 apps will no longer require extra downloads and installations‌ ‌of‌ ‌the‌ ‌ARM64‌ ‌C++‌ ‌redistributable‌ ‌ package.
Notifications when pairing supported Bluetooth devices will now remain on the screen for a little longer, giving you time to interact with them. You can still dismiss a notification at any point by clicking the X in the notification, by pressing the middle-click, or by swiping‌ ‌the‌ ‌notification‌ ‌off‌ ‌the‌ ‌screen.
There are now improvements to the Touch keyboard, as mentioned in Build 21301, which includes updates to the default keyboard layout for 12" or larger screens and the candidate bar.
With Magnifier – for the scenario where you are switching between keyboard focus and mouse focus – you will see improved smoothness of motion.
Fixes
With this build, News and interests button changes in size depending on the space available on your taskbar.
A bug was fixed ‌where‌ ‌updating‌ ‌the‌ ‌Windows‌ accent‌ ‌color‌ ‌would‌ ‌not‌ ‌immediately‌ ‌update‌ ‌in‌ ‌News and interests ‌flyout.
News and interests bug where the flyout would dismiss if you attempted sharing via email without opening Mail.
A bug in News and interests where the flyout appeared quicker than other elements on the taskbar when hovering was fixed.
Fixed the right side of the quick actions area was cut off in the Action Center.
Fixed Netflix and other apps could not play DRM content on ARM64.
The issue where x64 apps like OBS Studio couldn't activate the camera on ARM64 is resolved.
Now users are able to install Azure Data Studio and SQL Server Management Studio on ARM64 systems.
Fixed several PowerShell cmdlets running in x64 PowerShell on ARM64. Examples of some PowerShell cmdlets that now work: Enable-PSRemoting, Enable-WindowsOptionalFeature, Get-VpnConnection.
Fixed active keyboard layout would be reset to the default after connecting ‌via‌ ‌Remote‌ ‌Desktop.
It is now possible to press CTRL + / while in Off mode without an ellipsis being put in place.
This update solves an issue where it was possible to find the Pinyin IME settings with search. If you are using Pinyin IME, typing Pinyin into search should now give you these settings‌ ‌pages.
Fixed the touch keyboard could become larger than expected‌ ‌after‌ ‌disconnecting‌ ‌an‌ ‌external‌ ‌monitor.
Fixed when using Windows in high contrast, the emoji tooltips displayed an unexpectedly thick border.
Fixed the option Keep my files was failing when choosing Reset my PC.
The Open dialog is no longer unexpectedly small when invoked from certain apps and shifted‌ ‌across‌ ‌monitors‌ ‌with‌ ‌different‌ ‌scaling.
Fixed when using the arrow keys to move through the apps list in the Start menu, Narrator would say "No item in view".
This version of Windows allows you to unpin apps from the Start menu.
Fixed ‌Domain‌ ‌networks‌ ‌would‌ appear‌ ‌with‌ ‌the‌ ‌wrong‌ ‌firewall‌ ‌profile‌ ‌resulting‌ ‌in‌ ‌some‌ ‌local‌ ‌network‌ ‌ services‌ ‌being‌ ‌blocked.
Some Insiders reported seeing an issue with the text "Don't turn off your computer" when upgrading to the previous flight. This will no longer be an issue with this flight, as we have changed the text to "Please keep your computer on and plugged in".
You can go through the known issues here.
How to install Windows 10 Insider Preview Build 21318
If you are subscribed to the Dev channel of the Windows Insider Program, then you shall automatically receive the new update through Windows Updates. However, if you are anxious to receive the update without waiting, here is what you can do.
Navigate to the following location:
Start Menu -> Settings -> Update & Security -> <a href="https://www.itechtics.com/limit-windows-update-bandwidth/">Windows Update</a>
Now click on Check for updates on the right side and the computer will start scanning for any newly available updates.

Once scanned, the download and installation should begin automatically.

Allow ample time for the download and installation to finish. Once done, reboot the computer and your upgrade is done.
Unfortunately, a standalone ISO version for build 21301 has not yet been made available on Microsoft's page.
Rollback/remove Windows 10 Insider Preview update
If you do not wish to keep the installed preview update for some reason, you can always roll back to the previous build of the OS. However, this can only be performed within the next 10 days after installing the new update.
To rollback after 10 days, you will need to apply this trick.
Cleanup after installing Windows Updates
If you want to save space after installing Windows updates, you can run the following commands:
dism.exe /Online /Cleanup-Image /AnalyzeComponentStore
dism.exe /Online /Cleanup-Image /StartComponentCleanup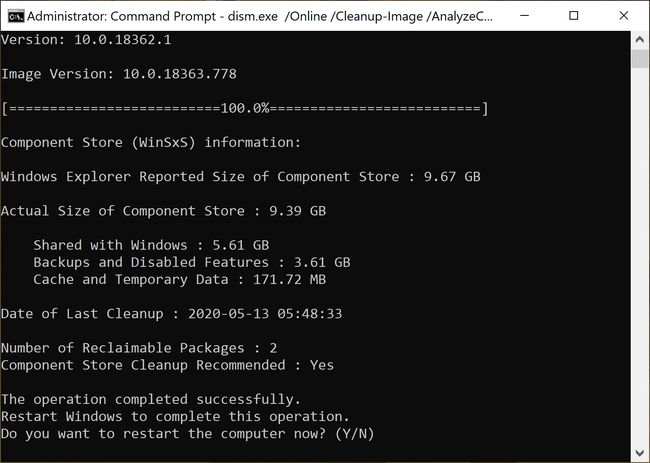 You can learn all about the Microsoft Insider Programs and check out how to join and manage them. You can also join the Windows Insider Program without creating or registering your Microsoft account.