The taskbar is usually located at the bottom of the Windows 10 display where you can see the currently open apps along with the system tray which gives information like battery usage, sound icon, network icon, calendar etc.
While the taskbar remains visible for all the applications and programs open on the system, Windows automatically hides it when an app is launched which requires full-screen mode, for example, when you open Youtube in fullscreen mode, run a video player like VLC player or start playing a video game.
There are times when the taskbar refuses to hide when a fullscreen app is launched. This can be annoying especially when you are playing a video game or watching a high-quality movie.
Fixes to the Windows 10 taskbar not hiding
This is possible due to a number of reasons, including the personalized settings of your Windows or an application interfering with the display etc. In this article, we will discuss various ways to possibly fix the issue for you.
Solution 1: Restart Windows Explorer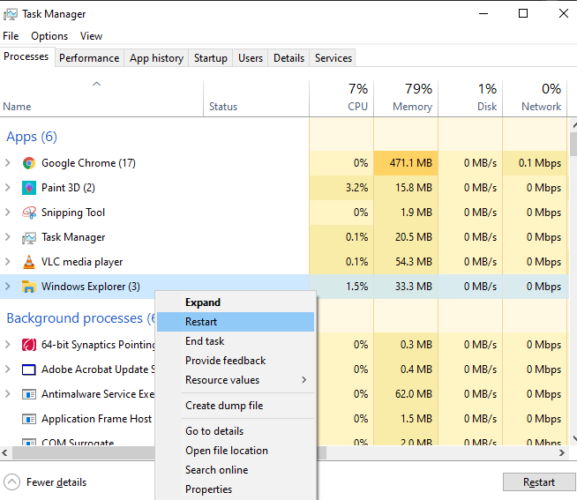 If any application or Windows 10 notification system is interfering with the fullscreen mode, the best way to fix this is to restart Windows Explorer.
Open Task Manager (Ctrl + Shift + Esc)
Under the Processes tab (which would be open by default) locate Windows Explorer
Right-click Windows Explorer and select Restart.
This trick solves the problem most of the time. But if you are still having issues, continue with the fixes mentioned below.
Solution 2: Use the F11 Function key for full-screen mode
Another simple way to quickly hide the taskbar in full screen is using the F11 function key. This works for all Windows versions. If you are viewing a video on VLC Media Player, simply press the F11 key to maximize it to fullscreen and to hide the taskbar.
The F11 key works for most applications including web browsers like Microsoft Edge, Chrome and Firefox.
Solution 3: Configure Windows to autohide the taskbar
Windows gives the users an option to autohide the taskbar when it goes out of focus. You can make the taskbar visible again by dragging your mouse cursor to the bottom of the screen.
This method will hide the taskbar even for applications that do not require fullscreen mode. This can give you some more screen space to work with.
Go to the Windows Settings (Windows key + I)
Go to Personalization –> Taskbar
Enable the "Automatically hide the taskbar in desktop mode" option by toggling it to ON.

Solution 4: Hiding taskbar in Youtube videos in Chrome
The previously mentioned methods also work for hiding taskbar in Youtube videos too. But in case you are still not hiding, you can change the settings of Chrome.
Hardware acceleration can be a cause of the Windows 10 taskbar not hiding in fullscreen Chrome videos. Disabling hardware acceleration on any browser will fix this issue if you are viewing fullscreen videos in the browser. You should also try disabling system level hardware acceleration in Windows 10.
Final thoughts
The solutions discussed above can be used to fix both videos and games not going into fullscreen mode.
Running applications in fullscreen mode can give a distraction-free user experience. It's always important to fix the small distractions that come your way. At itechtics, we keep on providing fixes to the most common problems. If you are having any issues with your Windows computer, you can tell us by commenting here and we'll try to find a fix for you.
Once you have fixed the issue, you can also look into similar issues like installing audio and video codecs for playing all types of audio, increase the maximum volume of your PC and download Windows Media Center for Windows 10.