Download and Install Windows 11 Version 22H2 Now
Microsoft officially confirmed its next Windows 11 operating system version, which is Windows 11 Version 22H2. Previously, this update went by the name "Sun Valley 2," but Microsoft shifted to another naming convention a few years back.
Up until last year, Microsoft released two major updates to Windows 10; each in the first and second half of the year. Since the release of Windows 11, Microsoft has shifted to a single major release per year, hence the name "22H2."
The "22" in "22H2" annotates the year 2022, and "H2" denotes that it will be released in the 2nd half of the year 2022.
With that, people are expecting great things from this new operating system. Some are even saying that this release might be "a new era for the computer world."
We have already tested the expected features in the new release through the Windows Insider Program. This is also where Microsoft confirmed the name for the upcoming Windows 11 version. Microsoft has released Windows 11 Build 22567.100 to the Dev channel, which states the following complete name:
Cumulative Update for Windows 11, Version 22H2 Insider Preview (10.0.22567.100.) (KB5012427)
Microsoft has now also released Build 22567.200 for version 22H2 to the same Insider channel.
This is how Microsoft confirmed the new name for the upcoming Windows 11 release.
Windows 11 22H2 Release Date
Microsoft has not yet announced the exact date for the release of Windows 11 22H2. Since the name is "22H2," it will be released in the second half of the year.
Previously, these flights were made in September. However, since Microsoft has finalized the name for the release, it looks like they are finishing up on the final version, and might be released earlier than expected.
If you'd like to try out the new features in Windows 11 22H2 now, you can install them using the given guide further down this post.
New in Windows 11 22H2
Let us now discuss the new features and improvements made to the Windows 11 operating system that are to be included in the final release.
Note: The features listed below have been released to Insiders, but can be removed in the final stable release. Although this is not usually the case, Microsoft usually only fixes and improves the features introduced until the time it is officially released.
Users can now customize the Taskbar as well as the Start Menu according to their preferences. In Windows 11 22H2, you can drag and drop items in and out of the Taskbar, and make folders of pinned apps in the Start Menu.
Also, you can now view 3 categories of applications in the Start Menu:
Recently-added apps
Most-used apps
Recently-accessed apps
Other improvements have also been made. For example, Microsoft has added the ability to view the date and time on all Taskbars if multiple monitors are connected. A weather widget has also been added to the Taskbar with improved widgets.
Another useful feature is that you can now mute or unmute Microsoft Teams calls directly from the Taskbar.

Spotlight Collection for Desktop
Previously, Spotlight Collection was only available for the lock screen. Microsoft has now also introduced it to your desktop in Windows 11 22H2. Once the Spotlight Collection is enabled, the desktop background will now automatically change up to 5 times in 24 hours. These images will also provide textual information about the image and the things in it, which can be expanded by clicking on them.
Navigate to the following to check out the new Spotlight collection:
Settings app >> Personalization >> Background
Now select Windows Spotlight from the drop-down menu in front of "Personalize your background." This will immediately change your wallpaper.
New Media Player
A new media player has been added to the operating system which will replace the legacy Groove Music application. The new Windows Media Player supports both audio and video files, centralizing your entertainment needs with a single app.
Improvements to the Settings App
Plenty of changes and improvements have been made over several Windows flights for Windows 11. We will try to cover all changes made to the Settings app since the official release of Windows 11.
User Interface (UI) changes have been made to round off the corners of the screens if multiple monitors are connected to the Display page. This change has been made to keep the app more in tune with Windows 11.
The Storage Space and then Disks & Volumes pages have been redesigned to make them look more appealing and user-friendly. Moreover, the Apps & Features page has now been divided into Install apps and Advanced App Settings to segregate the different types of settings for the applications installed on your computer.
A new page by the name "Your Microsoft Account" has also been introduced on the app that allows you to manage your Microsoft account directly from the app.
A lot of other changes have also been made to the Settings app to give you more control over your OS with even more convenience.
Redesign and UI Improvements
Microsoft has also improved some other things that usually go neglected. This includes the general look and feel of various windows and options in the operating system.
Microsoft has now improved the snap layouts even more. You can now drag a window to the top of the screen and adjust how the window is displayed from the snap layouts.
Media controls in the corner of the lock screen have also been redesigned to keep them more in tone with Windows 11.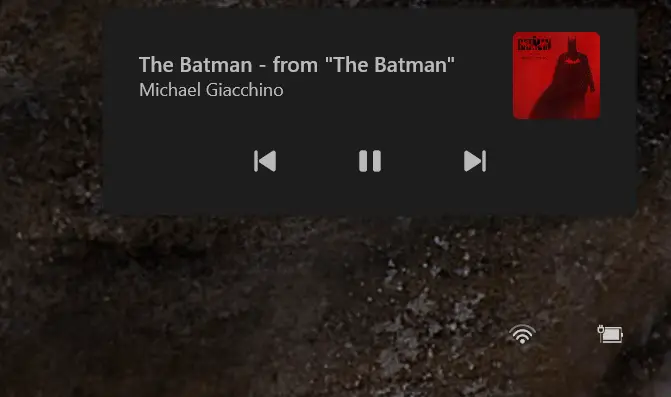 The "Open With" dialog box has also been updated and redesigned so it does not look exactly like it has been for the last decade.
Microsoft has made several major improvements to the "Your Phone" application. They now want their users to stop switching between the computer and their phone when both of them can be managed directly from the computer.
They have redesigned the Calls section of the app and made it much easier to access the recently-used Android apps directly from the Quick Access menu. Microsoft has also added the ability to link your phone directly from the Out Of Box Experience (OOBE) screen when setting up the OS.
The flyouts for the hardware indicators for brightness, volume, airplane mode, camera on/off, etc. have also been updated to have a modern look.

The Notepad application has been updated in accordance with Windows 11. It now also supports dark mode. By default, Notepad will adapt to the OS theme.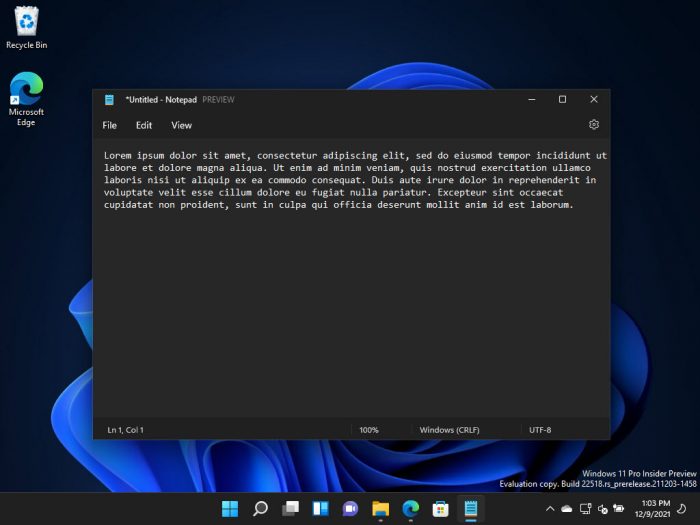 Microsoft has introduced a "Live Captions" feature that will show captions for audio files automatically. The captions are automatically generated at the top or bottom of the window, or in a separate floating window, which can be resized.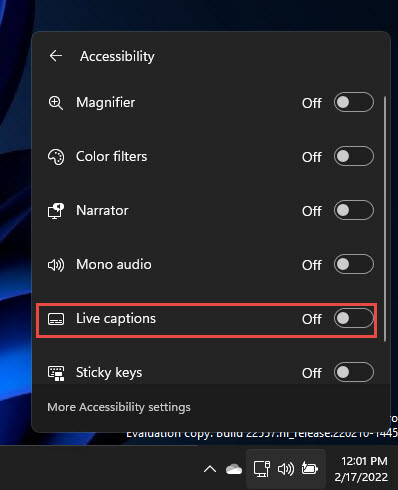 You can enable this feature using the Windows Key + CTRL + L shortcut keys, or from the Accessibility flyout under Quick Settings.
Improved Narrator
The narrator is an integral part of the OS for people with disabilities. Microsoft has been working on the Narrator for quite some time and has made visible progress.
It has been integrated with Microsoft Edge to give a better, smoother online browsing experience. Moreover, new natural voices have also been added so you can now choose which voice you wish to hear.
Other than that, many improvements have also been made so that the Narrator now functions more smoothly, and reads out as much text on the screen as possible.
Improved Voice Access
Voice Access allows you to perform tasks on your computer using your voice. Significant improvements have been made to this tool to assist you in performing specified actions, as well as new commands that have also been integrated.
Furthermore, you can now control the on-screen keyboard with Voice Access as well. Voice Access also allows you to convert voice-to-text and dictate in many different languages.
File Explorer
File Explorer is another integral part of the Windows operating system. Some improvements have also been made to this component.
You can now pin files to the Quick Access menu in Explorer. Moreover, OneDrive has been integrated into Explorer. Users will now no longer need to navigate back and forth from different windows to move their files and folders from the OneDrive cloud storage service.
Windows Subsystem for Android (WSA)
Microsoft has introduced Windows Subsystem for Android (WSA). Just like Windows Subsystem for Linux (WSL), WSA also requires virtualization technology to run the applications. Therefore, one of the requirements to run Android apps is that virtualization is enabled.
Using this technology, you can now run Android applications natively on your computer. That said, this feature is still in its early development stage, thus only supports a handful of Android applications right now.
System Changes
Windows 11 version 22H2 will support Windows Hello Facial recognition from an external monitor with a camera.
Microsoft has also made changes to the Emoji Panel (Windows Key + .) which enhances your personalization experience. You can now customize the faces and skin tones of the emojis in the Emoji Panel to match those around you. This feature is specific to the emojis that include more than one person/face, such as family members, couples with hearts, kissing, and people holding hands.
Another significant change to observe is the acrylic title bar for File Explorer and other windows you open. This has been done to keep the overall look of the UI more in tone with the Windows 11 theme.
Power Consumption
In a recent Insider release, Microsoft targeted the "Go Green" slogan to download and install updates only when renewable energy is available in your area. This feature is still relatively new (even for Insiders), so it may be too early to say if this feature will roll out to Windows 11 22H2.
Another power-related feature introduced to the OS is the power recommendations. The Settings application will now give you suggestions on configuring your computer for less power consumption, hence fewer carbon emissions.
Task Manager Efficiency Mode
Previously known as the "Eco mode," Microsoft has re-introduced the "Efficiency mode" in the Task Manager which allows you to reduce the resource consumption of an individual or a group of processes.
This feature will help you preserve your system's resources, such as RAM and processor, for the more critical and time-critical tasks.
Download Windows 11 v22H2
You can download the latest version of the Windows 11 Insider ISO file directly from Microsoft servers. However, this procedure requires you to have a registered Microsoft account. Follow the given steps below to download an Insider ISO now.
Note: If your Microsoft account is already registered for the Windows Insider Program, then proceed directly to step 4 below.
To begin, head to Microsoft's Insider page and click Register.

Now follow the on-screen instructions and provide your Microsoft account credentials to register.
Once registered and logged in, click Download a Windows Insider ISO under the Preperation section, or click here.

Here, scroll down and select the latest Dev channel release from the drop-down menu, then click Confirm.

Windows 11 Insider Preview ISO will now begin downloading. You can then use this iso to perform a clean installation of Windows 11 version 22H2.
Note: At the time of writing this post, Windows 11 Insider Preview Build 22533 ISO was available. If you perform a clean install using this ISO, make sure to install pending updates to upgrade your build to 22567.100 or higher to get all Windows 11 22H2 features.
Frequently Asked Questions (FAQs)
What is Windows 11 Version 22H2 expected release date?
Windows 11 is expected to be released anytime between July and September 2022.
Is Windows 11 any good?
Microsoft is aiming to make its Windows operating system as user-friendly as possible, whilst making an effort to support more devices, i.e. being able to answer your calls and messages on your phone directly from the computer. Windows 11 has evolved much superior to Windows 10, which is why our verdict would be yes; Windows 11 is worth every penny.
How to get the Windows 11 feature update early?
You can download Windows 11 Insider ISO from the Dev channel and perform a clean install to get the latest available features. Note that the updates and features on the Insider channels are unstable and often have bugs.
Can Windows 11 PC be upgraded to Windows 11 22H2?
How much does Windows 11 22H2 cost?
The price for standalone OEM PCs is $139.99 for Windows 11 Home Edition and $199.99 for Windows 11 Professional Edition. However, if you upgrade from a Windows 10 licensed PC, the upgrade will be free.
This is the same cost for Windows 11, which was initially released in October 2021, as Microsoft does not charge for new versions.
Also see: